Are you a business owner, marketing professional or simply an enthusiast looking to gain a deeper understanding of SEO? In this article, we'll help you navigate the various options and find the best SEO courses in Singapore based on program content, fees, certification and more.
What is SEO?
SEO, or Search Engine Optimisation, refers to the practice of optimising a website and its content to improve its visibility and ranking in search engine results pages (SERPs).
SEO aims to ensure that search engines understand a website's content and deem it relevant and valuable to users searching for specific keywords or phrases.
By aligning with the algorithms and ranking factors of search engines like Google, SEO aims to improve a website's chances of appearing higher in search results, ultimately driving more targeted traffic to the site.
Why is SEO Knowledge So Important Today?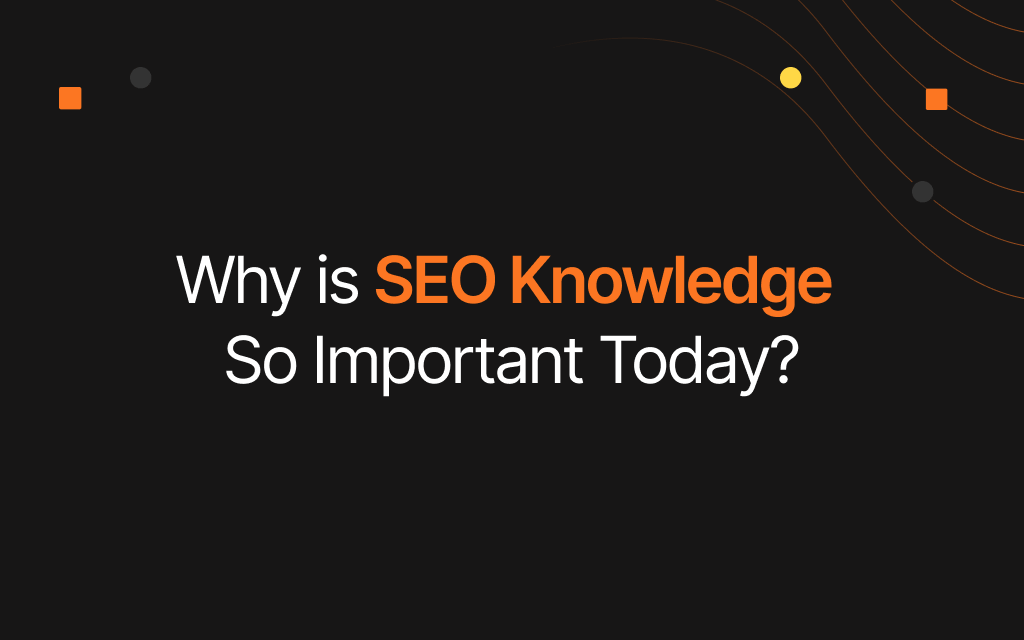 If you're not working at a digital marketing agency or web development company, you may wonder if it's worth investing in SEO courses.
After all, many agencies in Singapore offer SEO services for businesses.
The answer is yes—businesses need a robust online presence to thrive in today's digital landscape.
Moreover, when you have the right SEO tools and strategies, you can better understand and monitor the strategies used by SEO agencies you may work with in future.
Here are some ways an SEO training course can benefit you:
Improved Search Engine Rankings
SEO helps websites appear higher in search engine results pages (SERPs). This higher visibility can increase your site's traffic and boost potential conversions.
Increased Organic Traffic
Organic traffic refers to visitors who find your website through unpaid search results. SEO techniques can help drive organic traffic and attract targeted visitors to your site.
Better User Experience
SEO involves optimising various aspects of a website, such as its structure, loading speed, and mobile responsiveness.
A well-performing and user-friendly website is easier to navigate, loads quickly, and provides valuable information to users, which can lead to higher engagement and conversions.
Targeted Marketing
SEO allows you to target specific keywords and phrases that are relevant to your business or industry.
Optimising your website for these keywords can attract users actively searching for products, services or information related to your offerings.
Competitive Advantage
Having SEO knowledge gives you an edge by helping your website stand out from the competition.
By implementing effective SEO strategies, you can outrank competitors, attract more visitors and secure a larger market share.
Long-Term Sustainability
SEO is not a one-time task but an ongoing process.
You can maintain and improve your search engine rankings over time by continuously optimising your website and staying updated with SEO best practices.
This long-term approach ensures that your website remains visible and accessible to potential customers, contributing to the sustainability and growth of your online presence.
Best SEO Courses in Singapore
These are some of the most affordable and accessible SEO courses and training programs for beginners in Singapore.
Moz – SEO Essentials Certification
Moz is one of the world's most prolific SEO and marketing agencies. They offer educational resources and software to help make SEO more accessible to the public. Start with their beginner SEO course and explore their other programs at Moz Academy.
Course Highlights
Learn to identify good keywords and map their semantic connections
Explore ways to integrate SEO into your sales funnel
Discover how to evaluate links and select valuable content
Google – Search Engine Optimisation Fundamentals
Offered for free by Google's Learn Digital platform, this accessible beginner's course will get you started on the basics of SEO through a simple and interactive syllabus.
Course Highlights
Get introduced to basic concepts like on-page and off-page SEO
Discover the fundamentals of technical SEO
Get insights into keyword research and selection
Yoast – Free SEO Training for Beginners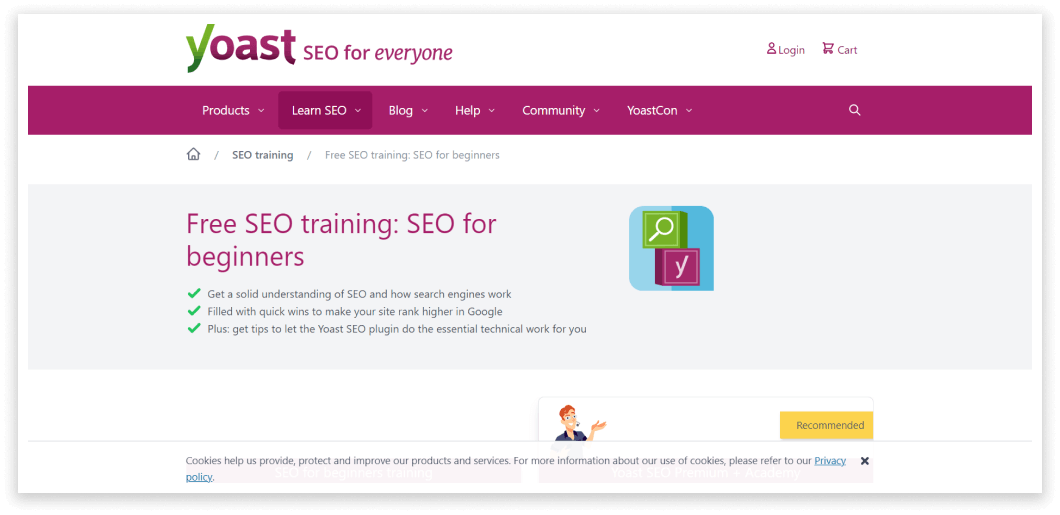 Yoast is the world's most widely used and reputable SEO plugin for WordPress. If you are a newcomer to SEO terms and principles, this series of 20 bite-sized videos is a great choice to build your knowledge.
Course Highlights
Learn through quizzes and course PDF files
Choose your own learning pace
Dive into content tips and technical aspects of SEO
Equinet Academy – WSQ Search Engine Optimisation (SEO) Training Course
Equinet Academy's SEO course ****is ideal for marketing professionals and web developers who want to enhance their website's ranking and improve their brand's SEO campaigns.
After completing this basic program, you can also progress to the Advanced SEO course at Equinet.
Course Highlights
Enjoy one free refresher course within three years of completing the program
Take advantage of 3-year access to course resources
Leverage unlimited complimentary Q&A sessions with industry experts
Impossible Marketing – Advanced SEO Training Course
Impossible Marketing is an award-winning digital agency based in Singapore focusing on search marketing. Once you're confident in your basic SEO skills, this advanced program will help you strengthen your SEO strategies and technical knowledge.
Course Highlights
Benefit from two post-course review sessions via Zoom with the trainer
Lifetime access to Google update and networking events
Explore website security tips and learn how social media influences SEO
MediaOne – WSQ SEO Course & Certification Singapore
MediaOne is a digital marketing agency in Singapore specialising in SEO, Search Engine Marketing (SEM), lead generation and more. This program is a precursor to their more in-depth Advanced SEO course.
Course Highlights
Learn to audit a website for on-page and off-page SEO
Use Google Search Console to pinpoint issues
Monitor SEO performance on Google Analytics
FirstCom Academy – SEO Basic Techniques
FirstCom Academy is a learning centre dedicated to teaching in-demand digital skills across industries to Singapore's workforce. Their beginner SEO course is designed to help you set up a website with SEO best practices and use various web tools to track your web performance.
Course Highlights
Identify white hat and black hat SEO strategies
Conduct SEO audits and link-building
Learn how to boost your site's organic ranking effectively
Ask Training – WSQ SEO Course
A training organisation based in Singapore, Ask Training provides education and coaching for individuals and corporate clients. In addition to SEO courses, they also teach basic IT skills, soft skills and more.
Course Highlights
Develop SEO-centric project management skills
Conduct off-site SEO audits
Use tools like Google Analytics and ROOP Optimisation Framework
Ngee Ann CET Academy – SEO for Beginners
The Continuing Education and Training Academy (CET) under Ngee Ann Polytechnic is dedicated to helping adult learners through skills-upgrading programs and reskilling sessions. Their courses ensure that working adults in Singapore improve their relevance and employability in the market.
Course Highlights
Learn to use analytics tools to measure SEO performance
Explore optimisation strategies to enhance your website's ranking
Discover SEO best practices that will give you an edge in the market
Aventis Learning Group – Professional Certificate in SEO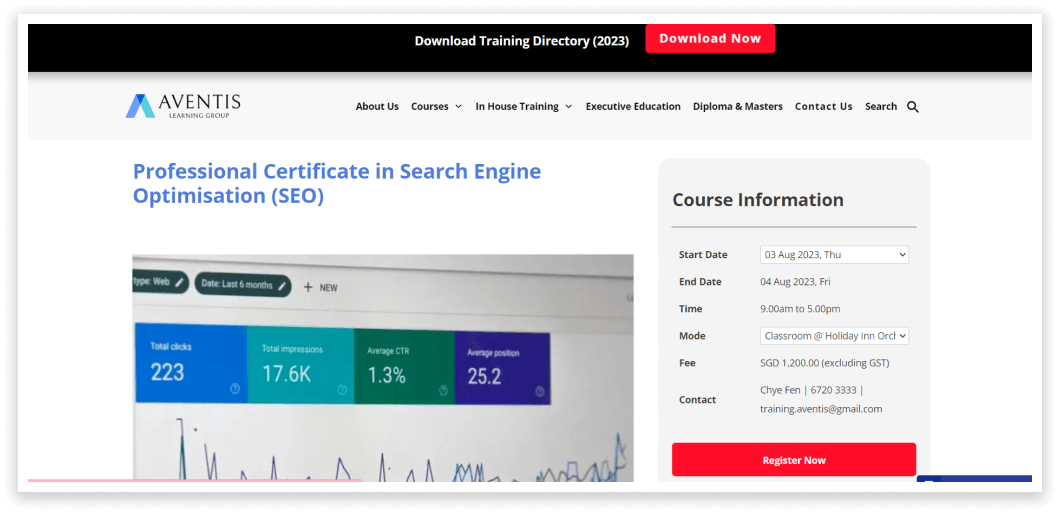 Founded in 2008, Aventis is a subsidiary of Aventis Graduate School (AGS). It is committed to corporate training and upgrading the skills of professionals in Singapore. Their SEO course is ideal for marketing professionals and business owners.
Course Highlights
Explore technical SEO tactics and conduct technical audits
Learn copywriting skills to craft engaging content
Discover how to compile insightful and actionable SEO reports
MOCD Studio – SEO Course Singapore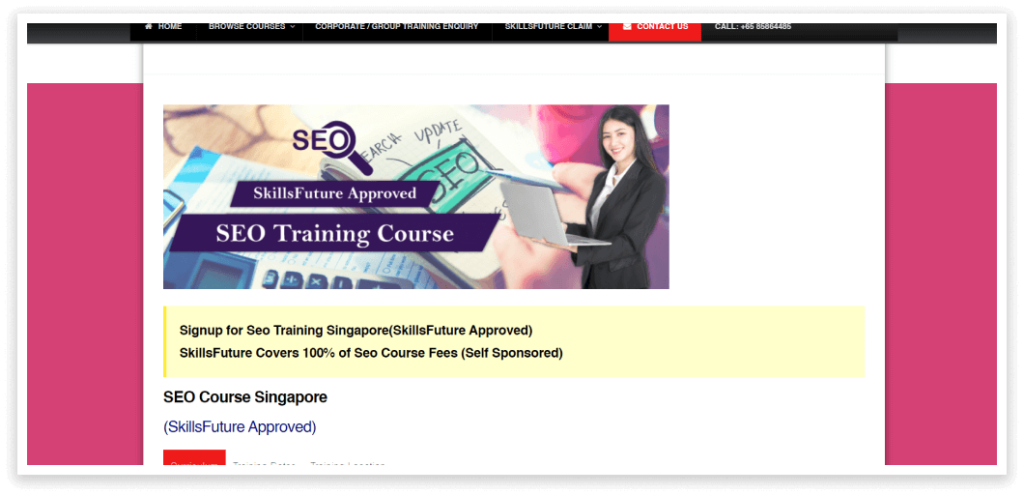 MOCD Studio is a training centre offering affordable SkillsFuture-funded courses for young students and adults alike. Their available programs include SEO, accounting, marketing and many more training modules.
Course Highlights
Learn how to rank higher with minimal backlinks
Assess the right domains for your needs
Access tips and strategies for SEO competition research
The Leadership Institute – WSQ SEO Course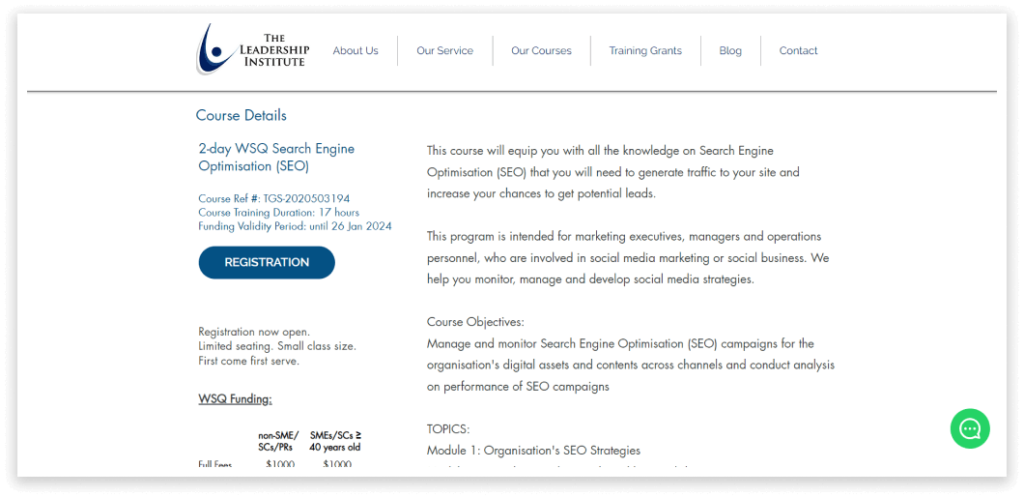 Established in Singapore in 2016, The Leadership Institute is dedicated to corporate training, education and consultancy. Their trainers are equipped with the tools to deliver in-depth sessions on business, customer service, SEO, marketing and more.
Course Highlights
Explore the nuances of SEO in social media
Learn the fundamentals of elements and structure in websites
Develop marketing strategies that can be applied on web pages
Udemy – The Ultimate SEO Training 2023 + SEO for WordPress Websites
Udemy is a training centre providing curated and relevant courses for corporate clients and business professionals worldwide. In addition to their Ultimate SEO Training 2023 program, they also have a rich catalog of SEO courses you can explore.
Course Highlights
Enjoy full lifetime access to course resources
Learn at your convenience through mobile or TV
Discover strategies used by a top SEO agency in London
National University of Singapore(NUS-ISS) – Web Analytics & SEO
NUS-ISS offers a comprehensive SEO course ****ideal for professionals in sales and marketing. This introductory program will help you apply practical knowledge and tools in SEO and web analytics to achieve your business goals.
This course is part of the Professional Certificate in Digital Marketing and Content Creation available at NUS-ISS.
Course Highlights
Explore the fundamentals of SEO, web monitoring tools and analytics apps
Participate in hands-on workshops and case studies to highlight SEO strategies
Study the use of web analytics and metrics to enhance SEO and overall web performance
Nanyang Technological University (NTU) – Digital Marketing – A Practical Approach to Search Engine Optimisation (SEO
NTU's Centre for Professional and Continuing Education provides this course to help business owners, marketers, advertisers and copywriters create engaging content for their marketing needs.
Course Highlights
Master the SEO ranking periodic table
Create a solid SEO strategy plan
Carry out an SEO audit and monitor SEO reports and data
Learn through practical sessions and workshops
Unlock Your Business's Potential With Expert SEO Solutions From JIN

With our team of talented designers and developers, we offer innovative SEO solutions to ensure your website generates the results you want and helps your brand stand out in today's competitive market.
As a trusted SEO agency in Singapore, we also offer website optimisation and web audit expertise to ensure your site keeps functioning optimally and generates greater revenue.
Contact us via this form or email us at hello@jin-design.com to start planning your new SEO strategy with us!