Search Engine Optimisation (SEO) has become a critical component of any successful online marketing strategy. With millions of websites competing for attention, it's essential to have a strong SEO strategy in place to ensure that your website ranks high in search engine results pages (SERPs).
However, implementing a successful SEO strategy can take time and effort, especially for businesses with limited resources and expertise.
That's where SEO agencies come in. These agencies specialise in optimising websites for search engines and can help businesses achieve better visibility and higher rankings in SERPs.
In this article, we'll explore what SEO means, learn how an SEO agency can benefit your business and discover some of the best SEO agencies you can partner with in Singapore.
What is SEO?
SEO is the process of optimising a website to make it more visible to people searching for specific products, services, or information related to that website.
SEO aims to drive more organic (non-paid) traffic to a website from search engines like Google, Bing, or Yahoo.
SEO involves various techniques and strategies, including optimising website content and structure, improving website speed and performance, building high-quality backlinks, and conducting keyword research to identify the most relevant and popular search terms related to a business or website.
Effective SEO can increase website traffic, engagement, and conversions, ultimately boosting revenue and business growth.
How Does an SEO Agency Help Businesses in Singapore?
When you hire an SEO agency in Singapore, these are some of the specific tasks the company may perform:
Website Audits
An SEO agency will analyse your website to identify areas that need improvement and opportunities for optimisation.
Keyword Research
The agency will research and identify the most relevant and high-traffic keywords related to your business or website to help drive more targeted traffic to your site.
On-Page Optimisation
The agency will make your site more search engine friendly by optimising the content, meta tags, headers, images, and other on-page elements.
Off-Page Optimisation
The SEO agency will build high-quality backlinks from other websites to improve the authority and credibility of your website.
Technical Optimisation
An SEO agency will optimise your website's technical elements, such as site speed, mobile responsiveness, and site architecture, to improve user experience and search engine visibility.
Content Creation
An SEO agency may create high-quality and optimised content such as blog posts, articles, infographics, and videos to improve your website's visibility and engagement.
Analytics and Reporting
An SEO agency will track and analyse website traffic, rankings, and other metrics to measure the effectiveness of their optimisation strategies and provide regular reports to their clients.
Things To Take Note When Hiring an SEO Agency In Singapore
Experience and Track Record: Check how long the agency has been in business and their success stories. Look at their case studies and client testimonials to gauge their expertise.
Understanding of Local SEO: Since Singapore is a unique market, the agency should have a good grasp of local SEO strategies tailored for Singaporean audiences.
Transparency: The agency should be open about their strategies and techniques. Beware of agencies that promise "quick results" using black-hat SEO tactics as they can get your website penalized.
Communication: Assess their responsiveness and willingness to explain complex SEO concepts in simple terms. Regular updates and reports are crucial for tracking progress.
Customized Strategy: Every business is unique, and so are its SEO needs. Ensure the agency is ready to provide a customized plan rather than a one-size-fits-all approach.
Services Offered: Some agencies might only specialize in one aspect of SEO, while others offer a comprehensive suite of services. Decide what you need – be it on-page optimization, link building, content marketing, or others.
Tools and Techniques: Familiarize yourself with the tools the agency uses for keyword research, link building, analytics, and reporting.
Pricing and Contract Details: Understand the cost structure and ensure there are no hidden charges. Be clear about contract duration, terms, and conditions, especially regarding termination and any associated penalties.
Reviews and References: Look for online reviews, ratings, and ask for client references. Speaking directly to past or current clients can provide valuable insights.
Stay Updated on Singapore's Regulations: Singapore has strict rules on advertising and digital practices. Ensure the agency is compliant with local rules and does not employ tactics that might put your business at risk legally.
Continuous Learning and Adaptation: The world of SEO is constantly changing. Ensure the agency is updated with the latest trends, Google algorithm changes, and other pertinent shifts in the digital landscape.
Ethical Practices: Steer clear of agencies that employ spammy, black-hat techniques. They might give short-term results but can lead to long-term penalties.
Cultural Fit: The agency should understand the cultural nuances of the Singapore market and be able to align their strategies accordingly.
Reporting and Metrics: A professional agency should provide regular and transparent reporting on key performance indicators (KPIs) so you can monitor progress and ROI.
Long-Term Partnership View: SEO isn't a one-time thing; it's a continuous process. It's beneficial to work with an agency that views the relationship as a long-term partnership rather than a short-term engagement.
In summary, hiring an SEO agency in Singapore requires due diligence, research, and a clear understanding of your business needs. Make an informed decision, keeping in mind that the right SEO partner can significantly boost your online presence and business growth.
Summary of Top SEO Agencies in Singapore
To assist businesses in navigating this dynamic environment, we've curated a table that offers a concise summary of the top SEO agencies in Singapore. Dive in to find a partner that aligns with your brand's aspirations and objectives
Top SEO Agencies in Singapore
JIN Design
Jin Design is a creative digital and SEO agency based in Singapore, specialising in web design, website optimisation and digital marketing. With our team of talented designers and developers, we offer innovative SEO solutions to ensure your website generates the results you want and helps your brand stand out in today's competitive market.
Portfolio Highlights
As an SEO agency in Singapore, we have worked with businesses of all sizes across the region. Clients who trust us with SEO and web optimisation for their business sites include Imperial Harvest, Allianz Insurance, Lion Global Investors, Lesaffre and more.
Talk to our team today to start your website's SEO journey with us!
Digital Squad
With branches in Australia, New Zealand, Hong Kong, and Singapore, Digital Squad provides B2B and B2C SEO solutions for a wide range of clients, ranging from startups to Fortune 500 organisations.
Portfolio Highlights
Digital Squad helped Auckland-based florist The Botanist drive their online sales on Shopify. It also ensured that Fortune 500 company Fonterra was able to increase its SEMrush site health score to 84%.
Wiz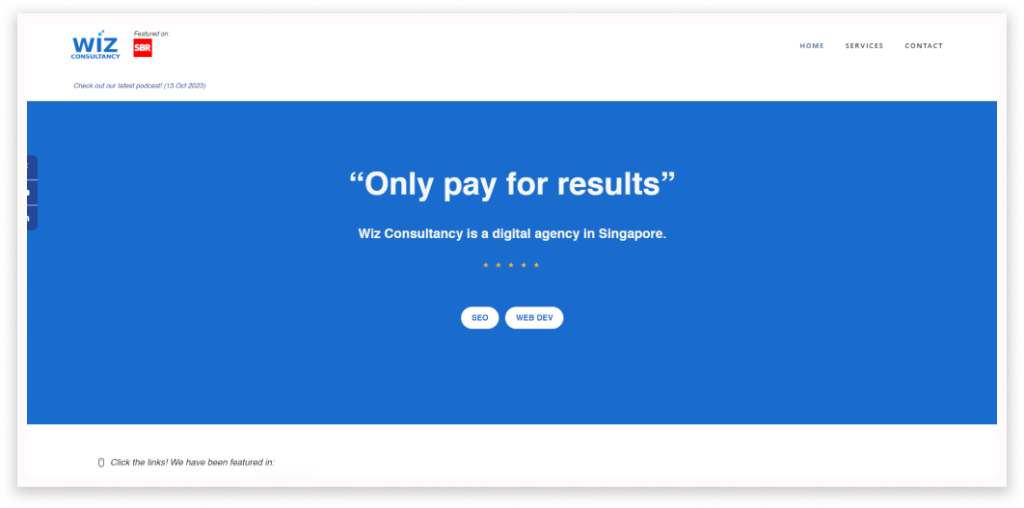 Wiz Consultancy is based in Singapore. Wiz Consultancy specializes in SEO services and web development. Because of the niche specialization, Wiz Consultancy only charges for results.
Portfolio Highlights
Wiz Consultancy has worked with clients such as Wildflower Cases, Cellarbration & L'erbolario.
Ninja Promo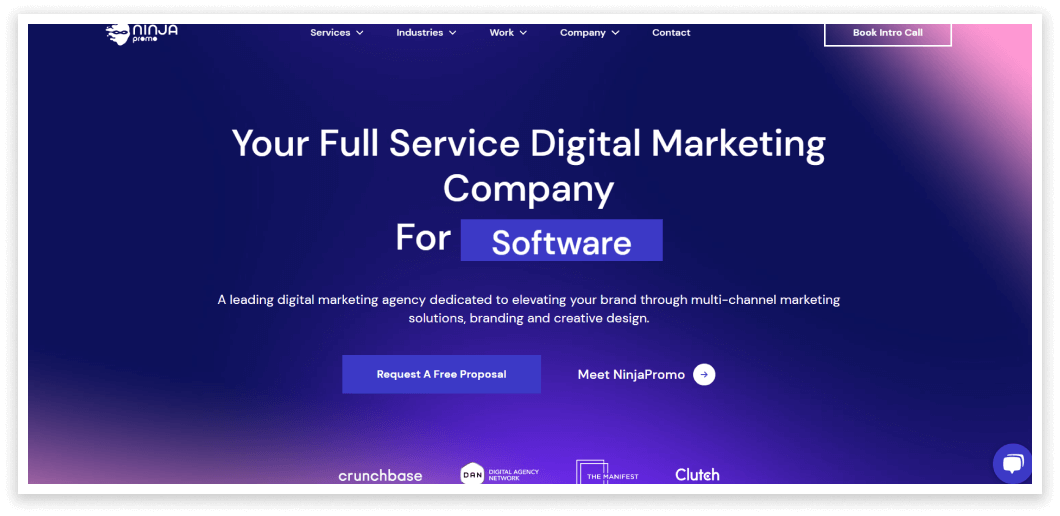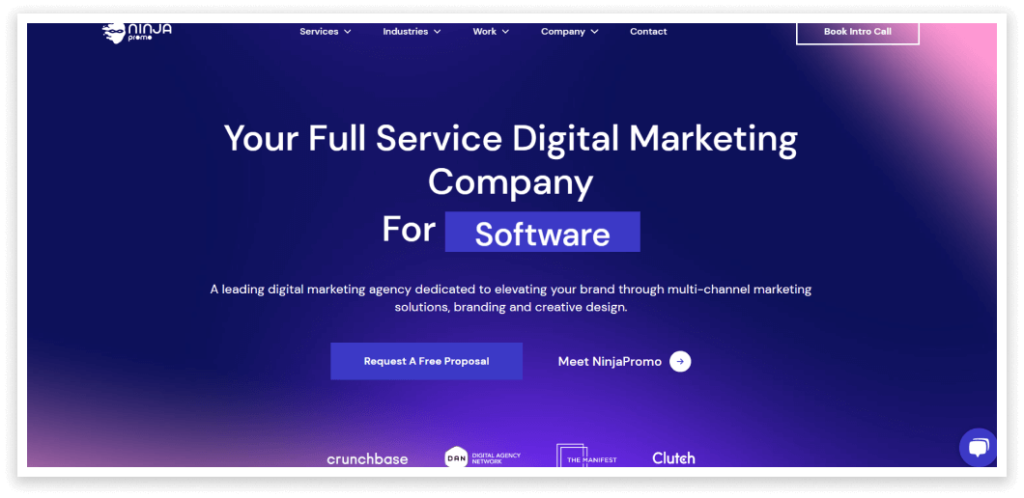 This award-winning SEO agency in Singapore offers SEO and digital marketing services to businesses in diverse industries, including software, gaming, and crypto.
Portfolio Highlights
Ninja Promo successfully grew Affyn's online community by 250% in just over a month, boosted NFT sales at MicroBuddies, and carried out a full-stack marketing campaign for Lisk.
First Page Digital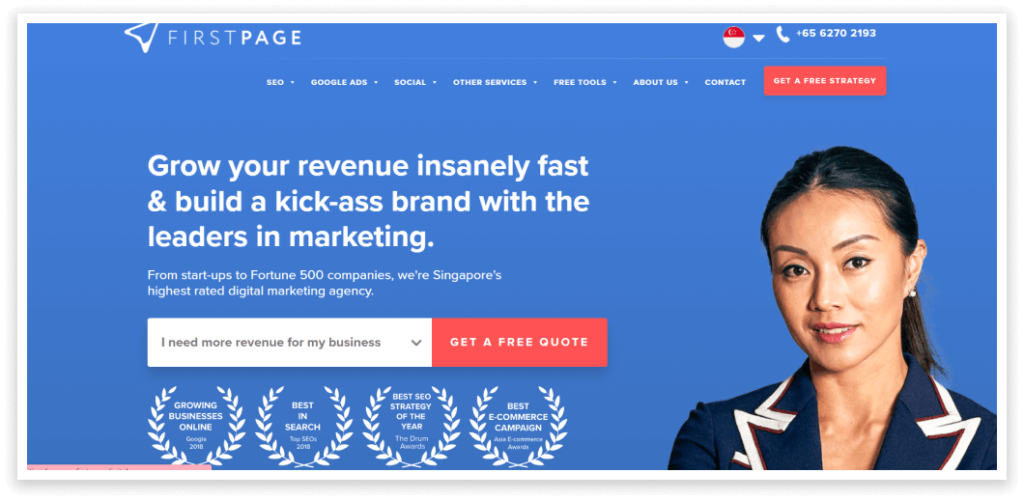 As certified partners of Google, Meta, Shopify, and more, First Page Digital is an SEO agency in Singapore uniquely positioned to enhance SEO and marketing efforts for brands in Singapore.
Portfolio Highlights
First Page worked with Cat and the Fiddle to give them a 198% increase in revenue and a 221% boost in organic transactions. They also enhanced overall website traffic for Apartment O by 143%.
OOm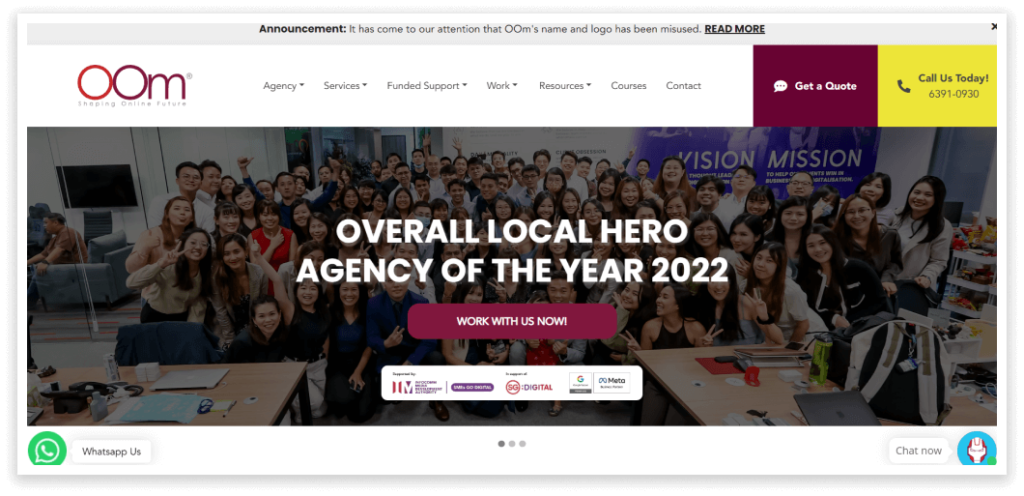 In operation in 2006, OOm is an SEO agency in Singapore that specialises in SEO solutions and Search Engine Marketing (SEM) with additional competencies in content creation and web design.
Portfolio Highlights
OOm enhanced transactions for maternity products retailer Motherswork by 34%, boosted organic website traffic for Megafurniture by 78%, and helped City Osteopathy and Physiotherapy double their customer enquiries.
PCL Technologies
Founded in 2011, PCL Technologies provides a suite of SEO solutions to help businesses in Singapore thrive, including expertise in link building, SEO content creation, and SEO development for websites.
Portfolio Highlights
PCL Technologies helped Adactin achieve first-page ranking in record time through link building, content creation, and targeted keywords analysis. They also ensured that industrial company MHE Demag successfully enhanced its search engine rankings through SEO campaigns.
PurpleClick
Based in Singapore with offices in Malaysia and the Philippines, PurpleClick has 16 years of experience delivering data-driven SEO and marketing solutions to clients around the region.
Portfolio Highlights
PurpleClick has developed SEO strategies for various clients in the retail, finance, health, beauty and education industries. Additionally, they have handled digital marketing projects for government agencies in Singapore, including the Ministry of Health and the Ministry of Communications and Information.
Awebstar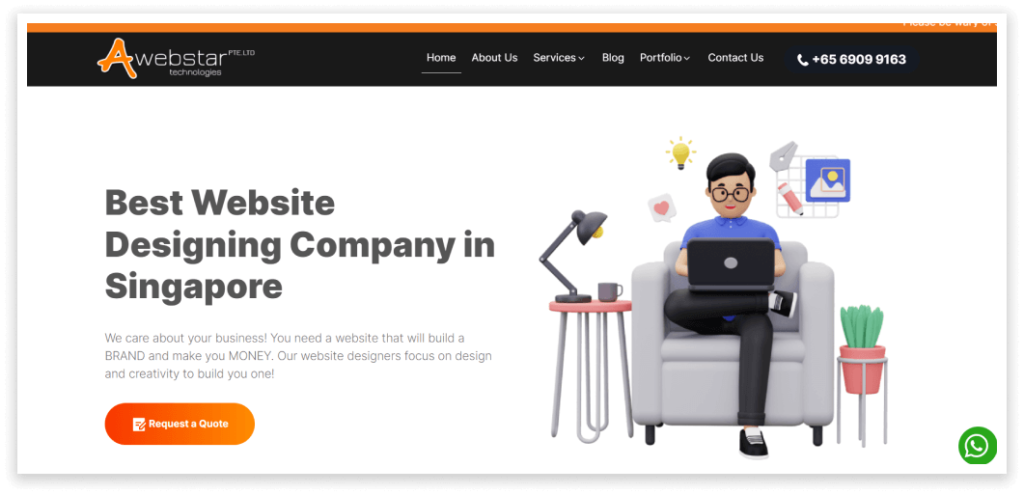 Specialising in SEO, digital marketing, and web development, Awebstar is dedicated to helping businesses in Singapore get ahead of the competition with tailored solutions for their needs.
Portfolio Highlights
Awebstar has executed SEO and marketing projects for clients, including online learning platform Easylore, Nutty Gala retailers, and florist Floral Spell.
Fractal Digital
Fractal Digital is an SEO agency in Singapore offering expert solutions for businesses of all sizes around the world, with a focus on their proprietary Organic Acquisition (OA) framework.
Portfolio Highlights
The Fractal Digital team boosted monthly traffic by 632% for a fitness publishing business and count businesses like DrWealth, Vantage, ForexToStocks, and more among their global SEO clientele.
Novage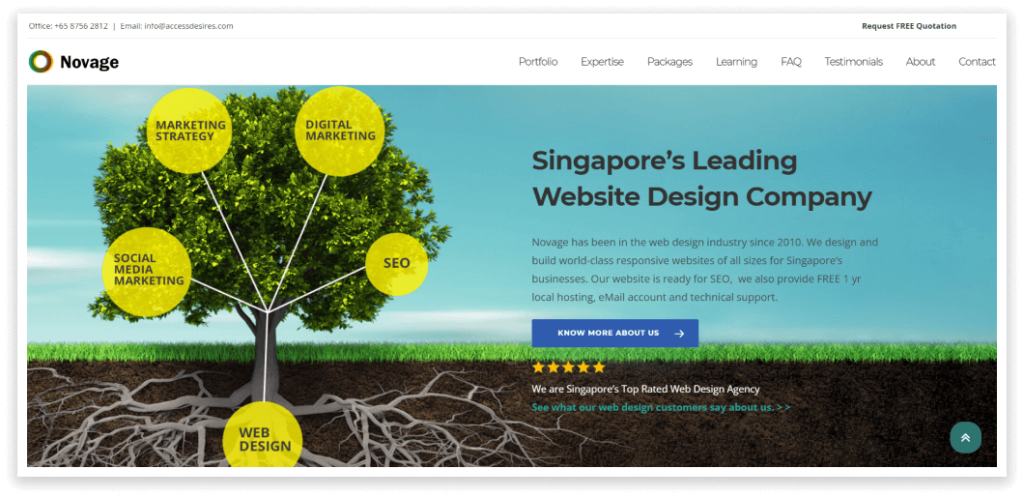 Novage is a Singaporean SEO agency with a wide range of expertise for web-based businesses. As an appointed web design vendor by SEO Agency Singapore, Novage provides excellent customisable digital marketing and SEO services to clients.
Portfolio Highlights
Novage successfully increased web traffic for Spring College International, delivering five times more visitors per month. Their SEO work on Carton Box SG's website also enhanced sales and boosted search engine rankings.
MediaOne Digital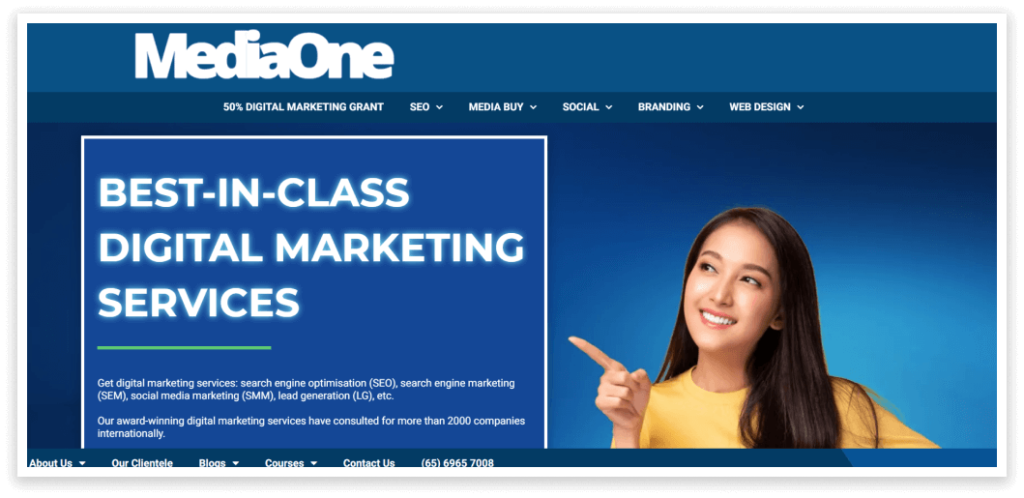 With 13 years of digital marketing experience, the MediaOne team boasts an 83% success rate across all projects, making them an excellent choice for businesses seeking SEO expertise.
Portfolio Highlights
MediaOne's clients include Canon, Singtel, the NTUC Learning Hub, Proctor & Gamble, Ninja Van, Sheraton Hotels & Resorts, and many more.
Roots Digital
Roots Digital is a certified Google Partner agency focusing on digital marketing campaigns and SEO strategy for various businesses, including e-commerce, real estate, and education.
Portfolio Highlights
Roots Digital has successfully implemented SEO solutions for companies like Orita Sinclair Design & Music School, Ryan's Grocery, Brand's Home Delivery service, and logistics software provider Yojee.
iClick Media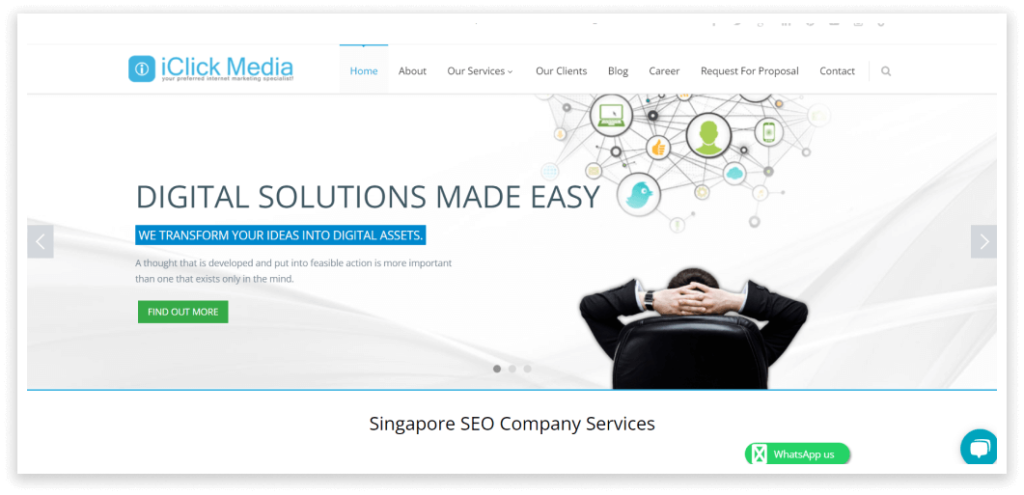 iClick Media, headquartered in Singapore, is a digital marketing powerhouse excelling in search engine optimization (SEO), pay-per-click (PPC) advertising, and social media marketing. Their seasoned professionals assist enterprises across the spectrum in amplifying their digital presence and boosting their website traffic.
Anchante Solutions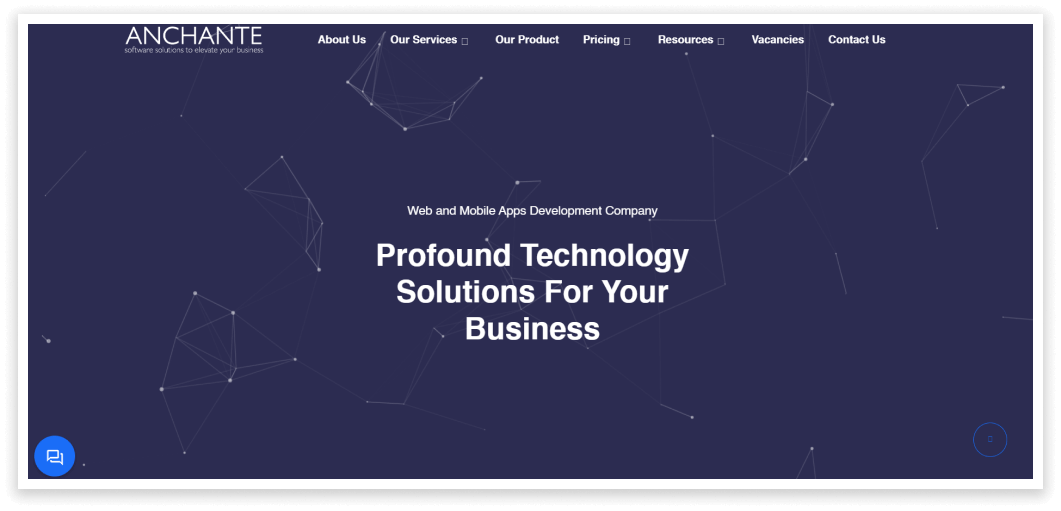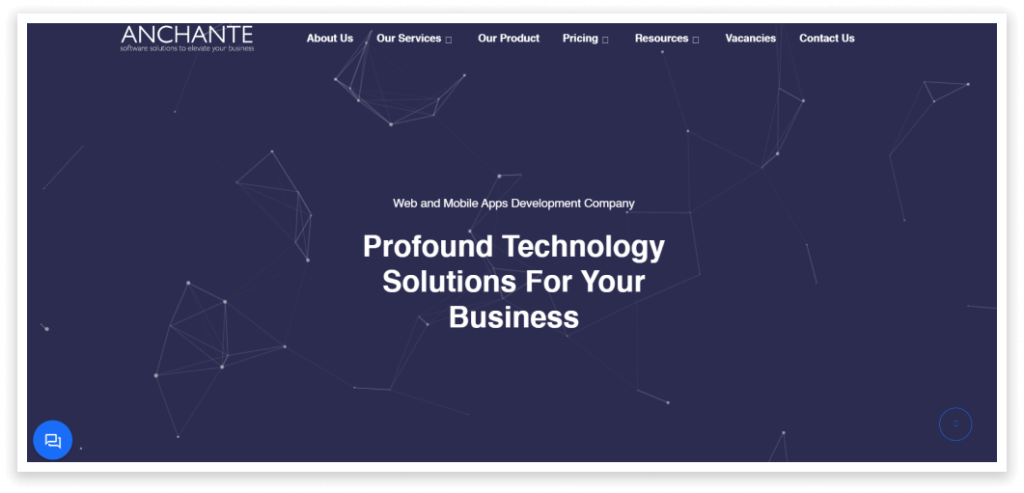 Anchante, a Singapore-based digital marketing firm, excels in SEO, PPC advertising, and social media marketing. Their commitment to devising outcome-oriented campaigns empowers businesses to augment their online exposure and expand their clientele.
Visibleone
Based in Singapore, Visibleone is a distinguished digital marketing and web design firm providing end-to-end solutions to fortify businesses' online foothold. Their suite of services spans from web design and search engine optimization to social media marketing. Leveraging their proficiency in digital strategies, Visibleone propels businesses to flourish amidst fierce online competition.
iFoundries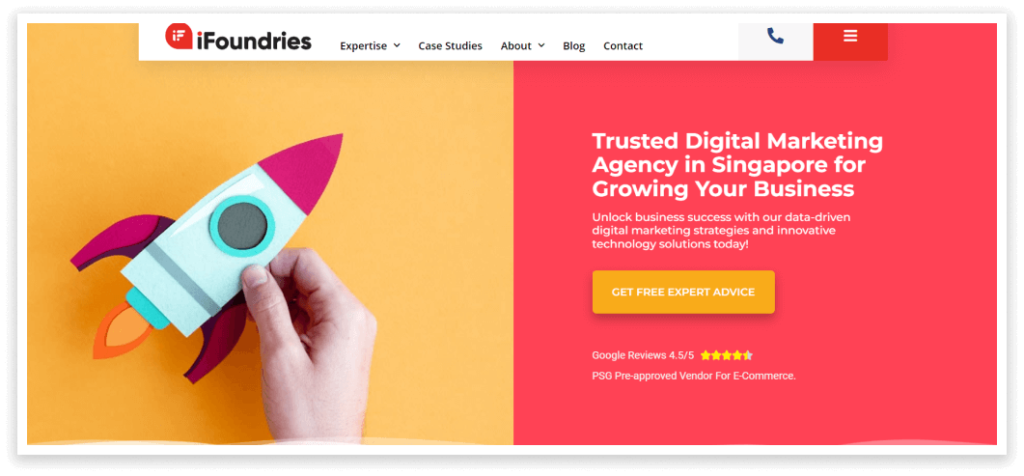 iFoundries is an innovative digital solutions provider offering robust SEO services. Leveraging cutting-edge strategies and tools, iFoundries helps businesses improve their search engine rankings, drive organic traffic, and enhance online visibility, ultimately boosting growth and profitability.
Heroes of Digital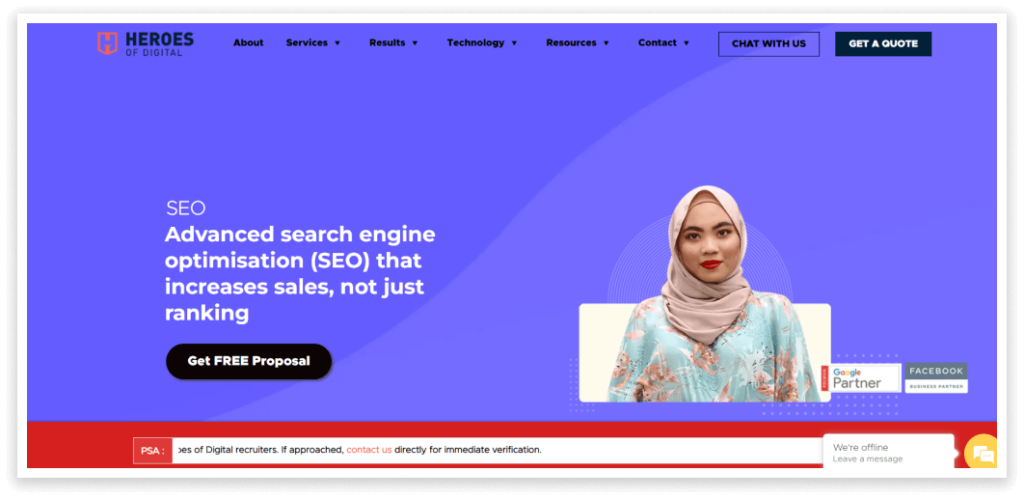 Heroes of Digital stands as a leading SEO firm based in Singapore, providing an extensive array of marketing services tailored to your company's needs. With a decade-long commitment to thorough market research, rigorous testing, and successful implementation for over 500 satisfied clients, our advanced SEO formula is primed to propel your business forward.
SEO Agency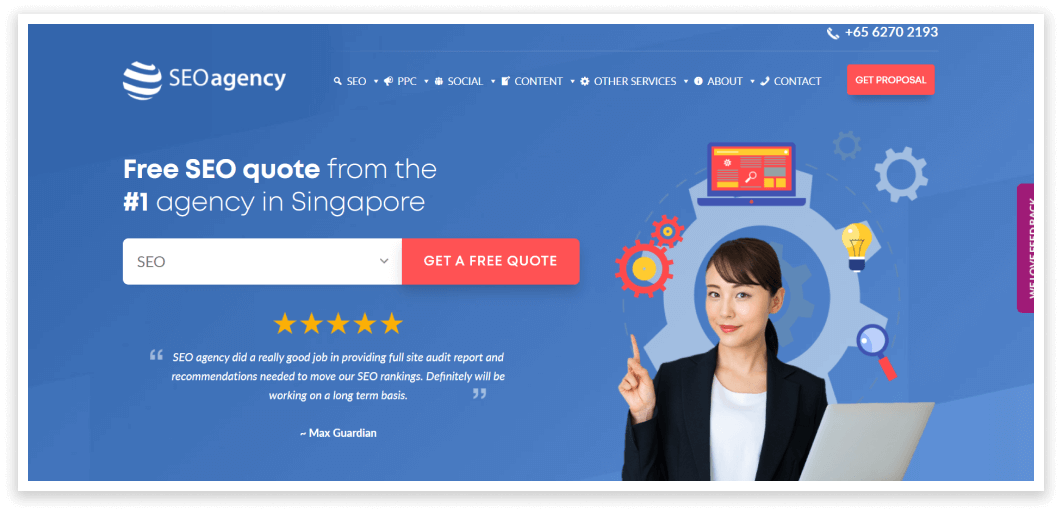 As a prominent digital marketing agency in Singapore, SEO Agency specializes in crafting customized organic marketing campaigns to suit the unique needs of clients. Their expertise lies in maximizing the return on marketing investments through strategies that boost website traffic and enhance conversion rates.
Impossible Marketing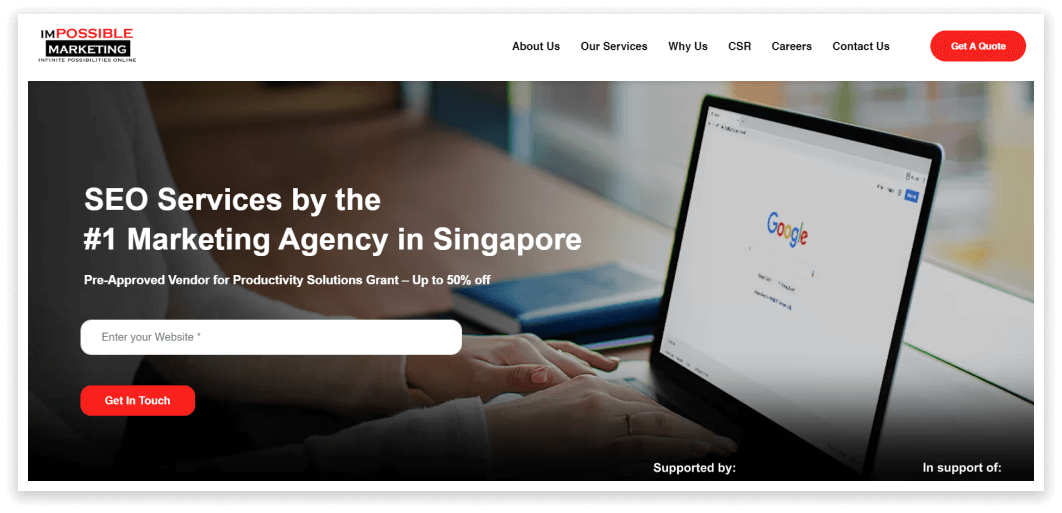 Impossible Marketing stands among Singapore's premier digital marketing companies, having successfully assisted over 1000 brands in expanding their online footprint. As PSG pre-approved vendors, they provide a comprehensive suite of marketing solutions. By choosing their SEO services, you can leverage up to 70% grant support, giving your business a formidable advantage in the realm of digital advertising.
Best SEO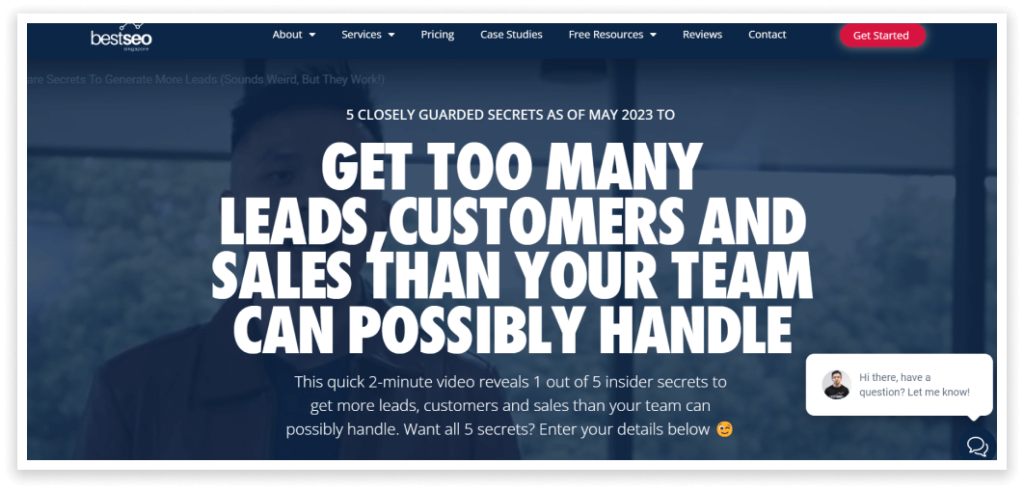 Best SEO is a highly acclaimed digital marketing agency in Singapore, known for delivering outstanding results that amplify your sales margins and catapult your search engine rankings. Through their exceptional SEO services, they provide complimentary SEO templates that guarantee a two-fold increase in website traffic within a mere six months. Don't miss out on this opportunity to gain a competitive edge over your rivals and place your trust in Best SEO.
Brew Interactive
Brew Interactive is a leading digital marketing agency, specializing in crafting innovative strategies that drive business growth. With a data-driven approach and a team of experts, we deliver results that exceed expectations.
Construct Digital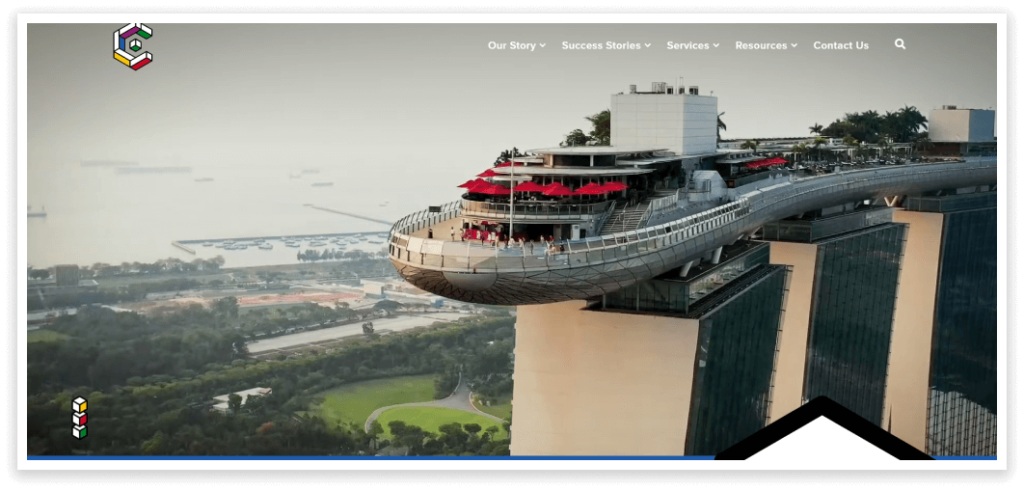 Construct Digital is a dynamic digital marketing agency that builds impactful online experiences. With a blend of creativity and technical expertise, we create strategies that drive growth and deliver measurable results. From website design and development to SEO and content marketing, our team of passionate professionals is dedicated to elevating your brand's digital presence.
Brave Bison
Brave Bison is an innovative digital agency that empowers brands to make a lasting impact. With our expertise in social media marketing, content creation, and influencer partnerships, we help businesses captivate their audiences and drive meaningful engagement.
Absolute Digital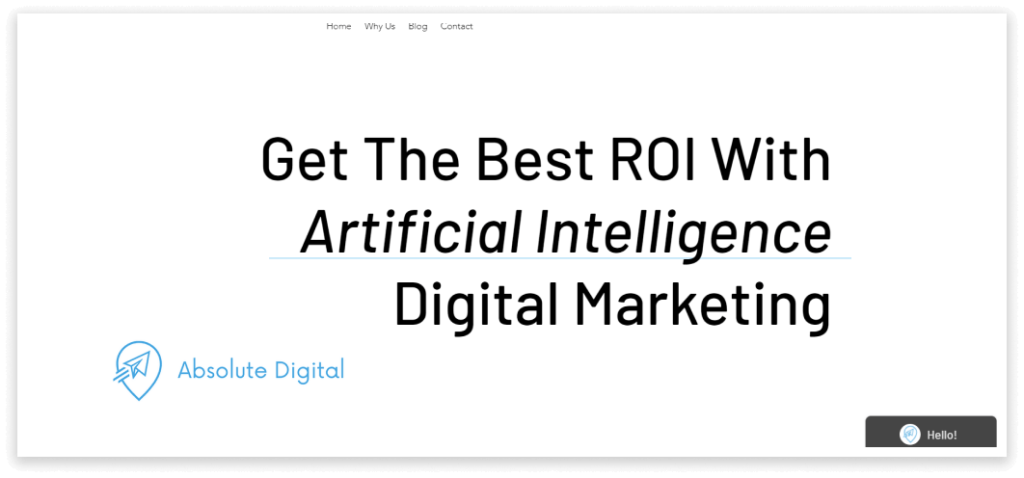 Whether you're seeking to enhance brand awareness, amplify your social media presence, or create compelling video content, Brave Bison is your trusted partner. Our collaborative approach ensures that every campaign is uniquely tailored to meet your specific goals and resonate with your audience.
Stridec
At our core, we prioritize the construction of lasting, strategic online assets for your brand. Our approach is rooted in the belief that digital strategies should transcend short-term gains. Instead, we emphasize solutions that provide a sustainable Return on Investment (ROI) and continue to drive value for your brand well into the future.
NEO360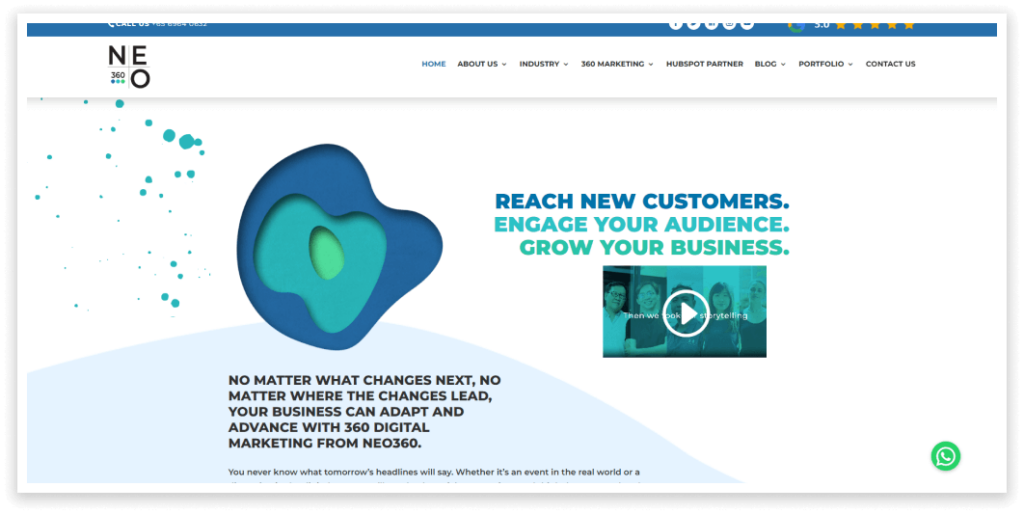 Established in 2014 in Singapore, NEO360 stands as a premier digital marketing agency catering to clients not only in Southeast Asia but also in Australia. Our expertise spans a diverse range of industries such as healthcare, higher education, property development, e-commerce, lifestyle, and B2B, among others. We pride ourselves on adopting a holistic 360-degree approach to digital marketing, ensuring comprehensive solutions for the brands we partner with.
Camdew Ventures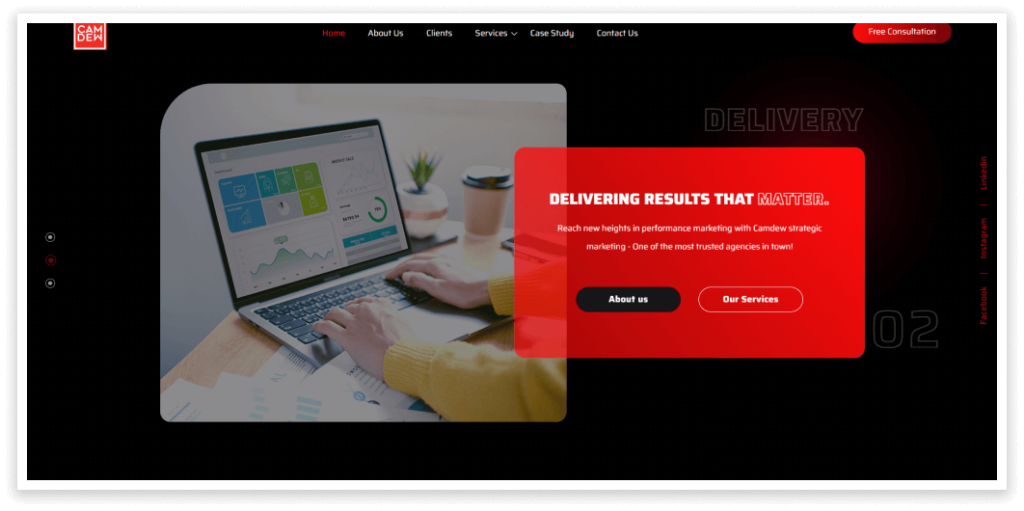 Established in 2012, Camdew embarked on a mission to amplify and refine the technological footprint of emerging brands. Leveraging meticulously crafted strategies and tools, we aim to bolster their scalability. Boasting a robust team of 150 professionals, we've had the privilege of assisting over 400 clients globally, with operational hubs in Singapore, the USA, and India.
Acronym
Acronym: A testament to our profound grasp of our clients' vernacular and the intricate nuances of their industries. To our partners, this represents a performance marketing agency that embodies adaptability, capable of discerning solutions for diverse challenges. We transform insights into tangible actions and those actions into measurable outcomes
Bray Leino Splash
Bray Leino Splash operates at the intersection of creativity and technology as a dynamic digital marketing agency. With a presence in Singapore, Malaysia, Hong Kong, Vietnam, and China, we are strategically positioned across Asia to bring innovative solutions to the forefront.
Corsiva Lab
Corsiva Lab offers holistic SEO solutions designed to boost your website's prominence on Google Search. With a powerhouse of over 90 in-house specialists, their vast expertise is shaped by collaborations with both SMEs and MNCs spanning diverse sectors in Singapore.
Unlock Your Business's Potential With Expert SEO Solutions From JIN
We're dedicated to the art of creating websites and providing customised SEO solutions that will drive results and give your brand a competitive edge.
As a trusted SEO agency in Singapore, we also offer web auditing and maintenance expertise to ensure your site keeps functioning optimally and generates greater revenue.
Contact us via this form or email us at hello@jin-design.com to start planning your new SEO strategy with us!