Handling HR tasks in Singapore can be a daunting undertaking. With an array of Human Resource Management software available here, finding the right fit for your business is paramount.
In this article, we shed light on top-rated HRM systems that automate operations and simplify management processes effectively. Read on to discover the perfect tool to streamline your company's HR functions!
Key Takeaways
Top HR management software in Singapore streamline processes and automate tasks, saving time and increasing efficiency.
These software solutions improve productivity by providing easy access to essential data, reducing administrative work, and allowing employees to focus on their core responsibilities.
Robust data management features ensure accurate recordkeeping and provide valuable insights for decision-making processes within organizations.
HR software offers better access to information, allowing various departments to extract the data they need without relying solely on HR.
The Importance of HR Software in Singapore
HR software plays a crucial role in Singapore by streamlining processes, increasing productivity, improving data management and providing better access to information.
Streamlining HR processes
Streamlining HR processes is a crucial part of business operations. Top-notch HR software in Singapore, such as BrioHR and PeopleHum, have features designed to optimize these tasks.
They offer solutions that turn complex procedures into simple steps. These include automation of repetitive tasks like data entry and updating employee information.
Increasing productivity
Boosting productivity becomes a more achievable task with the use of HR software solutions. In many instances, organizations in Singapore have seen significant enhancements to their overall work experience through the adoption of online HRMS systems.
This is because these types of software can effectively automate the end-to-end employee lifecycle.
Additionally, having access to essential data plays an integral role in increasing productivity. With user-friendly interfaces provided by top-notch HR software like PeopleHum and Carbonate HR, employees can easily navigate through various self-service options.
Improving data management
Robust data management is a critical aspect of HR software solutions. As part of their key features, these systems offer a centralized database for efficient storage and management of employee data.
With these tools at their disposal, companies can maintain accurate records while eliminating the risk of duplicated entries or lost information.
Human resource management software also aids in enhancing decision-making processes within organizations by providing valuable insights from HR analytics. For instance, managers can utilize this data to optimize workforce planning strategies based on actual figures rather than relying purely on assumptions.
Better access to information
HR management software opens up vast treasure troves of information, making it readily available to all relevant staff members. This isn't just confined to basic data such as employee contacts or payroll details; we can also delve into performance evaluations, time tracking records and benefits administration.
Various departments within an organisation can extract the information they need without having to approach HR directly, saving valuable time.
Top HR Software in Singapore
Discover the leading HR software solutions in Singapore that can revolutionize your business operations and boost productivity.
Payboy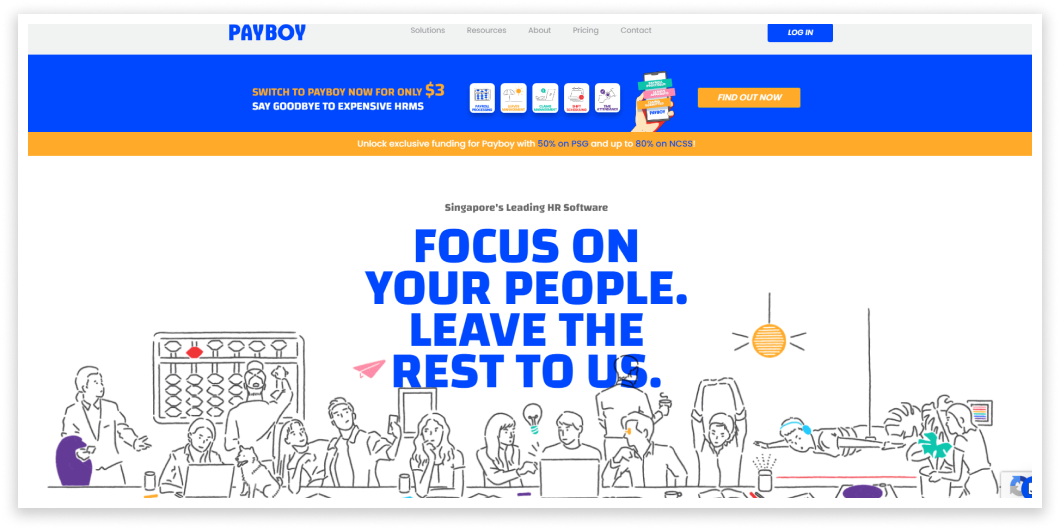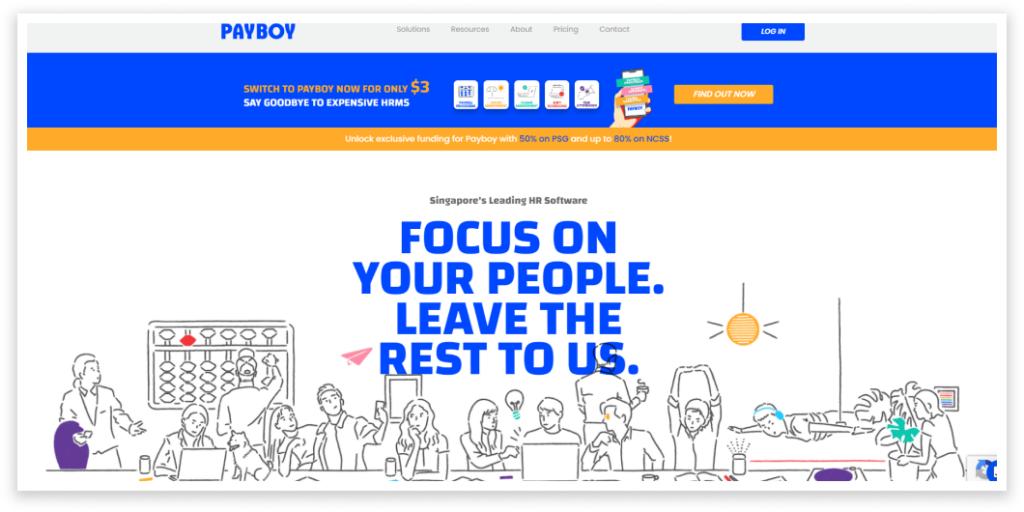 Payboy is a top HR management software provider in Singapore, offering a comprehensive solution for small and medium-sized enterprises (SMEs). With features such as payroll management, leave tracking, claims processing, time attendance tracking, and shift scheduling functions, Payboy streamlines various HR processes. It is recognized as one of the best payroll software options in Singapore for 2023.
PeopleHum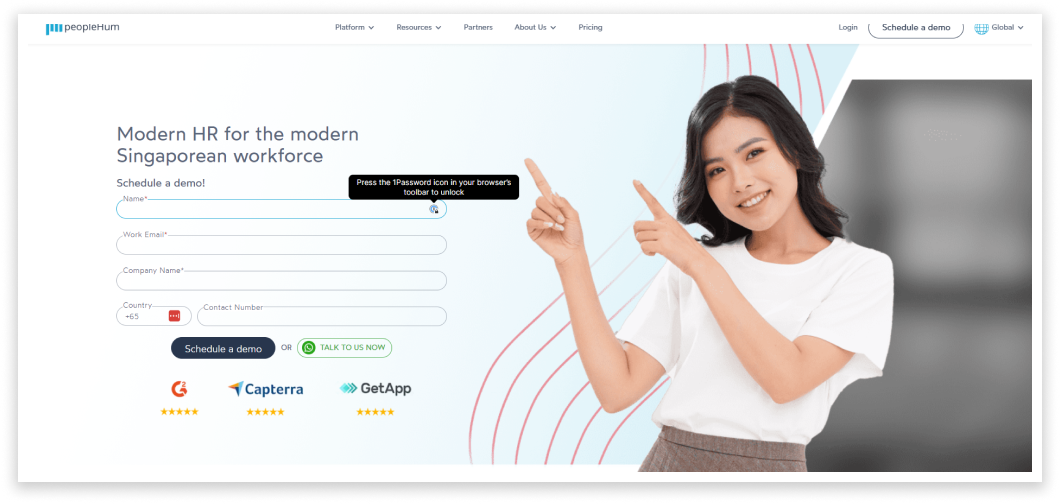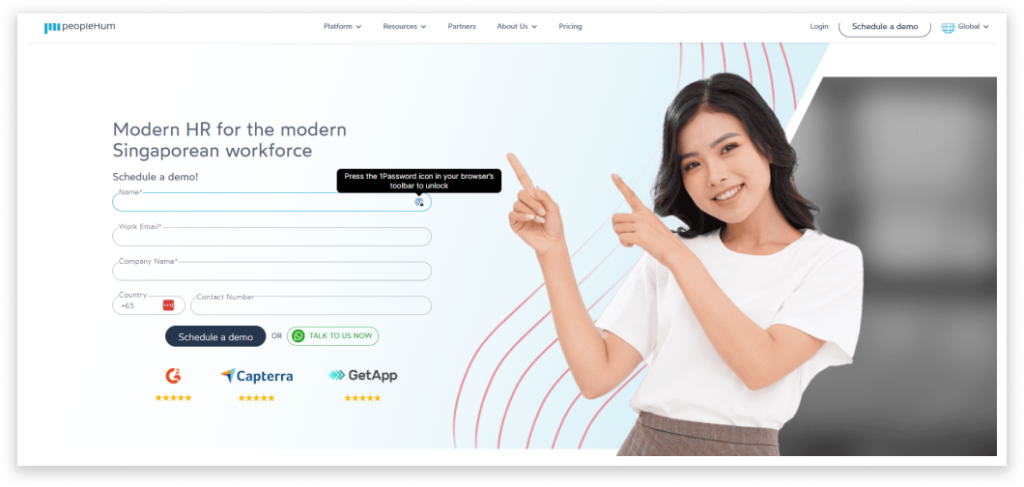 PeopleHum has rightfully earned its reputation as a top-notch HR software solution in Singapore. It's known for simplifying complex HR operations and transforming them into streamlined processes.
The San Francisco Global Codie Awards winner of 2019, PeopleHum, delivers an integrated one-view management feature that doesn't just impress but also eases the work.
HashMicro
HashMicro delivers a leading-edge human resource information system (HRIS) to companies all across Singapore. With its cloud-based solution, it simplifies tasks related to HR management and offers a streamlined workflow.
The software's popularity among businesses has solidified HashMicro's standing in the market as one of the premier HR software solutions available.
Frontier e-HR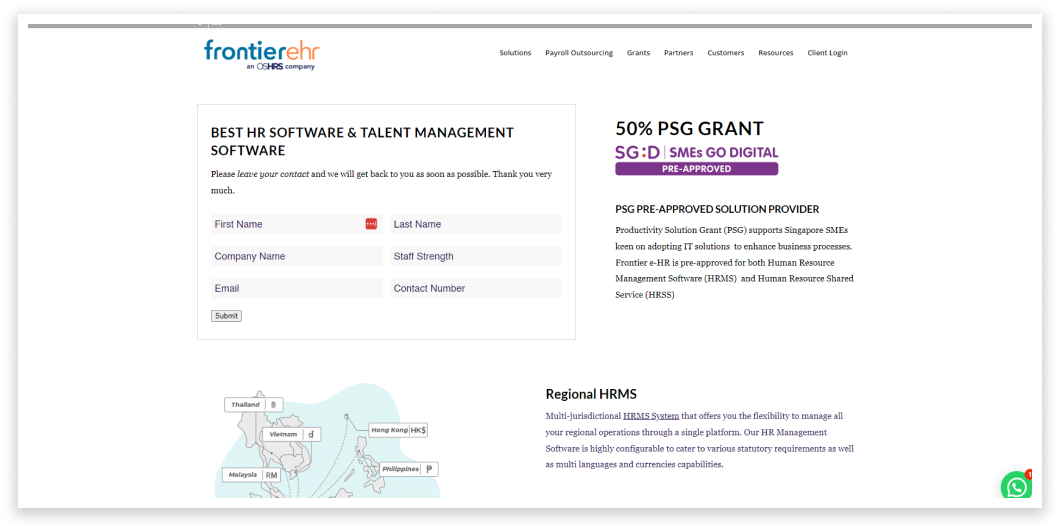 Frontier e-HR stands tall in the HR software market of Singapore. Since its inception in 2000, it has been delivering robust cloud-based solutions for HR and talent management. Being on the list of top HR software in Singapore underlines its credibility and efficiency.
Carbonate HR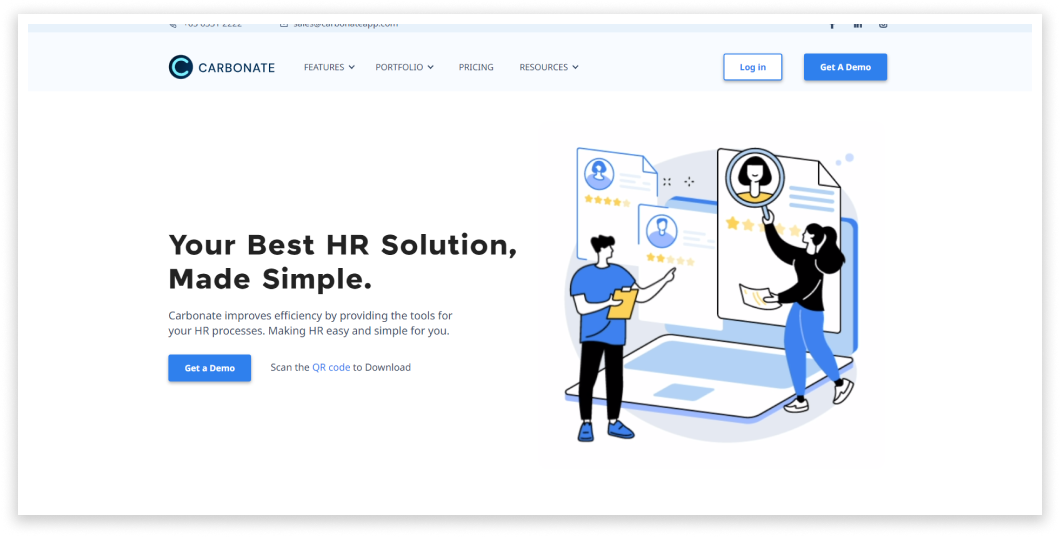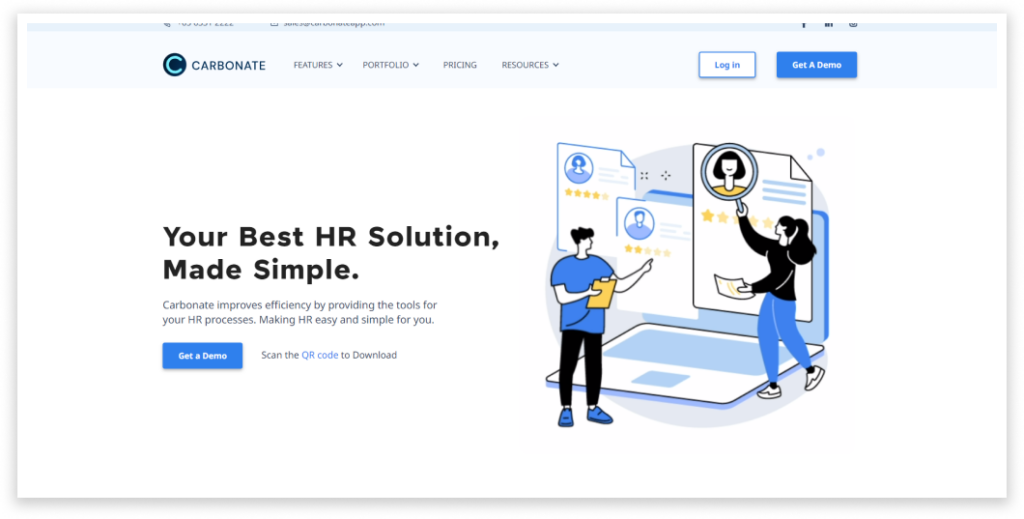 Carbonate HR is a leading HR management software designed specifically for small and medium-sized businesses (SMEs) in Singapore. Founded in 2013, it offers a range of features to help streamline various HR tasks.
JustLogin
JustLogin is a leading HR software in Singapore that offers a comprehensive set of Software-as-a-Service (SaaS) solutions. Founded in Singapore, it was the first cloud HR software in the country.
With JustLogin's HR Management Software, businesses can streamline various HR processes onto a single platform, including people management, payroll, leave and attendance management, and expense management.
QuickHR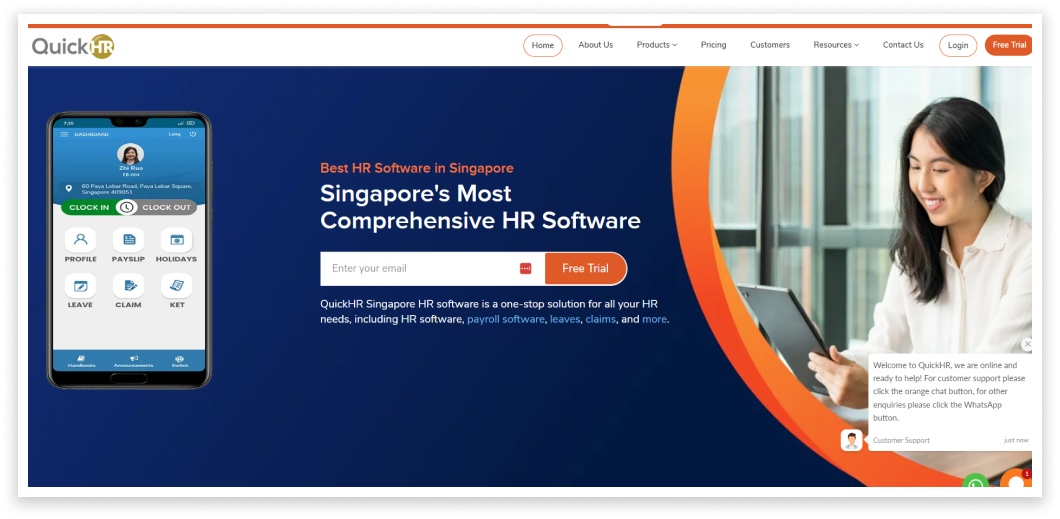 QuickHR is a highly acclaimed cloud-based HR software in Singapore. It offers comprehensive solutions for managing HR processes, payroll, leaves, and claims. With QuickHR, you can streamline your HR management tasks efficiently and effectively.
PeopleStrong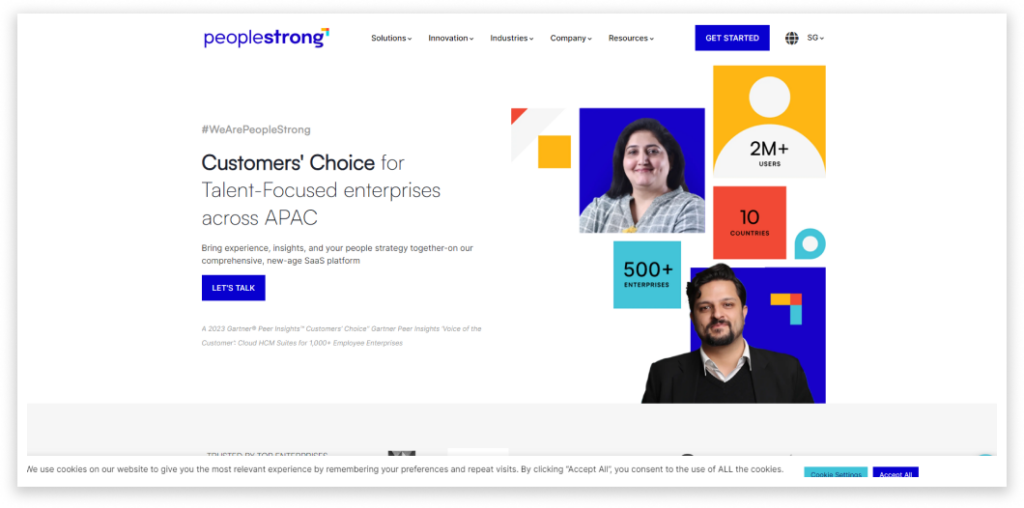 PeopleStrong is one of the top HR software providers in Singapore. Their cloud-based HCM applications are designed to manage the entire employee lifecycle. With PeopleStrong's HRMS software, businesses can easily handle employee data management, attendance tracking, and leave management.
InfoTech
Info-Tech, based in Singapore, offers cloud-based solutions in HR, Payroll, and Accounting. Their mission is to assist businesses across various sizes and sectors in optimizing and automating their HR and Accounting workflows.
Whyze Solutions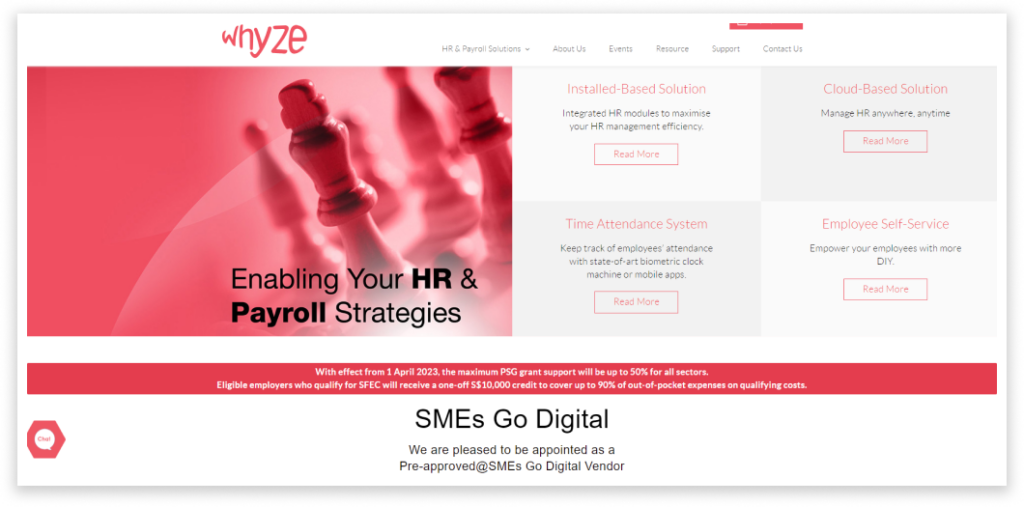 With Whyze Solutions, you have a team that adapts swiftly to changes, offers flexible solutions, and consistently aims to understand and communicate in your terms.
ASURIX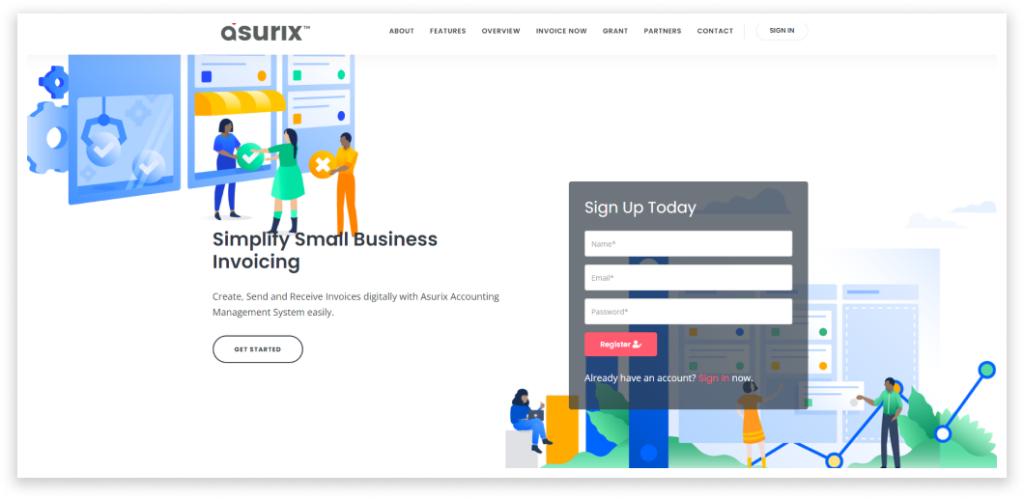 Our innovative spirit keeps us abreast of the latest technological advancements, fueling our continuous learning and growth journey. Furthermore, our collaborative ethos underlines our integrated partnerships, as we consistently liaise with service providers to enhance and update our products, ensuring they remain at the forefront of industry standards.
Key Features of HR Software in Singapore
The key features of HR software in Singapore include HR management, payroll services, employee self-service, global workforce management, freelancer management, automation of workflows, and AI-powered functionality.
HR management
HR management is a crucial aspect of running any organization, and having the right HR software in Singapore can greatly streamline these processes. With the help of HR management software, businesses can effectively manage their workforce through comprehensive employee databases.
This allows for better record-keeping and easy access to important information such as employee records, payroll details, time and leave management, security management, and training records.
By automating various HR tasks like calculating salaries, generating payslips, managing leave requests, and tracking employee information, HR software saves valuable time and increases productivity for businesses in Singapore.
Payroll services
Payroll services are a crucial component of HR software in Singapore. With these services, businesses can effectively manage employee payments, taxes, and other HR functions. Payroll software automates the process of salary disbursement, creating a comprehensive database of employees and their bank details. This ensures accurate and timely payment processing while also maintaining proper records for easy reference.
Singapore's payroll system offers integration with accounting software or human resource management systems, providing seamless financial management for businesses. By using payroll services within HR software, companies can streamline their payroll processes and eliminate manual calculations and paperwork.
Employee self-service
Employee self-service is a crucial feature found in HR software in Singapore. This allows employees to access and manage their personal information on their own, without having to rely on HR for every task.
With employee self-service, individuals can easily update their contact details, address changes, and even submit leave requests directly through the system. This not only saves time for both employees and HR staff but also ensures accuracy and efficiency in data management.
Global workforce management
HRMS software in Singapore offers a comprehensive solution for global workforce management. With this feature, companies can efficiently manage their employees across different countries and time zones.
It provides tools for tracking employee attendance, scheduling shifts, and assigning tasks based on skillsets. This ensures that businesses have the right people in the right place at the right time, leading to improved productivity and streamlined operations.
Freelancer management
HR software in Singapore not only helps businesses manage their employees but also provides solutions for freelancer management. With the rise of gig economy and remote work, many companies are now relying on freelancers to supplement their workforce.
HR software allows businesses to efficiently onboard, track, and manage freelancers, ensuring smooth collaboration and adherence to contractual obligations. From managing contracts and rates to monitoring project progress and payments, these software solutions streamline the freelancer management process.
Automation of workflows
HR automation involves the use of software to streamline and automate various HR tasks, such as recruitment, payroll management, employee record keeping, and performance evaluations.
One key aspect of HR management software in Singapore is the automation of workflows. By automating repetitive and labor-intensive processes, HR departments can save time and resources while ensuring accuracy and efficiency.
AI-powered functionality
AI-powered functionality is a key feature in HR software, and it plays a vital role in transforming HR processes. In Singapore, nearly all HR leaders leverage AI technology to enhance their HR systems.
With AI, these systems can identify and report on employee data trends, allowing companies to make data-driven decisions. Additionally, AI enables the creation of personalized HR content that caters to individual employee needs.
Factors to Consider When Choosing HR Software
When choosing HR software, consider factors such as company size, integrations, customization options, and cost. Discover how these factors can help you find the right solution for your business needs. Read on to learn more.
Company size
When choosing HR software in Singapore, it is crucial to consider the size of your company. The needs and requirements of a small business differ from those of a large corporation.
Smaller companies may prefer user-friendly software with basic features that can efficiently handle employee management, leave tracking, and payroll services. On the other hand, larger organizations require robust HR systems that can manage complex workflows, integrate with other platforms, and accommodate a global workforce.
Integrations
Integrations are a crucial aspect to consider when choosing HR software for your Singapore company. These integrations enable your HR software to connect and interact seamlessly with other systems and applications.
By integrating, you can improve efficiency and streamline your HR processes. One important area where integrations play a vital role is with payroll systems. With the right integration, your HR software will be able to sync employee data directly with the payroll system, eliminating manual entry and reducing errors.
Customization options
Customization options are an important factor to consider when choosing HR software in Singapore. Each organization has unique needs and requirements, and having the ability to customize the software allows you to tailor it specifically to your company's processes and workflows.
This means that you can make the software work for you, instead of having to adapt your processes to fit the software. With customization options, you can personalize features such as employee management systems, leave management systems, and payroll management systems according to your specific needs.
Cost
HR software prices in Singapore can vary significantly depending on the features and subscription plans offered by vendors. It is important to find an HR software pricing model that aligns with your budget.
Different vendors may charge different costs, such as per user or through different cost models. When considering the cost of HR software, it's crucial to think about the integration of various functions like recruiting, onboarding, performance management, and payroll.
The Benefits of HR Software for Small Businesses
HR software streamlines key HR tasks for Singapore's small businesses.
Enables efficient record-keeping, payroll management, and employee tracking.
Reduces reliance on manual processes, saving time for HR teams.
Managers can monitor employee performance and track career progress with ease.
Provides quick access to employment documents like payroll data and employee files.
Automates HR tasks: salary calculations, payslip generation, leave management, and attendance tracking.
Cost-effective solution that boosts operational efficiency for small businesses.
Beyond time-saving, offers numerous other vital benefits to Singapore's small businesses.
Methodology Used for Ranking the Best HR Software in 2023
We used a comprehensive methodology including pricing, features, reviews, and expert scores to determine the top HR software in Singapore. Discover which software came out on top and find the perfect solution for your business needs.
Read more now!
Pricing
Online HR software prices can vary significantly depending on the features and subscription plans. When looking for HR management software in Singapore, it's important to consider your budget and find a solution that meets your needs without breaking the bank.
General and additional features
HR software in Singapore offers a range of general and additional features to enhance the management of human resources. These features are designed to automate HR processes, improve efficiency, and provide valuable insights into employee data.
Third-party reviews
Third-party reviews play a crucial role in the methodology used for ranking the best HR software in Singapore. These reviews provide valuable insights from actual customers who have used the software, giving businesses an unbiased perspective on its performance and functionality.
Expert score
Experts play a crucial role in evaluating and ranking the best HR software in Singapore. Their expertise aids in assessing various factors, such as pricing, features, and customer reviews.
Conclusion
In conclusion, this comprehensive guide has provided an overview of the top HR management software options in Singapore. By streamlining HR processes, increasing productivity, and improving data management, these software solutions offer numerous benefits for businesses.
With features such as HR management, payroll services, and automation of workflows, companies can enhance their HR operations and effectively manage their workforce. Whether you're a small business or a large organization, choosing the right HR software is crucial for optimizing your human resource management.
FAQs
1. What is HR Management software?
HR Management software is a digital solution to handle various human resource tasks such as employee records, payroll, and benefits administration.
2. Can you find free HR software in Singapore?
Yes, there are several options for free HR management software available in Singapore designed to suit the needs of different businesses.
3. How does the right HR software help a business?
Choosing the right HR management software can streamline administrative tasks, increase efficiency in operations and ensure accuracy of staff record keeping.
4. Why should Singaporean companies consider using an HR management tool?
For Singaporean companies particularly, implementing an effective HR management system leads to better compliance with local labour laws and regulations while improving overall operational efficiency.