Graphic design is an essential element of modern business and branding, and finding the right graphic design agency can make all the difference in achieving your marketing goals.
In this article, we've compiled a list of Singapore's best graphic design agencies based on their reputation, portfolio and key services.
Whether you're looking for a new brand identity, website design or custom marketing materials, these agencies can help take your visual communications to the next level.
What Does a Graphic Design Agency Do?
A graphic design agency is a company that specialises in creating visual content for various mediums, such as print, digital and social media.
They work with clients to develop design solutions that communicate messages effectively and visually. A graphic design agency's tasks include creating logos, designing websites, developing marketing collateral, producing advertising campaigns and designing product packaging.
They may also provide branding, typography, illustration and photography services to help clients achieve their visual communication goals.
Overall, the primary goal of a graphic design agency is to create visually appealing and effective designs that communicate the intended message to the target audience.
Finding the Right Graphic Design Agency
Selecting the right graphic design agency is a crucial decision for any business, as it can significantly impact the success of its marketing and branding efforts. Here are some key elements you may consider when shopping for your next design partner.
Determine Your Design Needs
Establish a clear idea of what design work you need help with. Is it a new logo, a fresh website design or custom marketing materials?
Research Potential Agencies
Look for graphic design agencies that specialise in the type of design work you need and check their portfolios to see if their design style matches your brand.
Check Their Experience
Take note of the agency's experience and track record of delivering quality work. Consider their past clients and industries they've worked with.
Examine Their Design Process
A good graphic design agency should have a structured approach to design, with clear timelines, milestones, and deliverables.
Evaluate Their Communication Skills
Communication is crucial in any business relationship. Look for a responsive agency that communicates clearly and is easy to work with.
Consider Their Pricing
Get a clear idea of the agency's pricing structure and make sure it aligns with your budget. Some agencies charge a flat fee, while others charge hourly rates.
17 of the Best Graphic Design Agencies in Singapore
JIN Design
Jin Design is a creative digital and SEO agency based in Singapore, specialising in web design, website optimisation and digital marketing. With our team of talented designers and developers, we offer innovative SEO solutions to ensure your website generates the results you want and helps your brand stand out in today's competitive market.
Portfolio Highlights
As an SEO agency in Singapore, we have worked with businesses of all sizes across the region. Clients who trust us with SEO and web optimisation for their business sites include Imperial Harvest, Allianz Insurance, Lion Global Investors, Lesaffre and more.
Talk to our team today to start your website's SEO journey with us!
Sage Animation
Sage Animation is a creative studio based in Singapore, specializing in producing compelling animated content. They offer a comprehensive range of services, including 2D and 3D animation, explainer videos, and corporate presentations, crafting engaging narratives that help businesses and brands connect with their audiences.
Portfolio Highlights
Sage Animation's portfolio showcases an impressive array of creatively crafted animated content. Their work ranges from eye-catching 2D and 3D animations to compelling explainer videos and corporate presentations, underscoring their versatility and commitment to quality. Their ability to turn complex concepts into digestible narratives has enabled various businesses to connect more effectively with their audiences, making them a standout animation studio in the industry.
5ive Media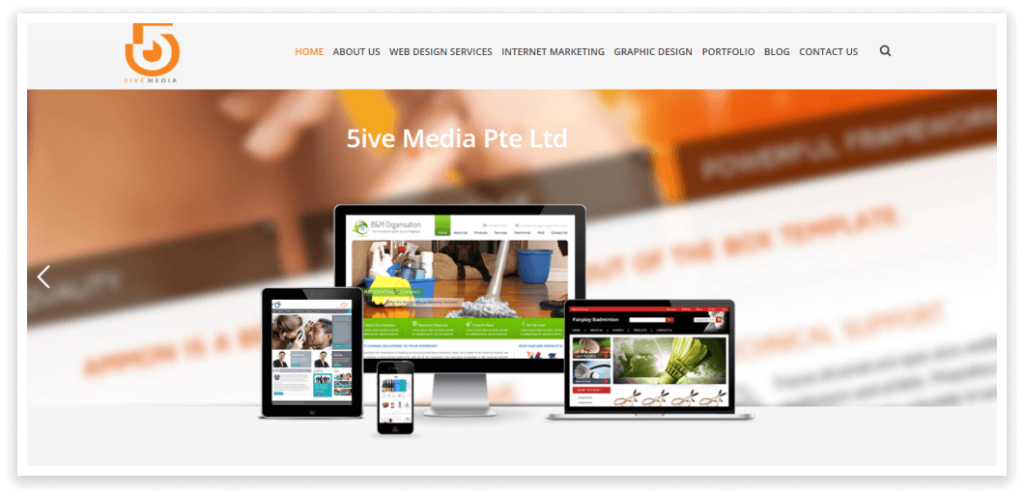 A graphic design and digital marketing agency based in Singapore, 5ive Media offers a suite of services dedicated to helping businesses stand out in their industry.
Portfolio Highlights
The 5ive media team has worked with clients like the gourmet Asian restaurant Ke Zhan, interior designers Swiss Interior and cleaning services B&M Organisation. They also have extensive experience working with e-commerce brands like Eledecors and b-Gift.
That Design Agency (TADA)
Along with its sister company, That Marketing Agency, TADA provides creative and unique design work to supplement its brand marketing solutions.
Portfolio Highlights
That Design Agency has produced graphic design work for clients such as Watsons, Changi Airport Group and the Children's Cancer Foundation. Channel News Asia, Microsoft and Great Eastern have also engaged the team's graphic design expertise.
Mandreel Agency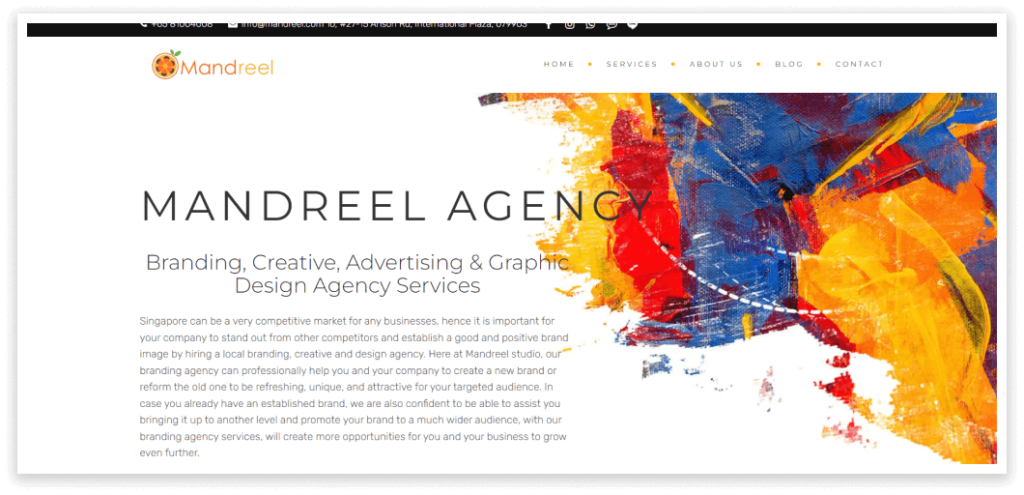 With a focus on branding identity, Mandreel uses graphic design to help businesses create a unique and attractive brand image that will make an impact on the market.
Portfolio Highlights
Some of Mandreel's notable works include projects with Grab, Vivo, Bank Indonesia, Tokopedia and Maybelline.
Fable
An award-winning graphic design consultancy based in Singapore, Fable specialises in a wide range of creative design solutions for businesses large and small.
Portfolio Highlights
Fable was trusted with creating the interior graphics for Grab's headquarters in Singapore, crafting luxurious packaging design for Rolex and developing a visual brand identity for Deloitte.
TILT
Tilt aims to be a creative partner to commercial and government brands across Singapore. In addition to graphic design, the agency undertakes projects related to branding, editorial work and more.
Portfolio Highlights
The Tilt team has successfully produced editorial and graphic design work for various clients, including Habitat for Humanity, the Tripartite Alliance for Fair and Progressive Employment Practices (TAFEP) and Samaritans of Singapore.
Breworks Design & Communication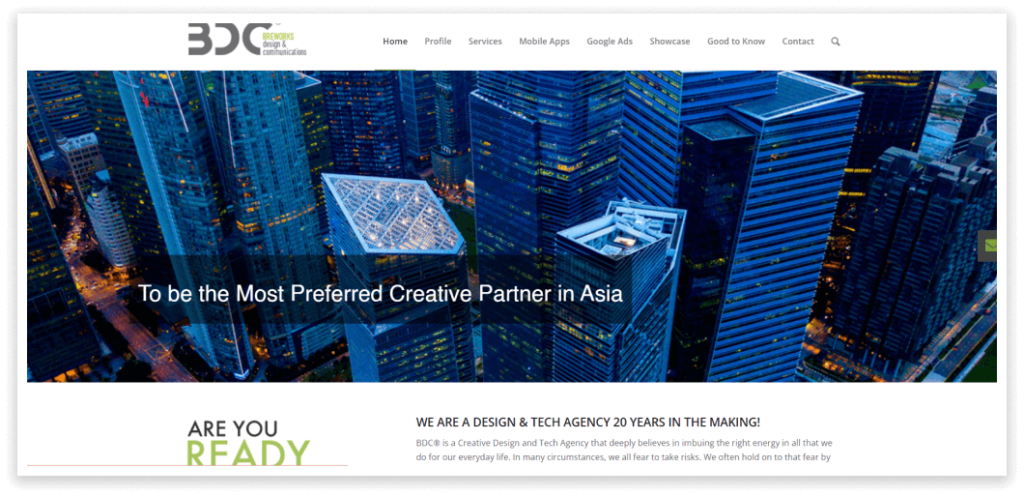 Boasting 20 years of experience as a graphic design and tech agency in Singapore, Breworks specialises in crafting visual communication and design solutions for clients.
Portfolio Highlights
Breworks has designed brochures for Union Power, City Plaza and Schuco. The agency has also collaborated with clients like Fish & Co. on poster designs, produced a food guide for Kopitiam and crafted a menu for Tino's Pizza.
Mapletree Media
Established in 2006, Mapletree Media started as a print publisher before pivoting to the digital world in 2012. With three regional offices, the agency is now a trusted design and marketing expert in Southeast Asia.
Portfolio Highlights
The Mapletree team's extensive list of clients includes the skincare brand Laneige, Orchid Country Club, Unilever, Nanyang Technological University, Thomson Medical and more.
Design Start
Founded in 2014, Design Start draws from its years of experience and talented team to deliver attractive and effective design solutions for clients across Singapore.
Portfolio Highlights
GameStart, Innisfree, Trizzila, the Ministry of Education and Homag Group are just a selection of Design Start's notable clients.
Decadence Design
Focusing on the F&B industry, Decadence Design aims to deliver innovative designs that combine cutting-edge technology with the latest creative trends.
Portfolio Highlights
The Decadence Design team has successfully worked with Alliance Human Resources, Genie Collective, Nutripharma Consultants, the National Volunteer and Philanthropy Centre and more.
Ease Communications
A graphic design agency in Singapore since 1998, Ease Communications is devoted to creating simple, intuitive designs that reflect the best of modern technology.
Portfolio Highlights
Ease Communications has contributed its graphic design expertise to the National Institute of Education, Landex Ptd. Ltd., Light Canvas Photography, the National Skin Centre, and more.
Dexel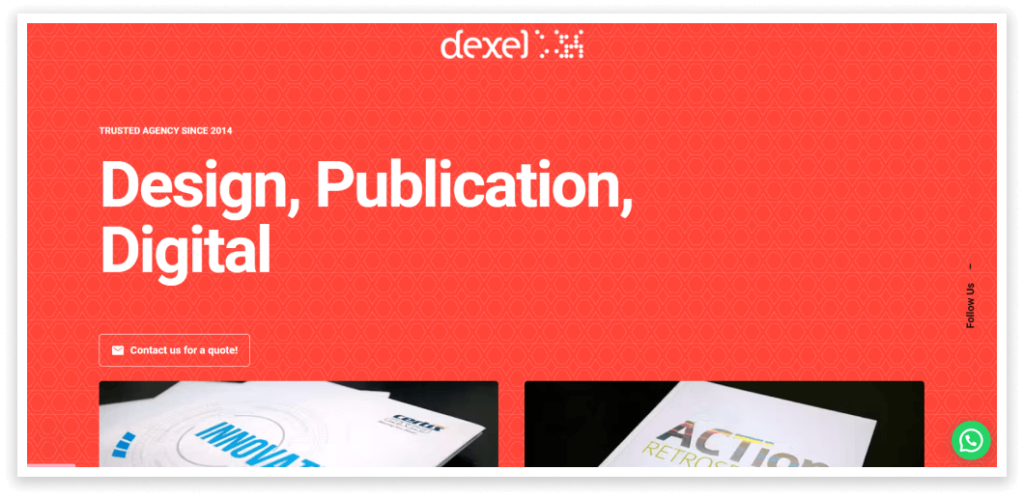 A digital and graphic design agency based in Singapore, Dexel offers various creative solutions for businesses across industries and acts as a design retainer for many clients.
Portfolio Highlights
Dexel's clients range from startups to corporations and include Certis Cisco, Prudential, JP Nelson, Marina Bay Golf course and the Ministry of Transport.
Elevate Your Brand's Graphic Design With JIN

We're dedicated to crafting engaging, powerful and unique visual materials that will ensure your business stands out in the market.
As a trusted digital agency in Singapore, we also offer landing page conversion optimisation services to ensure your brand generates excellent results.
Contact us via this form or email us at hello@jin-design.com to start on a new graphic design project with us!