This blog is dedicated to providing essentials guidelines, tips and insights on finding the right fit for your unique website needs. Keep reading as we unravel how you can elevate your digital presence with a top-tier Freelance Web Designer Developer in Singapore!
Benefits of Hiring a Freelance Web Designer in Singapore
Freelance web designers in Singapore offer the benefits of availability, affordability, and agility for those looking to create or improve their websites.
Availability
Freelance web designers in Singapore provide a major advantage of availability. They are not confined to the typical nine-to-five work schedule, which is beneficial for clients with unique business hours or those residing in different time zones.
Quite often, they will adjust their timetable to suit a project's needs and deliver results on time. This flexibility helps businesses maintain momentum without any delays or disruptions due to scheduling conflicts.
With such dedicated service, your website development project stays on track and meets deadlines efficiently.
Affordability
Freelance web designers in Singapore are a pocket-friendly option for your business. With no overhead costs of an agency, they can offer competitive rates without compromising on quality or creativity.
Every penny counts when it comes to running a business and choosing services that give you value for money is important.
While investing in a website designer may seem like an expensive prospect, hiring a freelance web developer provides an affordable solution. You decide what your budget allows instead of paying the fixed fees that many agencies charge.
This flexibility allows businesses to have high-quality websites at much more manageable prices.
Agility
Freelance web designers in Singapore excel at agility. They adapt quickly to changes and requests, making your website development a smooth process. In the rapid-paced world of digital marketing, where trends change often, this ability to adjust swiftly is crucial.
Working with a nimble freelance web designer ensures that your site stays current and relevant, maintaining your competitive edge. Whether it involves design adjustments or incorporating feedback, an agile freelancer delivers prompt results without compromising creativity or technical standards.
Top Freelance Web Designer Developer in Singapore
Rei Law Design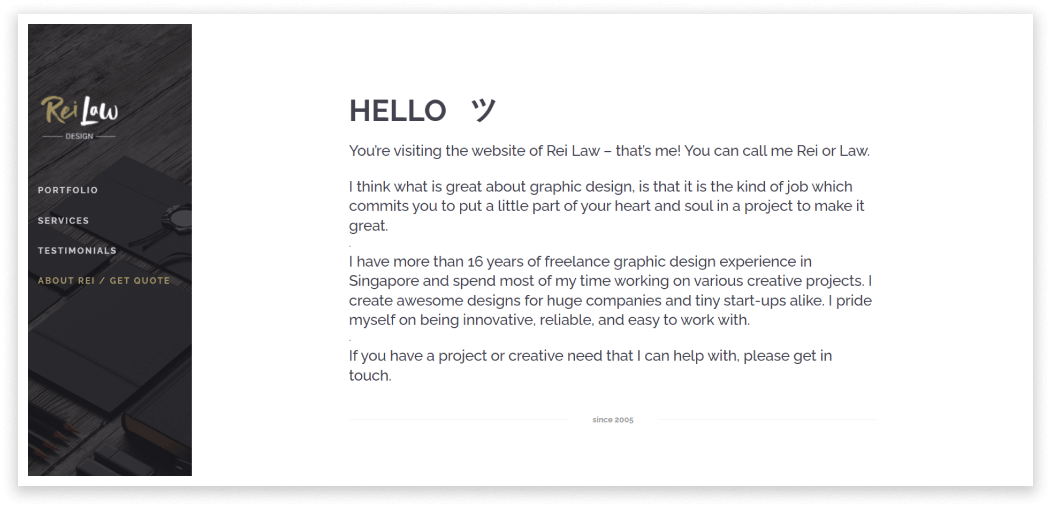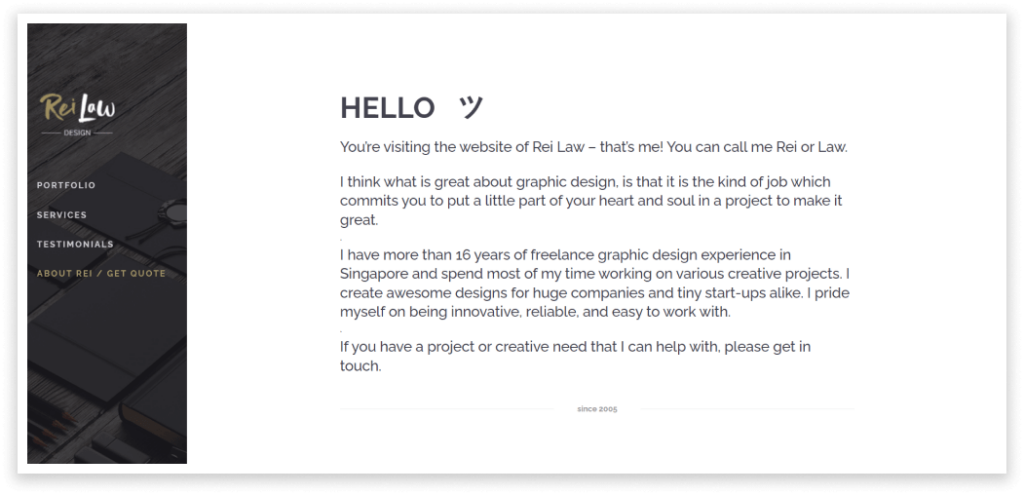 Rei Law Design is your go-to freelance web designer. Rei Law Design is a versatile and innovative freelance web design specialist with a unique blend of creativity and legal expertise. Our mission is to create visually stunning and compliant websites that not only captivate your audience but also adhere to all necessary regulations. Whether you're a startup, an e-commerce venture, or a corporate entity, Rei Law Design ensures your web presence stands out.
Yana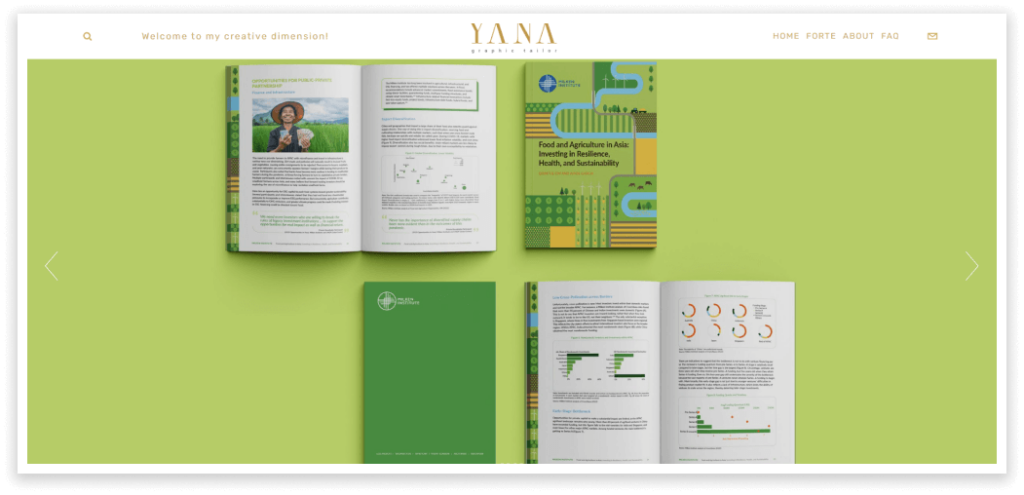 Yana is a freelance web designer with an artistic touch. Specializing in creating visually captivating and user-friendly websites, Yana's designs are like digital works of art. Whether you're launching a personal blog, an online store, or a corporate site, Yana infuses creativity and functionality into every pixel, making your web presence truly exceptional.
Kson Tay Designs
Kson Tay Designs offers freelance web design services that are as unique as you are. With a passion for crafting tailored online experiences, Kson Tay Designs focuses on creating custom websites that reflect your brand's identity. From responsive designs to intuitive user interfaces, Kson Tay Designs ensures your website not only looks great but also performs seamlessly across all devices. Your online vision, our design expertise.
Serene Soh
Serene Soh is your trusted freelance web designer, known for creating serene and visually captivating online experiences. With a keen eye for aesthetics and user-friendly design, Serene transforms your web vision into reality. Whether you're a startup, an established business, or an individual looking to shine online, Serene Soh crafts websites that inspire trust and engagement.
Kevin Lim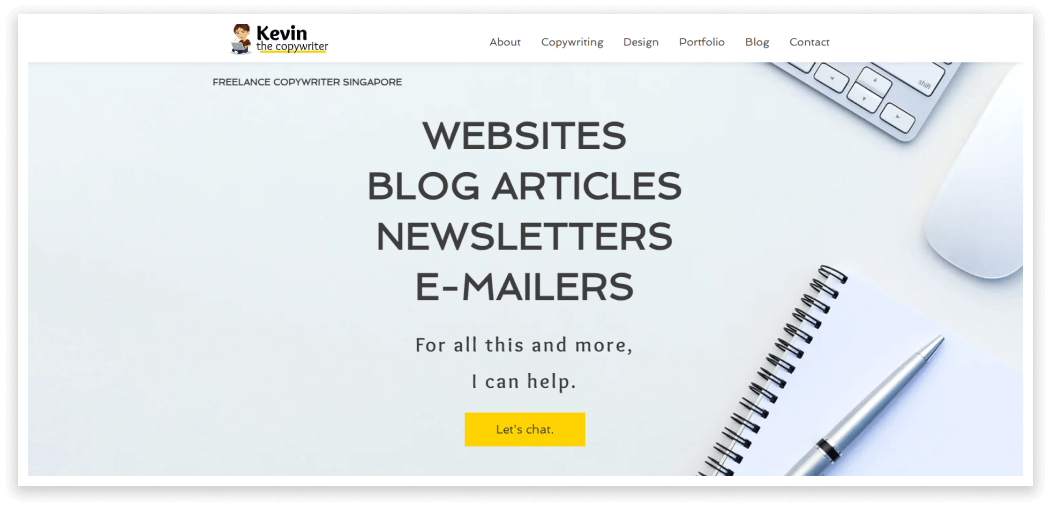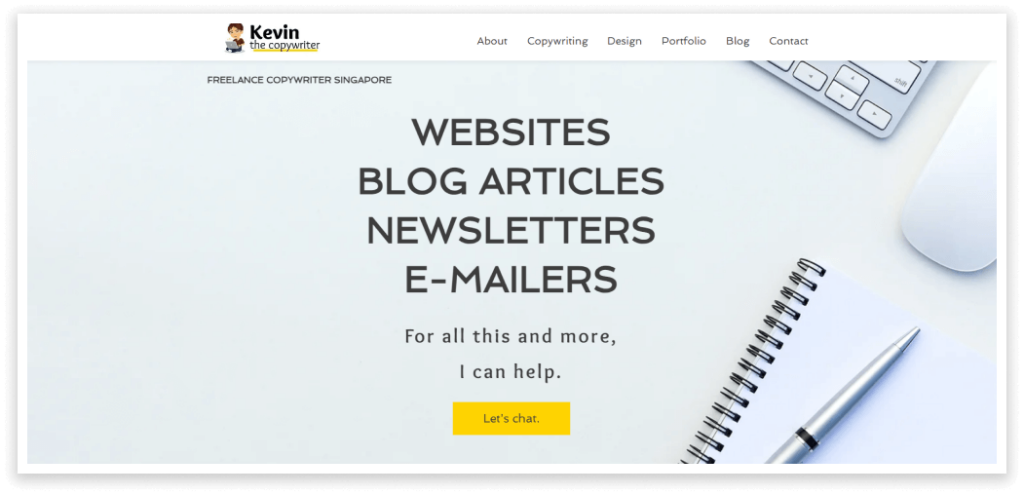 Kevin Lim is your go-to freelance web designer for cutting-edge digital solutions. With a passion for pushing the boundaries of design and technology, Kevin specializes in creating websites that not only look stunning but also deliver exceptional user experiences. From sleek corporate sites to dynamic e-commerce platforms, Kevin Lim's designs make a lasting impact in the digital world.
TerrisMedia
TerrisMedia is your one-stop destination for freelance web design excellence. TerrisMedia offers a wide range of creative solutions for your online needs. From responsive web design to interactive multimedia experiences, TerrisMedia crafts websites that tell your unique story and captivate your audience. Elevate your online presence with TerrisMedia's expertise.
Stanley Yeo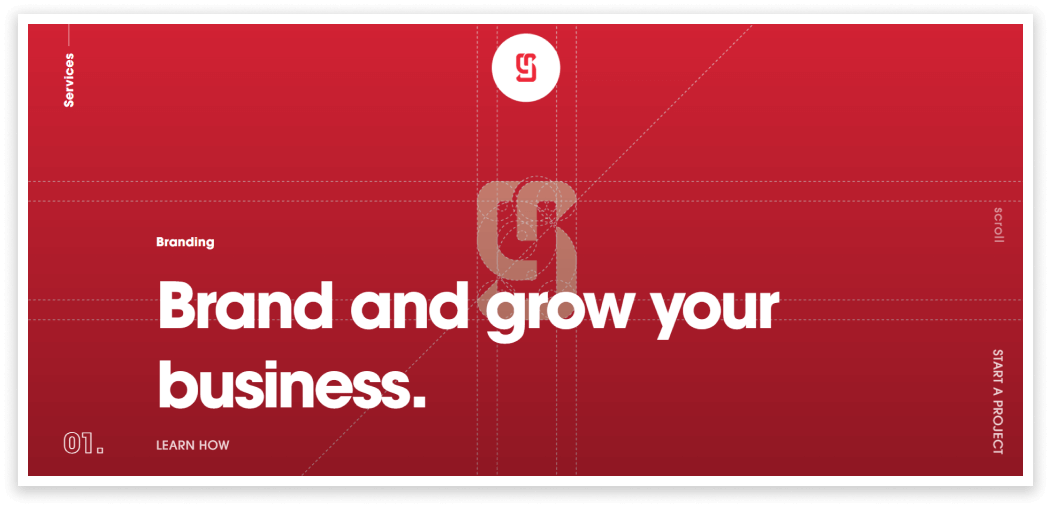 Stanley Yeo is your freelance web design virtuoso. With a keen eye for detail and a passion for innovation, Stanley crafts visually stunning and functional websites that elevate your online presence. Whether you're a startup or an established brand, Stanley Yeo's designs ensure your web experience stands out in the digital landscape.
Joy Lym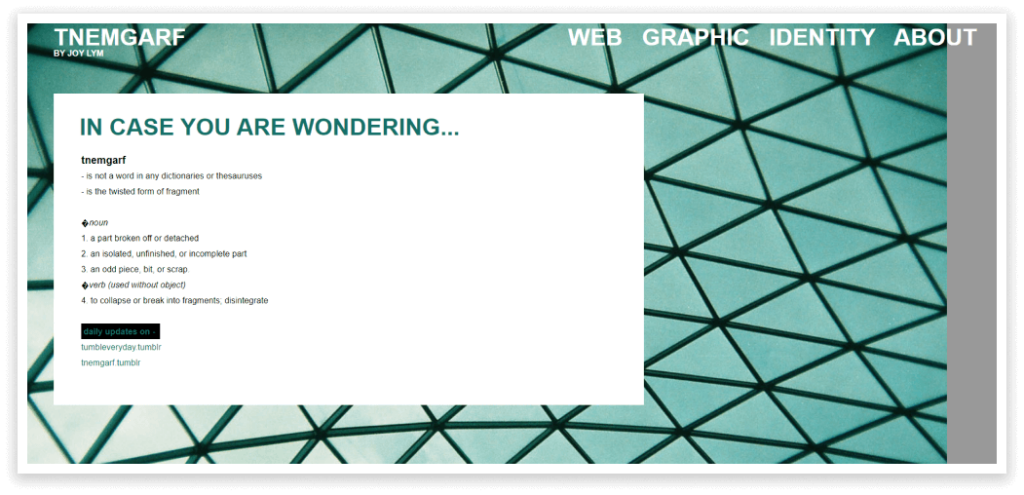 Joy Lym is your creative catalyst for exceptional web design. Known for infusing joy and creativity into every project, Joy specializes in crafting websites that not only look beautiful but also engage and captivate your audience. Whether it's a personal blog, an e-commerce store, or a corporate site, Joy Lym's designs transform your digital dreams into reality.
I am Felore
I am Felore is your source for unique and personalized web design solutions. Felore's approach is all about turning your vision into a captivating online reality. With a commitment to creativity and individuality, I am Felore ensures your website reflects your distinct identity, making it stand out in the competitive digital landscape.
Amalina Zakaria
Amalina Zakaria is your dedicated freelance web designer, known for crafting user-friendly, aesthetically pleasing websites. With a focus on seamless navigation and engaging visuals, Amalina creates digital experiences that resonate with your target audience. Whether you need a personal blog, a portfolio site, or an e-commerce platform, Amalina Zakaria's designs ensure your web presence shines.
Melvin Lim
Melvin Lim is your trusted freelance web design expert, bringing a wealth of experience and creativity to every project. With a passion for crafting visually appealing and user-friendly websites, Melvin is dedicated to turning your online vision into reality. Whether you're a small business or a large corporation, Melvin Lim's designs ensure your website stands out and delivers an exceptional digital experience to your audience.
How to Choose a Freelance Web Designer in Singapore
Consider the types of services offered, review their portfolio and experience, and assess their communication and collaboration skills.
Types of Services Offered
In your quest for a freelance web designer in Singapore, consider the broad range of services they offer. Freelance professionals typically provide numerous services such as:
Website Design: Crafting visually captivating and user-friendly interfaces.
Web Development: Implementing the functional elements that make websites work efficiently.
Search Engine Optimization (SEO): Optimizing your website to rank high on search engine result pages.
Mobile Friendly Design: Ensuring your website is navigable and attractive on any device.
E-commerce Development: Designing specific features required for an online store.
CMS Customization: Personalising content management systems like WordPress and Joomla to suit your needs.
Website Maintenance: Regularly updating and fixing bugs on your site to ensure seamless operation.
Social Media Integration: Connecting your website with popular social media platforms.
Portfolio and Experience
The portfolio of a freelance web developer in Singapore is a testament to their skills and capabilities. It typically includes samples of past work, demonstrating the designer's ability to integrate various elements into visually pleasing and functional designs.
It will showcase diverse styles and techniques used across different projects. Examining these portfolios gives valuable insight into what you can expect from your own project with them.
Experience, on the other hand, reflects maturity in handling varied client requirements and overcoming design challenges. Seasoned web developers tend to have broader expertise and can offer well-rounded solutions for your website needs.
Whether it's creating an e-commerce site or personal blog, both portfolio and experience contribute significantly to selecting your ideal freelance web designer in Singapore.
Communication and Collaboration Skills
Good communication and collaboration skills are lifeblood of any successful project, especially when it comes to website designing. Clear lines of communication can help minimise misunderstandings, ensuring that your vision for the website is accurately translated into reality.
Freelance web designers in Singapore stay connected with their clients at all times, providing regular updates on progress and seeking clarification whenever needed.
Moreover, these freelancers pride themselves in being strong collaborators. They maintain open channels for feedback and understand its importance in achieving desired results. Whether you have a change of mind or want to tweak certain aspects during the development phase, they remain flexible and accommodating towards updates required by their clients.
Their ultimate goal is not just to deliver a product but also an experience that fosters positive professional relationships.
Key Qualities of a Top Freelance Web Designer in Singapore
A top freelance web designer in Singapore possesses creativity, technical skills, problem-solving abilities, attention to detail, and excellent communication skills.
Creativity
A top freelance web designer in Singapore possesses a high level of creativity. They have the ability to think outside the box and come up with innovative solutions for designing websites.
With their creative flair, they can design visually appealing and engaging websites that stand out from the competition. A creative web designer understands the importance of using colors, fonts, images, and layouts effectively to create a unique user experience.
They can turn ideas into reality by translating concepts into stunning designs that capture the attention of visitors. By harnessing their creativity, freelance web designers in Singapore can help businesses make a lasting impression online.
Technical Skills
A top freelance web designer developer in Singapore possesses excellent technical skills. They are proficient in programming languages such as HTML, CSS, JavaScript, and PHP. They have a deep understanding of website development frameworks and content management systems like WordPress or Shopify.
Their expertise allows them to create visually appealing websites that are functional, user-friendly, and optimized for search engines. They are also familiar with responsive design principles to ensure that the website looks great on different devices.
With their strong technical skills, they can handle complex coding tasks and troubleshoot any issues that may arise during the development process efficiently.
Problem-Solving Abilities
A top freelance web designer in Singapore possesses strong problem-solving abilities. They have the skills and expertise to identify issues that may arise during the website development process and find effective solutions.
Whether it's troubleshooting coding problems or resolving design conflicts, these designers can quickly analyze the situation and come up with creative solutions to overcome any obstacles.
Their problem-solving abilities ensure that your website is built smoothly, efficiently, and according to your requirements.
Attention to Detail
A top freelance web designer in Singapore possesses a keen attention to detail. They meticulously review every aspect of your website, ensuring that no small element goes unnoticed.
From the placement of buttons to the alignment of text, they take care of every detail to create a polished and professional-looking site. Whether it's checking for spelling errors or adjusting images for optimal resolution, their attention to detail ensures that your website not only looks great but functions flawlessly as well.
Communication Skills
Effective communication skills are crucial when choosing a freelance web designer in Singapore. Clear and open lines of communication ensure that your ideas and requirements are properly understood by the designer, leading to a website that meets your expectations.
Communication skills also play a key role in collaboration throughout the project, allowing for effective problem-solving and timely updates on progress. A skilled communicator will not only listen attentively to your needs but also provide regular updates, seek clarification when needed, and offer suggestions or solutions to enhance the design process.
Conclusion
When it comes to building a successful website in Singapore, hiring a freelance web designer or developer can offer numerous benefits. With their availability, affordability, and agility, they provide the flexibility and expertise needed to create an effective online presence.
By considering their services offered, portfolio and experience, as well as communication skills when choosing the right freelancer for your project, you can ensure a smooth collaboration.
Remember that top freelance web designers possess qualities like creativity, technical skills, problem-solving abilities, and attention to detail which are essential for delivering exceptional results.
Start Your Business With Expert Web Design Solutions From JIN

JIN Design specializes in providing website design and development services aimed at helping you achieve your business goals while showcasing your brand's distinct identity. Our team of experts collaborates closely with you to craft a tailored website that fulfills your unique requirements.
Start your website project with us today or get in touch to explore how we can assist you in unlocking the full potential of your brand's online presence.