Email remains an essential communication tool in today's digital age, and businesses need to have a reliable and secure email service to succeed.
This is especially vital for startups and SMEs with a more restricted budget than larger corporations. With so many options to consider, choosing the right email hosting service for your needs can be overwhelming.
Our article covers all the crucial aspects you must consider before selecting a suitable email hosting provider in Singapore, from features and pricing to security and customer support.
What is an Email Hosting Service?
An email host is a service provider that offers email hosting services to individuals, businesses or organisations. It provides users with the necessary infrastructure and software to manage and access their email accounts.
When you sign up for an email hosting service, you are typically given an email address associated with a specific domain name.
For example, if you sign up for an email hosting service with the domain name "mycompany.com," you may be given an email address like "hello@mycompany.com."
The email host is responsible for managing the email server infrastructure, ensuring that emails are delivered and received securely, providing spam and virus protection, and offering tools for managing email accounts and settings.
Some email hosts also offer additional features such as cloud storage, collaboration tools, and customer support.
Why is a Good Email Host Important for Your Business?
A reliable and secure email hosting service can provide several benefits to your business in Singapore, including:
Things to Consider When Selecting an Email Host Provider
When choosing an email hosting service, there are several factors that you should consider to ensure that you select a provider that meets your needs.
Reliability and Uptime
Look for an email host that has a reliable infrastructure and a high uptime guarantee. This ensures that your email service will be available whenever you need it.
Security
Choose an email host that offers advanced security features such as spam filtering, virus protection, and data encryption to ensure your emails are secure and protected from cyber threats.
Custom Email Domain
Look for an email host that allows you to use a custom email domain (e.g., info@mybusiness.com) to enhance your business's branding and professionalism.
Scalability
Choose an email host that can accommodate your business's growth and evolving needs. This ensures that your email hosting service can grow with your business.
Features and Functionality
Look for an email host that offers the features and functionality you need to run your business efficiently, such as collaboration tools, email archiving, and mobile access.
Pricing
Consider the pricing plans offered by the email host and ensure they fit your budget.
Best Email Hosting Services in Singapore
HEY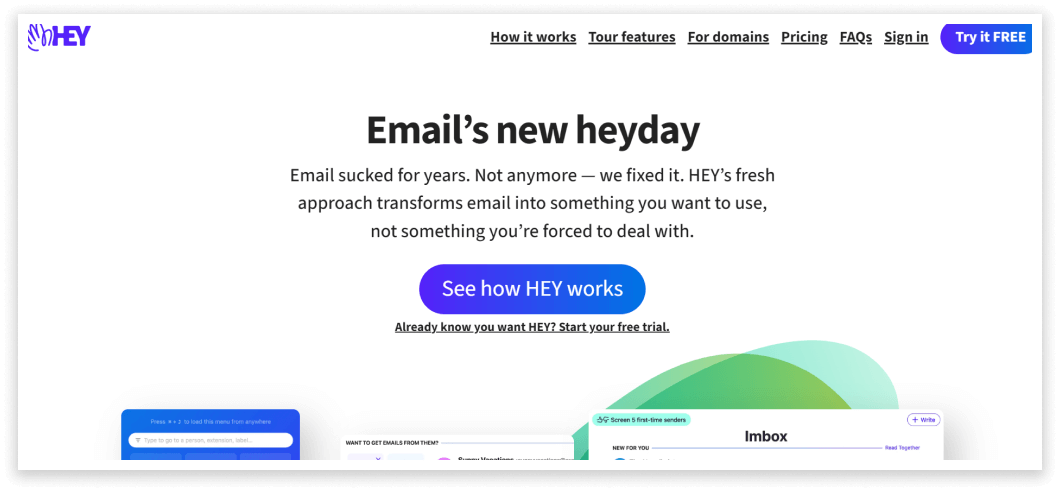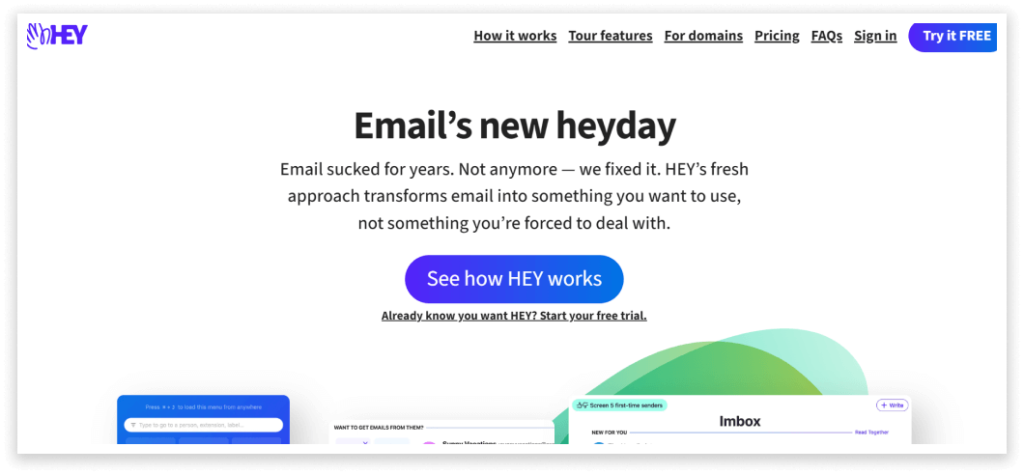 Hey is a modern email service designed to help you work more efficiently and communicate more effectively.
Services & Features:
Reply Later feature to remind you to follow up on important emails
Imbox, a feature that separates important emails from newsletters and other promotional content
Customizable themes and layouts for a personalized email experience
Advanced search capabilities to find specific emails quickly
Collaborative email features for teams, including comments and mentions
Google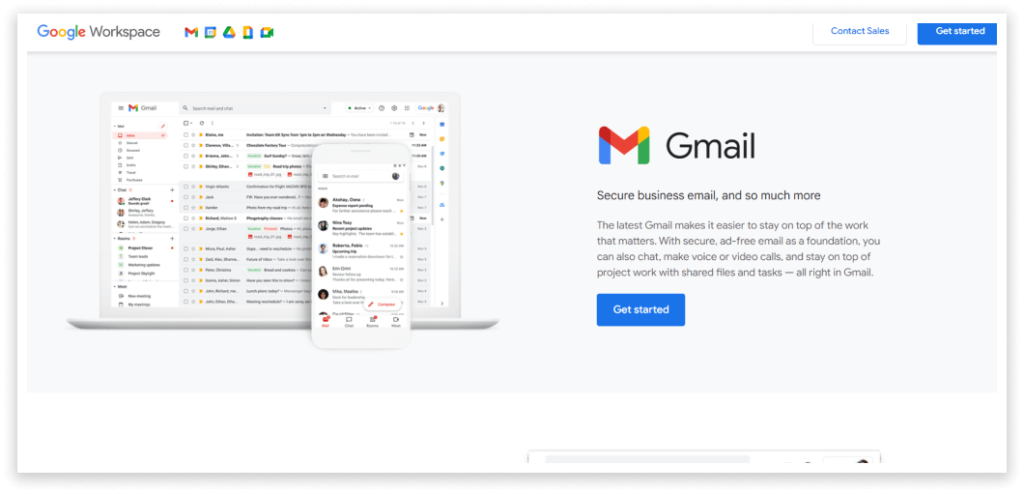 Gmail is a popular email service provided by Google that offers a powerful set of features and integrations to help users communicate and collaborate more effectively.
Services & Features:
Access to email, calendar, and contacts all in one place
Integration with other Google apps like Drive, Meet, and Docs
Customizable email rules and filters to organize your inbox
Priority inbox feature to automatically separate important emails
Smart Compose feature to suggest words and phrases as you type
Advanced security features like two-factor authentication and anti-phishing protection
Zoho Mail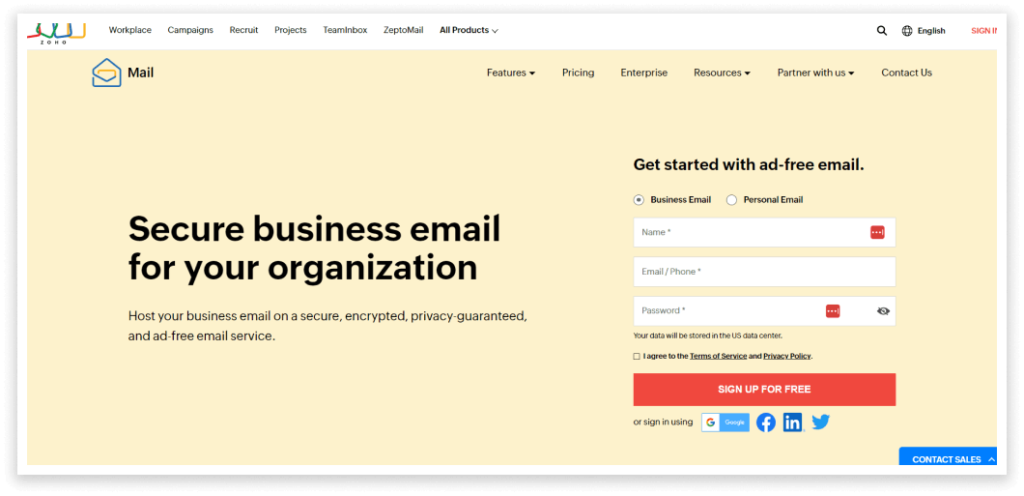 Since 1996, Zoho has remained dedicated to crafting cloud, digital, and software products to meet the needs of businesses large and small.
Services & Features
99.9% uptime with message encryption and security.
Powerful and easy-to-use mail control panel.
Retain and discover all emails for up to 365 days.
Manage emails from Zoho's native mobile app.
Integrate your mail with other Zoho apps like CRM for greater productivity.
Outlook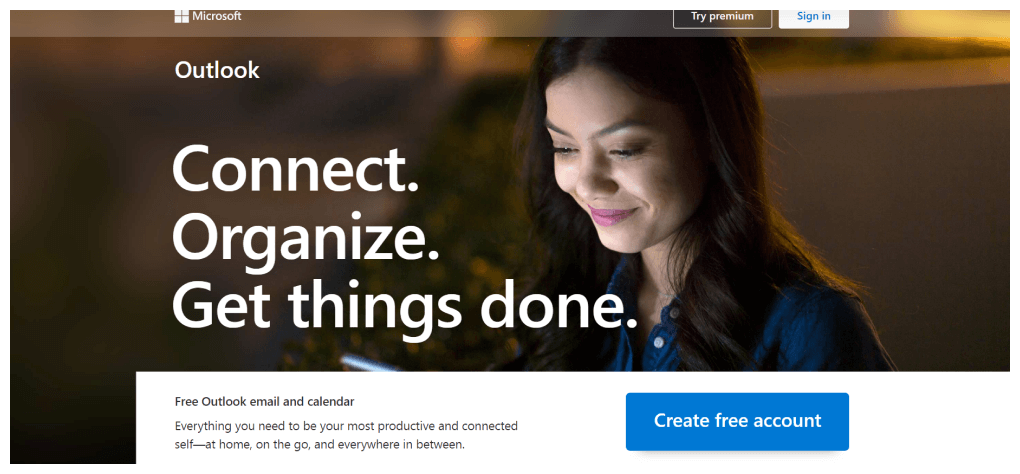 Outlook is a free email service provided by Microsoft that offers powerful organization and collaboration tools to help you stay productive.
Services & Features:
Access to email, calendar, and contacts all in one place
Integration with other Microsoft apps like OneDrive, Word, and Excel
Customizable email rules and filters to organize your inbox
Focused inbox feature to prioritize important emails
Calendar scheduling with reminders and event invite
CLDY
CLDY is a Singapore-based business email hosting provider specialising in supporting SMEs and e-commerce businesses.
Services & Features
Seamless integration with major platforms such as Shopify, Wix, Google Workspace, and more.
Supports synchronisation protocols including IMAP, POP3, SMTP, and mobile devices.
Offers 50GB and 100GB storage sizes for mailboxes.
Round-the-clock customer support is provided.
Advanced security software, including anti-spam measures.
Crazy Domains
Established in 2000, Crazy Domains offers reliable email hosting solutions for clientele around the globe, from Australia to Europe and Asia to New Zealand.
Services & Features
24-hour technical support via phone, email and live chat.
POP3, IMAP and STMP accessibility.
All packages include DDoS and brute-force protection.
Free web-based app for email accessibility on all devices.
High-grade spam protection service for business emails.
Exabytes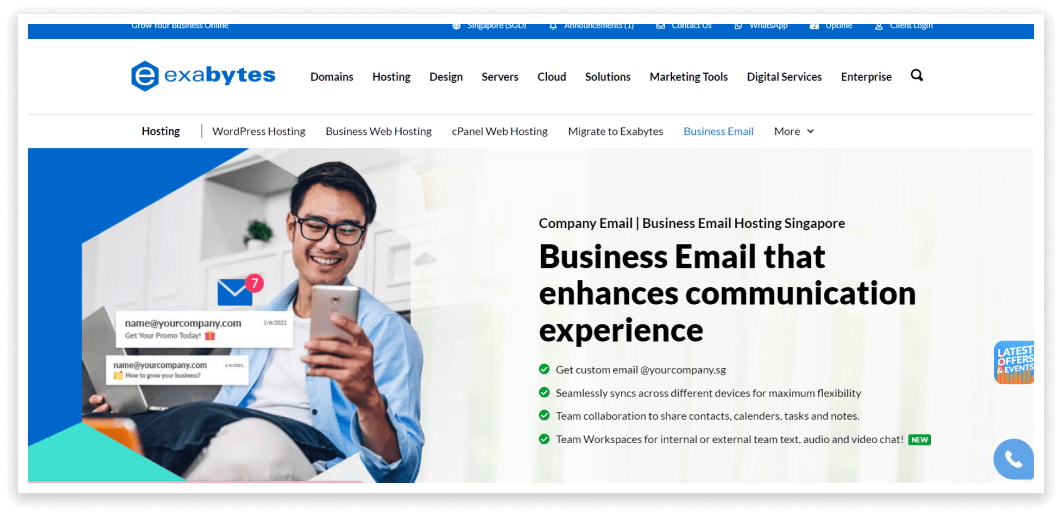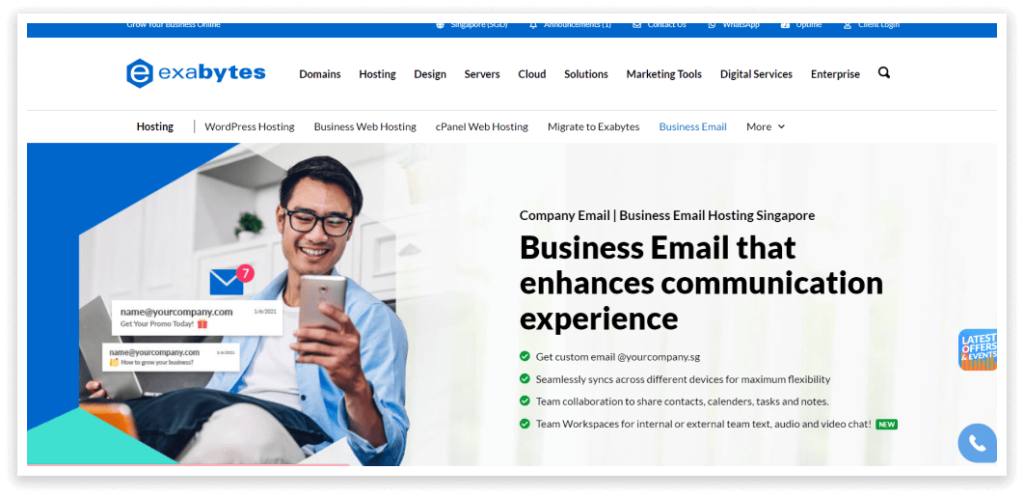 Founded in 2001, Exabytes now serves more than 160,000 businesses around the world with innovative cloud and digital solutions.
Services & Features
25GB storage per user with the option to upgrade to bulk solutions.
Full refund guaranteed within 100 days.
Brower-based accessibility, including CalDAV and CardDAV support.
Convenient drag-and-drop interface.
Instant real-time communication with teammates via internal file sharing, video conferencing, and more.
Casbay Singapore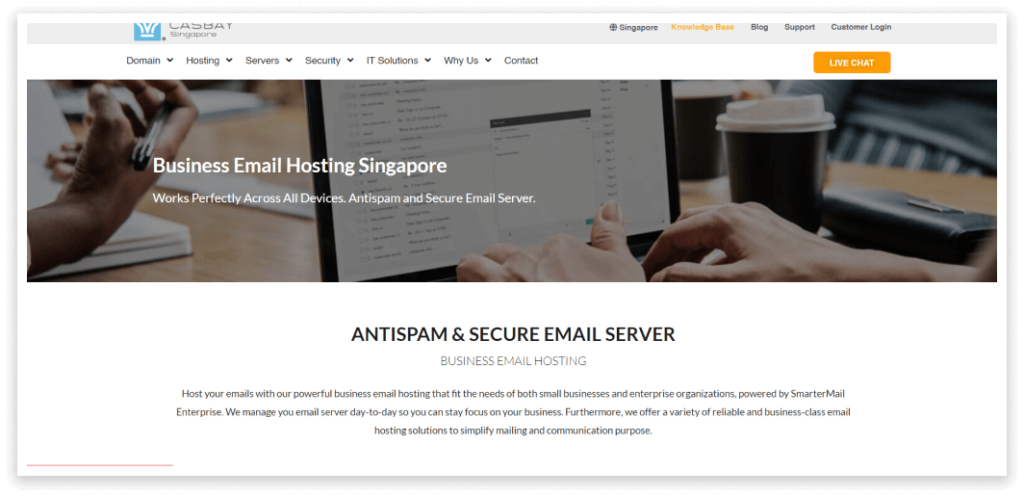 With a decade of experience, Casbay provides top-notch email hosting services to SMEs, corporations and government agencies in Singapore and beyond.
Services & Features
Disk space options range from 20GB to 400GB, depending on your business' size and needs.
SmarterMail function for managing your own domain settings and syncing to mobile devices.
Browser access at any time on all devices.
Organization-wide real-time communication tools such as video conferencing shared desktops and interactive whiteboards.
Equipped with XMPP/Jabber chat client for quick and reliable internal communication.
Cybersite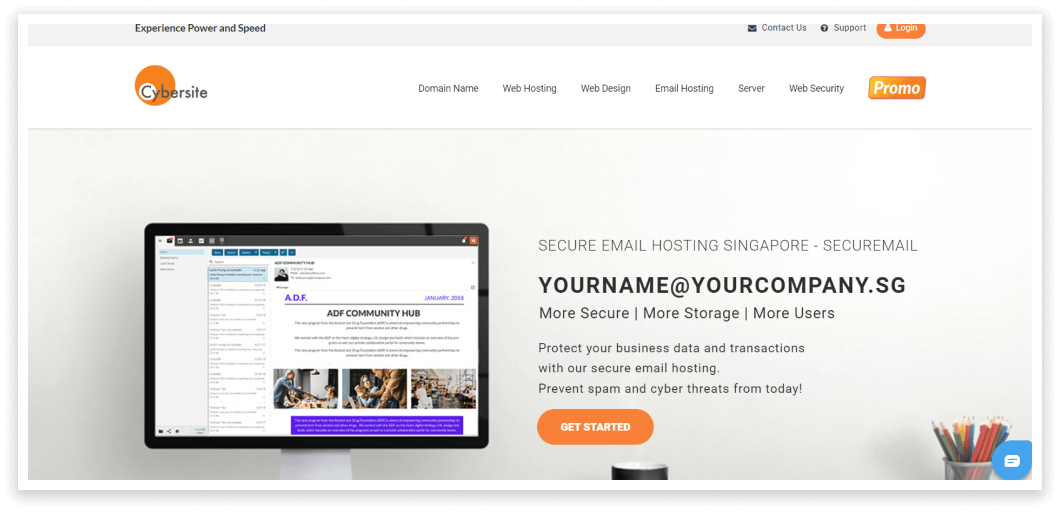 A subsidiary of Exabytes, Cybersite has evolved into a reliable email hosting provider in Singapore, along with a range of other digital solutions for businesses in the region.
Services & Features
Free lifetime domain for as long as your hosting plan is active.
Storage space options include 50GB, 150GB, 300GB, 500GB and 1TB.
Equipped with premium intelligent anti-spam scanner technology.
Secured with SSL encryption.
Collaborate with teammates via video conferencing, shared desktops, and more.
SecureAX
Founded in 2007, SecureAX delivers affordable and reliable email hosting services in Singapore and across Southeast Asia.
Services & Features
All plans support unlimited email users—charges are based on storage space.
Storage space options start at 100GB and go up to 500GB, with customisable packages for larger mailbox sizes.
SSL encryption with robust anti-virus and anti-spam systems, with the option to add SpamZetta Email Security Gateway for extra protection.
Compatible with iOS and Android as well as web browsers.
Easily manage your calendar, notes and contacts in one interface.
Oryon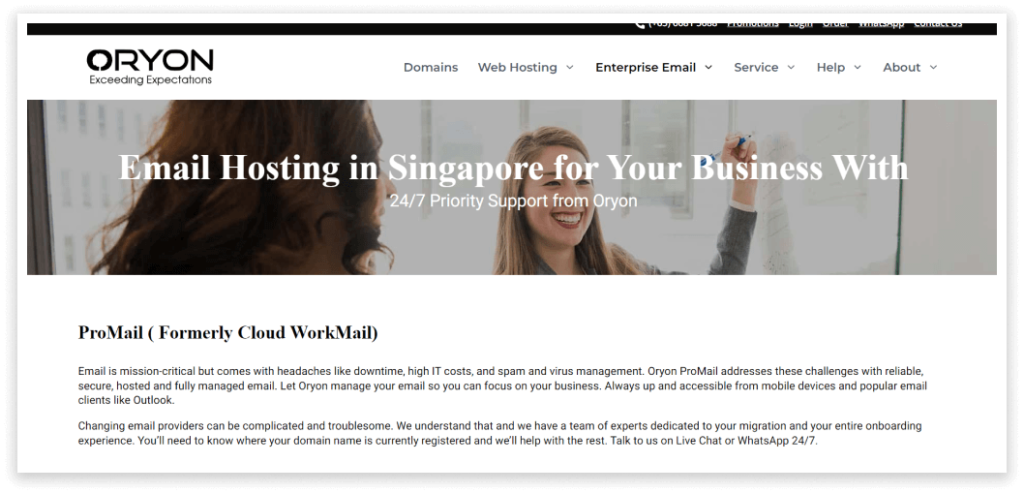 A top email hosting provider in Singapore, Oryon has almost two decades of experience in catering to the digital needs of SMEs and large enterprises alike.
Services & Features
25GB storage available per user with unlimited aliases.
Premium spam and virus protection, with advanced phishing and ransomware detection available.
100% uptime guaranteed with 24/7 technical support.
Data redundancy in 3 different data centres for reliable backup and security.
Free and convenient mail migration across clients.
IceWarp Singapore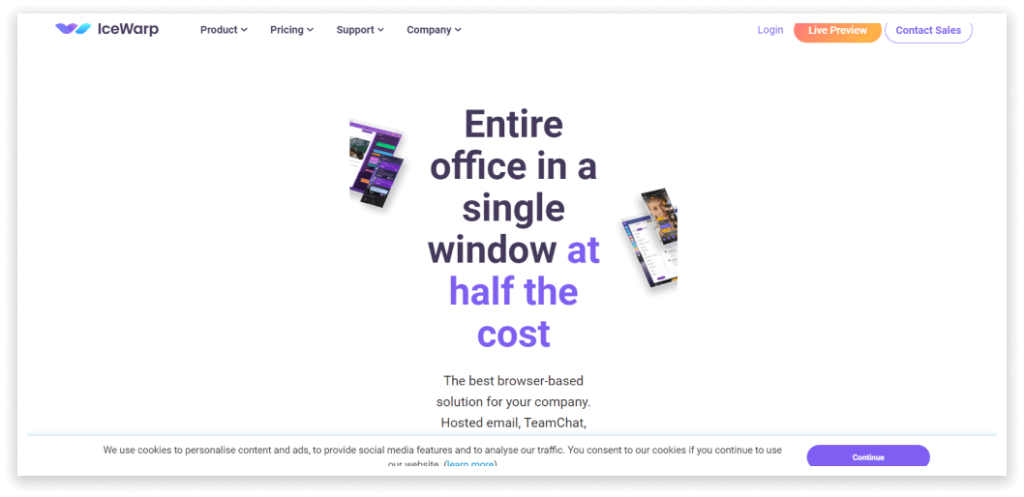 IceWarp Cloud's comprehensive suite of workplace tools includes email hosting services for businesses, with customised packages for startups, corporations, educational institutions and more.
Services and Features
IMAP and POP3 migration tools with STMP support.
Two-factor authentication is enabled along with SASL authentication framework.
Web-based team chats clients with audio and video conferencing for up to 1000 attendees.
Comprehensive anti-virus and anti-spam management.
Their startup and small business package includes 1TB of file storage, with the option to cancel services after a free 3-month trial.
Amazon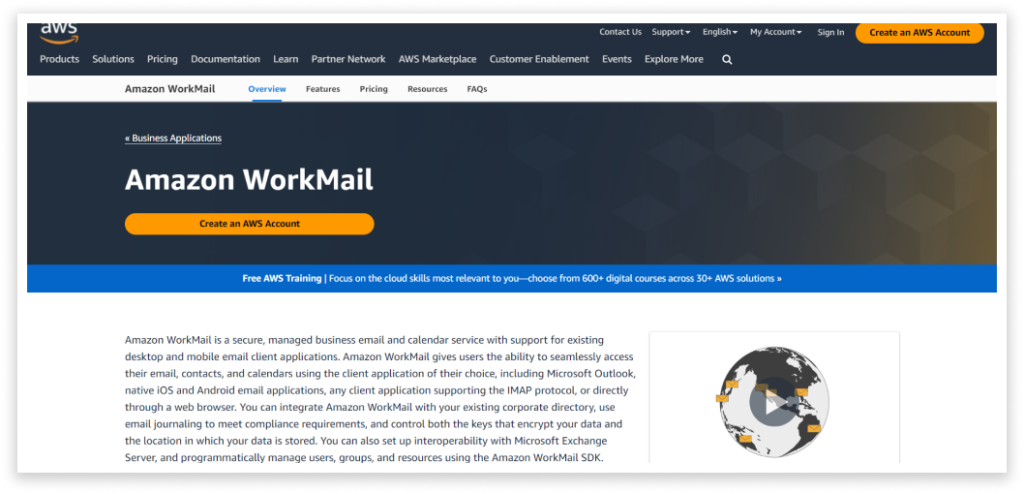 With Amazon WorkMail, you have full control over your emails and data, empowering you to manage them according to your preferences. Enjoy ample storage space of 50 GB to effortlessly store your emails and data.
HostArmada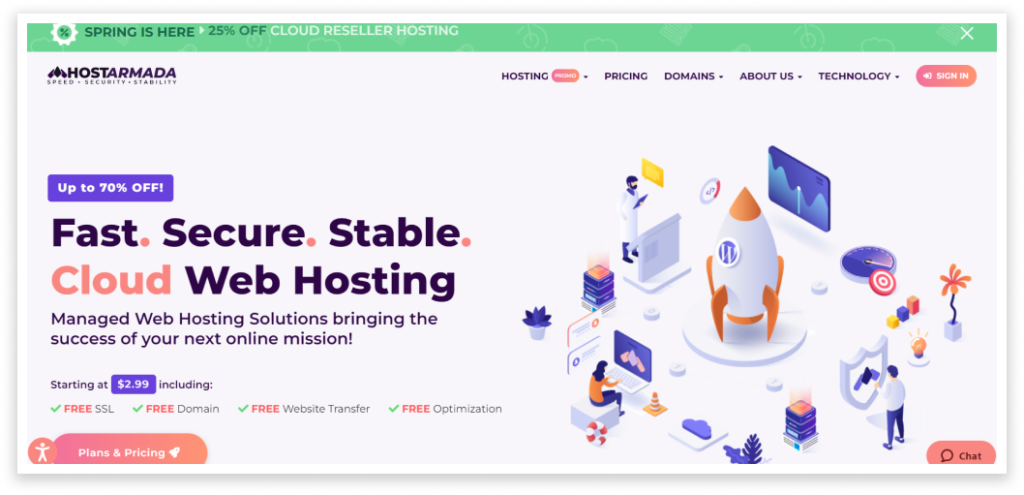 HostArmada is a leading web hosting company dedicated to providing reliable, high-performance hosting solutions. With a focus on speed, security, and exceptional customer support, we empower businesses of all sizes to thrive online.
Dreamhost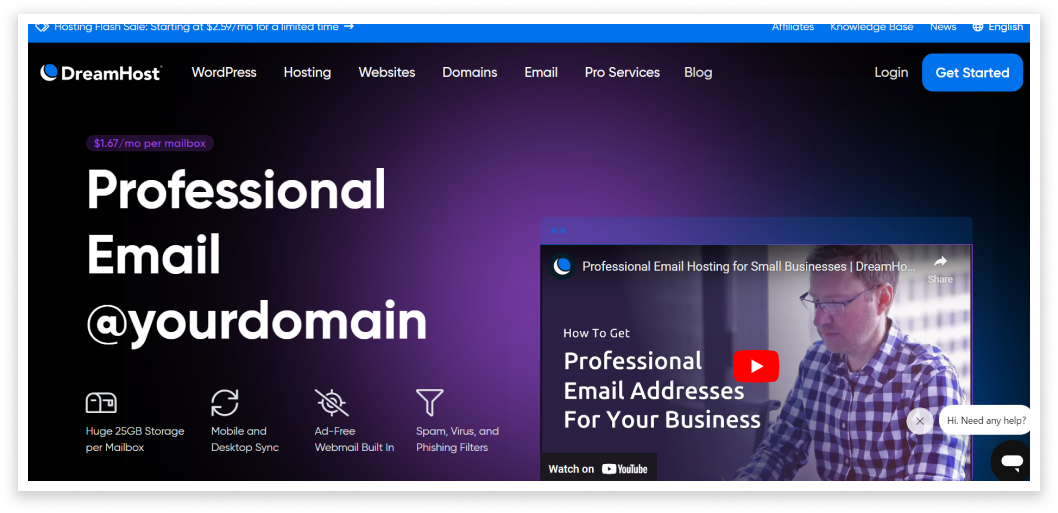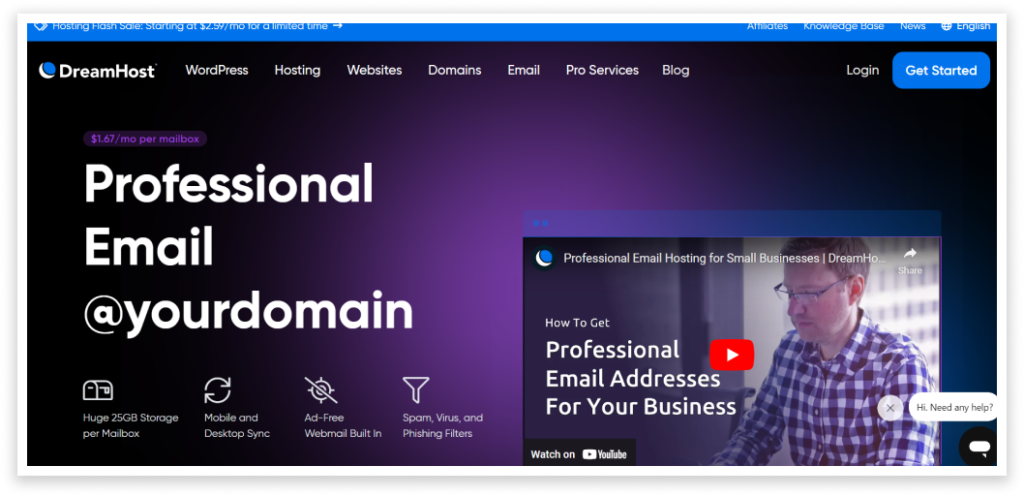 Opting for a hosted email account offers numerous notable advantages. One key benefit is the seamless integration with your company domain, presenting a more professional image compared to free email accounts. By utilizing your own domain name, you enhance credibility and establish a stronger brand identity. Unlock the potential of a hosted email account and elevate your business's reputation and competence in the digital realm.
WP Engine
WP Engine is a premier managed WordPress hosting provider that empowers businesses to thrive online. With unrivaled speed, security, and scalability, we deliver a seamless hosting experience tailored specifically for WordPress websites.
HostSG
HostSG offers top-notch email hosting services, designed to optimize your business communication in the cloud. With our reliable and secure email hosting solutions, you can enjoy professional email addresses linked to your domain for enhanced branding and credibility.
Get More Out of Your Business With JIN

Once you've secured your ideal email host provider, why not enhance your business's overall digital presence with our suite of top-quality web solutions?
You can achieve your business objectives and showcase your brand's personality with our website design and development services. Our expert team can collaborate with you to design a bespoke website that caters to your specific needs.
We'll also help you enhance your website's performance with our web optimisation and web audit tools.
Get in touch with us today to start your website project and discover the power of a website that embodies your brand.