Online shopping has boomed in recent years, especially in the wake of the COVID-19 pandemic when many of us relied on the convenience and safety of e-commerce stores for everything we needed.
Today, there are an estimated 2.14 billion online shoppers around the world. According to the same report by Tidio, Asia-Pacific countries are experiencing some of the fastest growth in the e-commerce sector.
From retail heavyweights like Alibaba to regional mainstays like Lazada, we'll delve into the top e-commerce platforms in Asia.
What Makes a Good E-Commerce Platform for Sellers?
Are you a business owner looking for the perfect online home for your business? Here are some essential factors to consider when evaluating an e-commerce platform in Asia that would best suit your needs.
User-Friendly Interface
The platform should have an intuitive and easy-to-use interface, allowing sellers to manage their online store efficiently without requiring extensive technical knowledge or coding skills.
Customisation and Flexibility
A good e-commerce platform should offer customisation options to match the seller's brand and unique requirements. It should allow sellers to customise their online store's design, layout, and branding elements.
Scalability and Growth Potential
The platform should have the ability to scale alongside the seller's business growth. It should accommodate increased traffic, product offerings, and orders without compromising performance or user experience.
Mobile-Friendly and Responsive
With the rise of mobile shopping, it's crucial for the e-commerce platform to be mobile-friendly and provide a responsive design that adapts to different screen sizes. This ensures a seamless and optimised shopping experience for customers using mobile devices.
Secure Payment Processing
The platform should integrate with reliable and secure payment gateways, ensuring that customer transactions are protected and reducing the risk of fraud or data breaches. It should also support multiple payment methods to cater to diverse customer preferences.
Robust Inventory and Order Management
Effective inventory management features, such as real-time stock updates, automated notifications for low inventory, and easy order processing, are essential for sellers to manage their product inventory and fulfil customer orders efficiently.
Marketing and SEO Capabilities
The platform should provide built-in marketing tools and SEO features to help sellers promote their products effectively. This can include features like discount codes, product reviews, social media integration, and search engine optimisation (SEO) tools to improve the store's visibility in search results.
Analytics and Reporting
The platform should offer comprehensive analytics and reporting features to track key metrics, such as sales, customer behaviour, and marketing performance. These insights enable sellers to make data-driven decisions, identify trends and optimise their strategies.
Support and Resources
A reliable e-commerce platform should provide accessible customer support, documentation and resources to assist sellers in setting up and managing their online store. This can include tutorials, forums, knowledge bases and dedicated support channels.
You can also explore our selection of common e-commerce mistakes we advise business owners to avoid.
Top E-Commerce Platforms in Asia
These platforms offer unique features and cater to specific market segments, providing diverse options for sellers and buyers in the e-commerce landscape of Asia.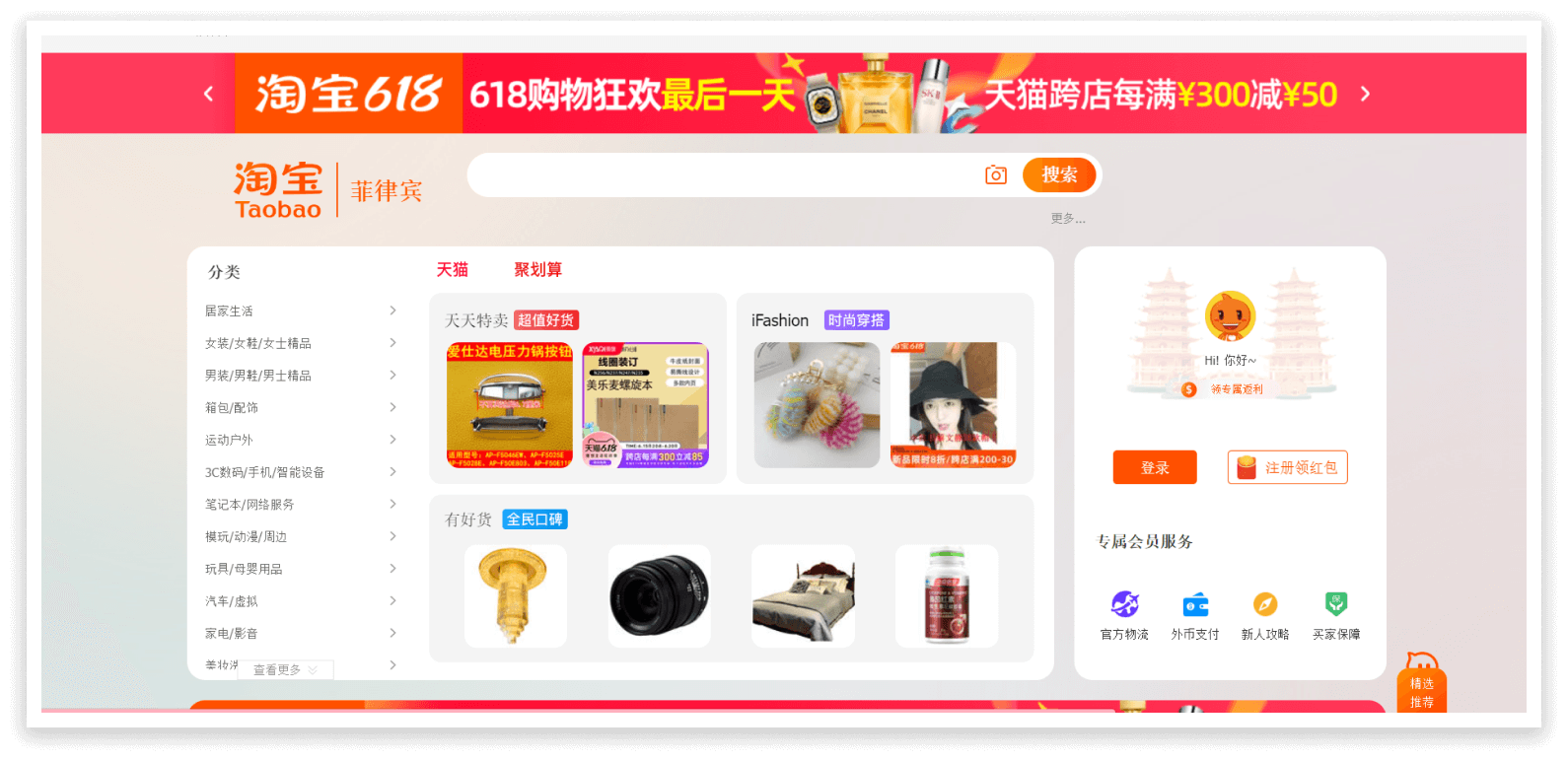 Taobao is one of the largest online marketplaces in China, operated by Alibaba Group. It is a consumer-to-consumer (C2C) platform that connects individual sellers and buyers.
Platform Highlights
Competitive Pricing – Taobao is known for its competitive pricing, with many sellers offering products at lower prices compared to traditional retail stores. Buyers can often find discounted products and deals on Taobao.
Alipay Integration – Taobao integrates with Alipay, Alibaba Group's digital payment platform. This provides buyers with secure and convenient payment options, supporting various payment methods, including credit/debit cards, online banking and digital wallets.
Secondhand Market Taobao has a significant presence in the secondhand market, where users can buy and sell used items. This section of Taobao provides opportunities for users to find pre-owned products at lower prices or sell their own used items.
JD.com, also known as Jingdong, is one of China's largest e-commerce platforms. It offers various products, including electronics, fashion, home goods and more.
Platform Highlights
JD Worldwide – JD.com operates JD Worldwide, a cross-border e-commerce platform that allows international brands to sell their products to Chinese consumers. JD Worldwide ensures product authenticity, handles import procedures, and provides localised services.
Direct Sales and Marketplace – JD.com operates as a direct retailer and a marketplace. It sells products directly to customers through its own inventory and enables third-party sellers to list and sell their products on the platform.
Fast and Reliable Logistics System – JD.com has built a strong logistics network, enabling speedy and dependable delivery services. It uses advanced technology and infrastructure, including its own warehouses, distribution centres and last-mile delivery capabilities.
AliExpress is an e-commerce platform owned by Alibaba Group. It is a popular online marketplace primarily catering to international buyers, allowing them to purchase a wide range of products directly from Chinese sellers.
Platform Highlights
Escrow Payment System – AliExpress uses an escrow payment system, which means AliExpress holds the payment until the buyer confirms the satisfactory receipt of the ordered products. This provides an additional layer of security for buyers.
Global Shipping – One of the advantages of AliExpress is its global shipping capabilities. Sellers on AliExpress often offer international shipping options to buyers worldwide. However, shipping times and fees can vary depending on the seller and location.
Mobile App – AliExpress has a mobile app available for both iOS and Android devices. The app allows users to browse products, make purchases, track orders and receive notifications about sales and deals.
Tmall Global is a cross-border e-commerce platform under the Alibaba Group. It allows international brands to sell their products directly to Chinese consumers. Tmall Global ensures product authenticity and offers various marketing tools to help brands reach their target audience.
Platform Highlights
Cross-Border E-commerce – Tmall Global facilitates the sale of imported products to Chinese consumers. It provides a platform for international brands and retailers to directly reach the Chinese market without the need for a physical presence in China.
Tmall Global Partners Program – Tmall Global offers a program called Tmall Global Partners, which provides support and services to help international brands enter the Chinese market. It offers guidance on market entry, operations, marketing, logistics and customer service.
Direct-to-Consumer Model – Tmall Global operates on a direct-to-consumer model, meaning that international brands and sellers can establish their own flagship stores on the platform. This allows them to directly engage with Chinese consumers and maintain control over their brand image and customer experience
Rakuten Ichiba is a Japanese e-commerce platform that operates as a marketplace where sellers can list their products. Rakuten Ichiba is known for its loyalty program and strong customer base in Japan.
Platform Highlights
Rakuten Ichiba Credit Card – Rakuten Ichiba offers its own credit card, which can be used for purchases on the platform. Cardholders earn additional Rakuten Super Points when they use the credit card for shopping.
Product Selection – Rakuten Ichiba offers a wide range of products from both domestic and international sellers. It is known for its extensive coverage of local Japanese brands and products.
Seller Support – Rakuten Ichiba provides various tools and resources to support sellers on the platform. It offers seller training programs, marketing tools and analytics to help sellers optimise their online stores and improve sales.
Shopee (Southeast Asia)
Shopee is a rapidly growing e-commerce platform that operates in multiple Southeast Asian countries, including Singapore, Indonesia, Thailand and Malaysia. It offers a mobile-first shopping experience with a user-friendly interface.
Platform Highlights
Shopee University – Shopee provides educational resources through its Shopee University program. It offers seller training, workshops, and guides to help sellers optimise their online stores, improve product listings and enhance sales performance.
Social Shopping Experience – Shopee incorporates social elements into its platform, allowing users to follow and interact with their favourite sellers and brands. It also features a feed where users can discover trending products, engage with other users and participate in interactive games and contests.
Shopee Guarantee and Buyer Protection – Shopee offers buyer protection policies to ensure a safe and reliable shopping experience. The Shopee Guarantee safeguards buyers by providing refunds or replacements in cases of non-delivery or product discrepancies.
Lazada (Southeast Asia)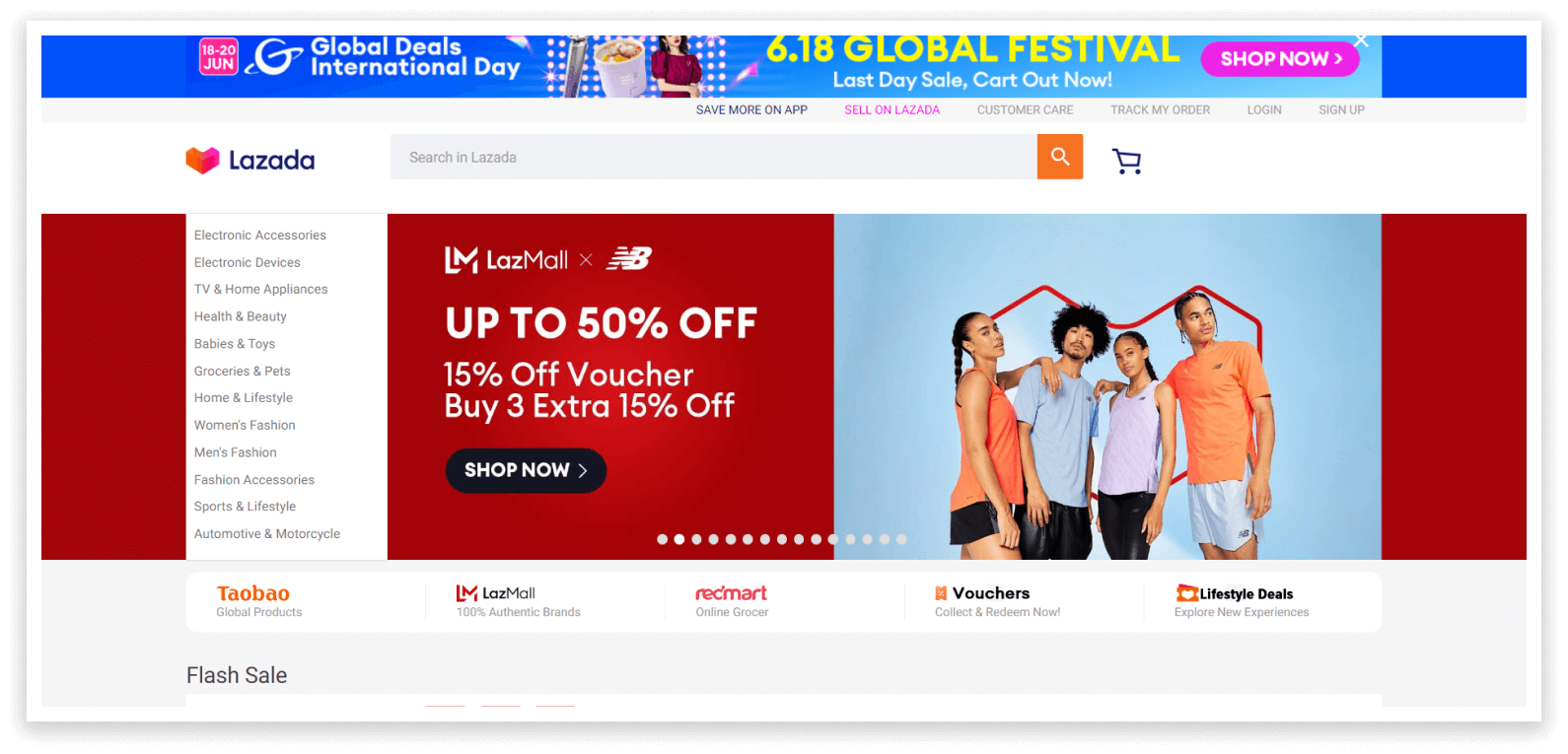 Lazada is one of the largest e-commerce platforms in Southeast Asia, operating in countries like Singapore, Malaysia, Indonesia, Thailand, and Vietnam. Lazada provides a convenient shopping experience and strong logistical support.
Platform Highlights
LazMall – Lazada operates LazMall, a dedicated space for official brand stores and authorised sellers. LazMall ensures product authenticity and offers a premium shopping experience focusing on high-quality products.
Flash Sales and Deals – Lazada frequently features flash sales, promotional campaigns, and special deals to attract buyers. These time-limited offers provide discounted prices on selected products, creating a sense of urgency and encouraging buyers to purchase items.
Mobile Shopping – Lazada places significant emphasis on mobile shopping, offering a user-friendly mobile app for both Android and iOS devices. The app allows users to browse products, make purchases, track orders and access exclusive mobile-only deals.
Zalora (Southeast Asia)
Zalora is a popular fashion e-commerce platform operating in several Southeast Asian countries, including Singapore, Malaysia, Indonesia, and the Philippines. It offers an extensive selection of fashion and beauty products from various brands, catering to different styles and preferences.
Platform Highlights
Focus on Fashion and Beauty – Zalora is known for its extensive collection of fashion and beauty products. It offers a wide range of clothing, shoes, accessories and beauty products for men and women, featuring both local and international brands. Zalora also frequently releases exclusive collections and collaborations with popular brands and designers.
Easy and Convenient Shopping Experience – Zalora provides a user-friendly interface on its website and mobile app, allowing customers to browse and purchase products easily. It offers features such as filters, size guides, and customer reviews to assist customers in making informed buying decisions.
Style Inspiration and Editorials – Zalora features style inspiration articles, trend reports and fashion editorials on its platform. It offers fashion advice, tips and curated collections to help customers stay updated with the latest trends and make informed fashion choices.
Flipkart is one of India's leading e-commerce platforms, offering a diverse range of products across categories like electronics, fashion, home goods, and more. It provides various payment options, customer-friendly policies, and features like product reviews and ratings.
Platform Highlights
Big Billion Days – Flipkart hosts an annual flagship event called Big Billion Days, a major sale event with discounts and deals across a wide range of products. It attracts a large number of shoppers and offers significant savings for buyers.
Secure Payment Options – Flipkart offers secure payment options to buyers, including credit/debit cards, net banking, and cash on delivery (COD). It also has its own digital wallet called Flipkart Pay Later, allowing users to make purchases on credit and pay later.
Flipkart Assured – Flipkart Assured is a program that guarantees the quality and delivery of select products. These products undergo strict quality checks and are shipped quickly to ensure a reliable shopping experience for buyers.
Coupang is a major e-commerce platform in South Korea, often dubbed the "Amazon of South Korea." Coupang is known for its fast and reliable delivery service, often offering next-day or even same-day delivery.
Platform Highlights
Rocket Delivery – Coupang is known for its speedy and reliable delivery service, referred to as "Rocket Delivery." It operates its own logistics network and warehouses, enabling it to provide same-day or next-day delivery to customers in select areas.
Coupang Play – Coupang has integrated entertainment services within its platform through Coupang Play. Customers can access a range of digital content, including movies, TV shows, and music, offering an additional value proposition.
Mobile-First Approach – Coupang strongly emphasises its mobile app, which offers a seamless and user-friendly interface for customers to browse and purchase products. The mobile app provides a personalised shopping experience and features like live chat support and push notifications.
Qoo10 is a popular e-commerce platform that originated in South Korea and has expanded to several countries in Asia, including Singapore, Malaysia, Indonesia and Hong Kong.
Platform Highlights
Global Marketplaces – Qoo10 operates as a global marketplace, allowing buyers and sellers from different countries to connect and transact. This creates opportunities for cross-border shopping and international trade.
Qoo10 Live – Qoo10 incorporates live streaming into its platform through Qoo10 Live. Sellers can host live broadcasts to showcase products, interact with viewers, and offer special deals during the live stream sessions. Customers can ask questions and make purchases in real-time.
Time Sale and Group Buy – Qoo10 features time-limited sales events and group buying deals. These promotions provide customers with exclusive discounts and offers for a limited time, encouraging them to make purchases.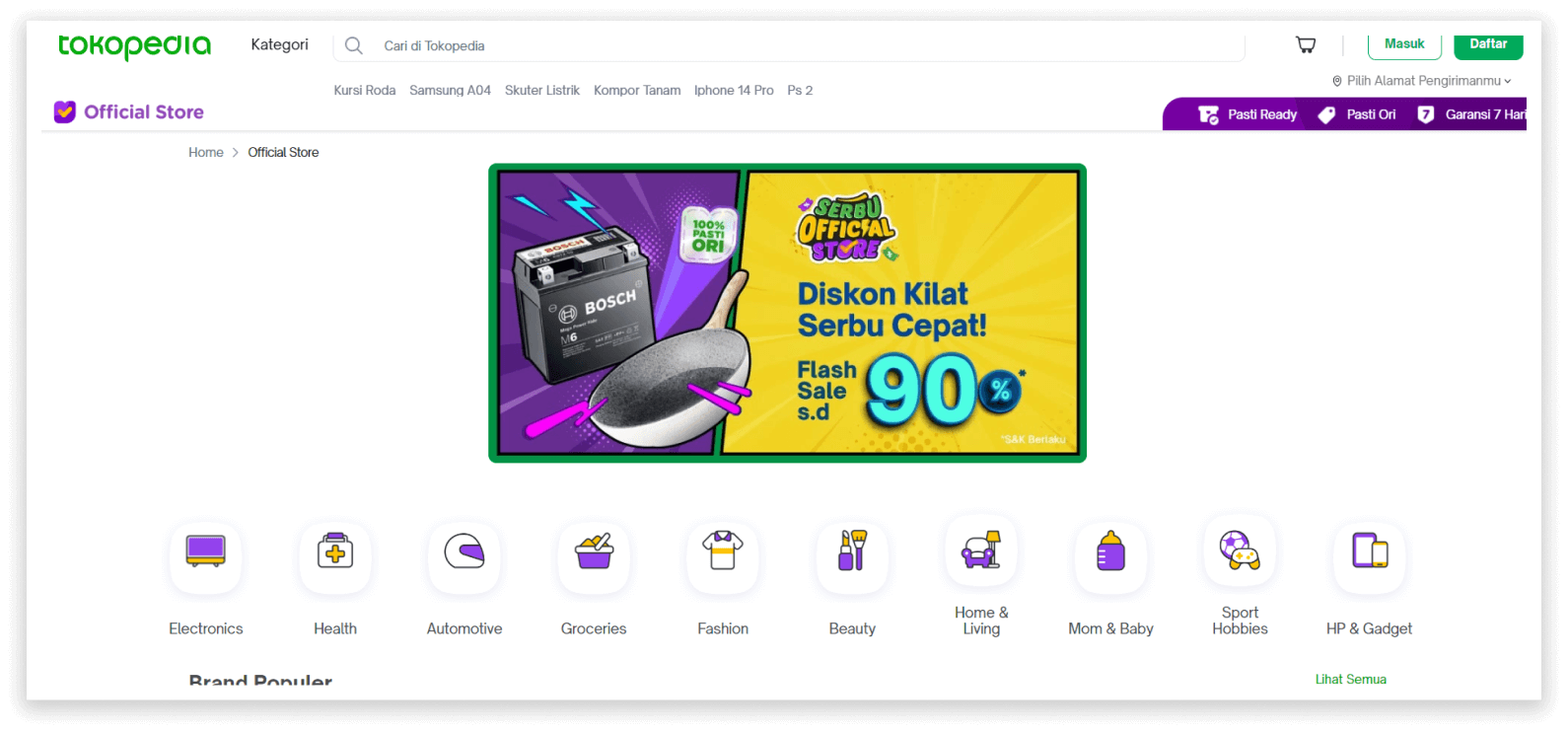 Tokopedia is one of the largest e-commerce platforms in Indonesia. It serves as a marketplace that connects buyers and sellers, facilitating various types of transactions.
Platform Highlights
Peer-to-Peer Commerce – Tokopedia enables peer-to-peer commerce, allowing individuals to sell new or used items directly to other users. This creates opportunities for users to buy and sell pre-owned items and unique products.
Tokopedia Mitra – Tokopedia Mitra is a program that supports micro, small, and medium-sized enterprises (MSMEs) in Indonesia. It provides tools, resources, and guidance to help MSMEs start and grow their online businesses on the platform.
Official Stores – Tokopedia also hosts official stores of well-known brands and retailers. These stores provide a platform for established businesses to sell their products directly to customers on the platform.
Blibli is a major e-commerce platform operating in Indonesia. It is a comprehensive online marketplace offering a wide range of products and services.
Platform Highlights
Blibli.com Guarantee – Blibli.com Guarantee ensures a safe and reliable shopping experience for customers. It protects buyers by compensating for non-delivery, damaged items or counterfeit products under certain conditions.
Blibli Rewards – Blibli Rewards is a loyalty program that allows customers to earn points for their purchases on the platform. These points can be redeemed for discounts or used to participate in special promotions and events.
Blibli Travel – Blibli also provides travel services, allowing users to book flights, hotels and other travel-related arrangements through the platform. It offers competitive prices, deals and promotions in collaboration with travel partners.
Top E-Commerce CMS Platforms
Aside from the major e-commerce retail platforms, many smaller businesses in Asia also rely on CMS platforms that host their online stores. Here are some of the most popular CMS platforms that cater to e-commerce website building and management.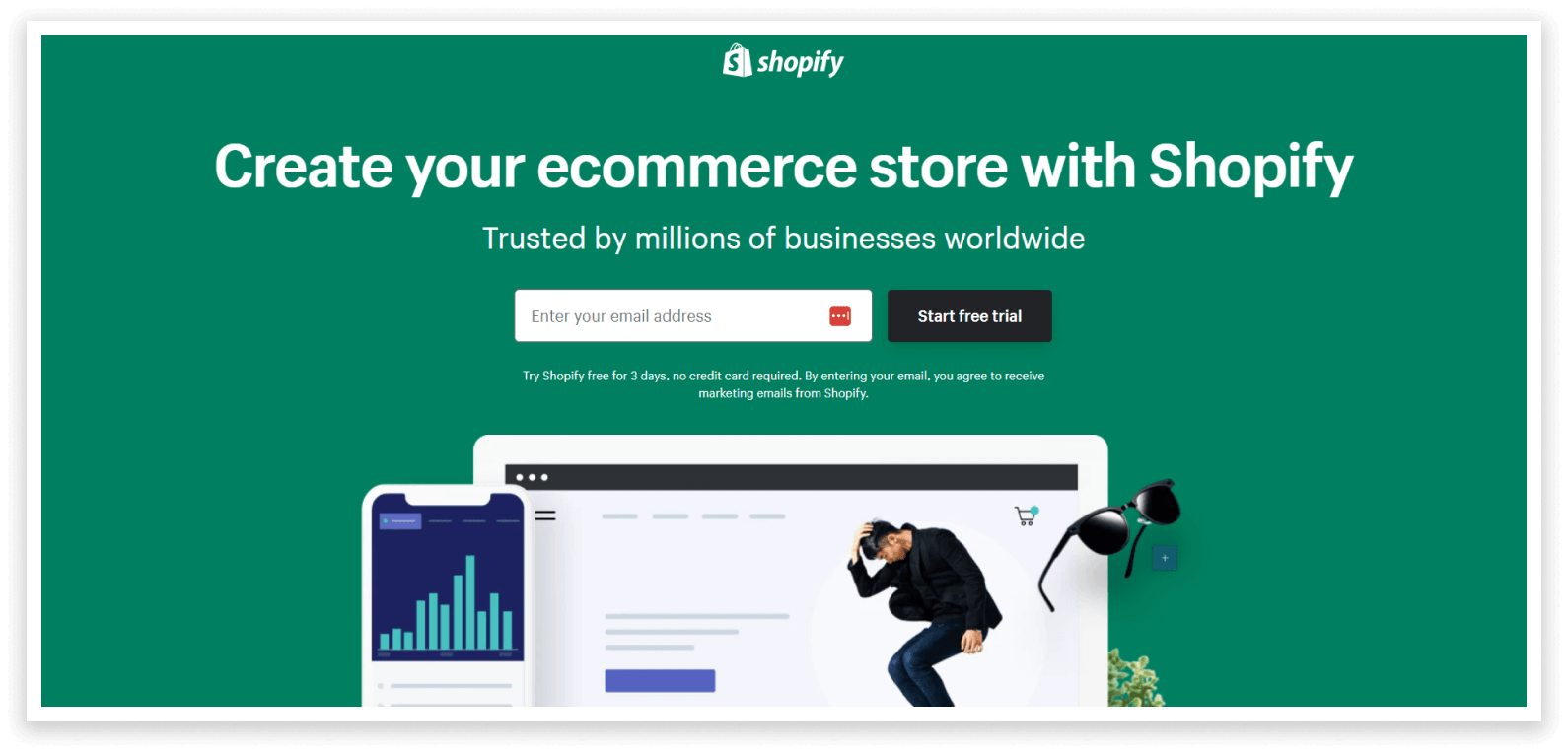 Shopify is a leading e-commerce platform that enables individuals and businesses to create and manage online stores. It provides comprehensive tools and features to build and customise a professional e-commerce website, manage products, accept payments and handle order fulfilment.
Key Features
Easy-to-use interface with customisable templates, allowing users to set up their online store without technical expertise.
Integration with primary payment methods such as credit cards, digital wallets and alternative payment solutions.
A built-in shopping cart system that ensures a smooth and secure customer checkout process.
Users can enhance their stores with additional features such as marketing tools, customer support and inventory management.
Offers built-in analytics and reporting features that provide insights into store performance, sales trends, customer behaviour and more.
WooCommerce is a widely used open-source e-commerce plugin for WordPress, one of the world's most popular content management systems (CMS). It allows website owners to transform their WordPress-powered websites into fully functional online stores.
Key Features
Integrates seamlessly with WordPress.
Customisable themes and templates to design the store's appearance and layout according to specific branding requirements.
Users can integrate additional features like shipping calculators, marketing tools, customer support systems and advanced analytics.
Extensive documentation, tutorials, forums and online resources are available to assist users in troubleshooting issues or finding guidance.
Provides flexible shipping options, enabling users to set up different shipping methods, rates, and zones.
Wix is a popular cloud-based website builder that enables users to create professional-looking websites without requiring extensive technical knowledge. Wix provides e-commerce capabilities, allowing users to create online stores and sell products or services.
Platform Highlights
Offers a wide selection of customisable templates covering various industries and branding needs.
Access to the Wix App Market that provides a range of third-party applications and extensions to enhance website functionality.
Automatically generates mobile-friendly versions of websites, ensuring they look and function well on smartphones and tablets.
Provides reliable website hosting services, eliminating the need for users to find and manage separate hosting services.
Squarespace is a popular website-building platform that offers e-commerce capabilities, allowing individuals and businesses to create professional-looking websites without requiring extensive technical knowledge.
Key Features
Includes built-in SEO tools to optimise online stores for search engines.
Offers marketing features such as email campaigns, social media integrations and promotional pop-ups.
Ensures that online stores created on its platform are optimised for mobile devices.
Integrates with multiple payment gateways, including Stripe, Apple Pay, PayPal and more.
Provides tools for managing orders and tracking key performance indicators like sales and visitor statistics.
Build Your Ideal E-Commerce Website With JIN Design
Need help designing and building your online store that makes a real impact on your target audience?
You can achieve your business objectives and showcase your brand's personality with our website design and development services. We specialise in crafting e-commerce stores on Woocommerce.
We'll also help you enhance your website's performance with our web optimisation and web audit tools.
Contact us today to start building your brand's online presence!