Choosing a domain name is one of the most important things you'll do for a website you run. While it may seem like a complex undertaking, it's quite simple!
We'll break down the importance of domain names on the Internet, share tips on selecting the right domain name for your brand and walk you through registering your domain name in Singapore.
What is a Domain Name?
Not to be confused with web hosting, a domain refers to a human-readable and user-friendly address used to identify and locate websites, web applications, and other resources.
Think of a domain as the nameplate for an online destination. It's easier for people to remember and type in a domain name like "www.jin-design.com" than to memorise a numerical IP address, which is what computers use to identify each other on the Internet.
When you enter a domain name into a web browser's address bar, the browser uses the Domain Name System (DNS) to translate the human-readable domain name into the corresponding numerical IP address.
This enables your browser to retrieve and display the requested web page.
The Importance of a Good Domain Name
A domain name is crucial to establishing an online presence in Singapore and beyond. If you own a business, have a professional website or run an organisation, there are several important reasons why you'll require a domain name for your site.
Memorability
Domain names are human-readable and user-friendly. They are easier for people to remember and type into web browsers than IP addresses, making it convenient for users to access your website.
Branding
A domain name can be an essential part of your brand identity. It's the first impression users have of your online presence, helping to build brand recognition and trust.
Credibility
Having a custom domain name (e.g., www.yourbrand.com) looks more professional and credible than using free or generic domain names provided by hosting services. It signals to visitors that you have invested in your online presence.
Accessibility
A domain name allows you to have a permanent web address not tied to a specific hosting provider. If you change hosting providers or servers, your domain name remains the same, ensuring your visitors can always find you.
Search Engine Optimisation (SEO)
A well-chosen domain name incorporates relevant keywords that can improve your website's search engine rankings. It can increase organic traffic and visibility in search engine results.
Ease of Sharing
When promoting your website, sharing a concise and memorable domain name is much simpler than a long and complex URL. This is vital for marketing efforts, social media campaigns, and offline promotions.
Control
Owning a domain name gives you control over its content and associated services. You can decide how your domain is used, what content is hosted on it and how emails are managed.
Global Reach
A domain name makes your website accessible from anywhere in the world. It's the international address that people can use to find your content, products, or services, regardless of their geographical location.
Professional Email
With your own domain, you can set up custom email addresses. For example, yourname@yourdomain.com. This enhances your professional image and helps in branding and communication.
Tips for Choosing a Domain Name
Now that you understand why a domain name is so important, how do you select the perfect one for your site?
Here are some key things to consider when you pick out a domain name:
Keep it short, simple and easy to remember.
Stay away from numbers and hyphens.
Ensure that your domain name centres your brand name and identity.
Research and include targeted keywords where possible.
Choose the appropriate domain name extension for your site's purpose.
Domain Types Available in Singapore
If you're interested in picking a country-specific domain name for your brand, it's crucial to look into the available extensions in Singapore.
Top-Level Domains (TLDs)
TLDs like .COM are the most commonly used domain names for commercial purposes. Anyone can obtain a .com domain name for their website.
Country-Code Top Level Domains (ccTLDs)
These are domains specific to a country, for example, the com.sg or .sg extensions in Singapore.
A ccTLD lets users know that your business is based in Singapore, and promotes the chances of local users visiting your website.
All .sg domains must be applied through registrars or providers verified by the Singapore Network Information Centre (SGNIC).
Steps On How To Register Your Domain
1. Choose a Domain Name
First, you need to decide on a domain name for your website. This should be a unique and relevant name that represents your brand or website's purpose.
2. Check Domain Availability
Use a domain registrar or a domain search tool like WHOIS to check if your desired domain name is available for registration. Instant Domain Search is another handy tool for ensuring that your desired domain names aren't already taken.
3. Choose a Domain Registrar
Select a domain registrar that is accredited by the Singapore Network Information Centre (SGNIC) to register ".SG" domain names. Some popular domain registrars in Singapore include GoDaddy, Exabytes and Vodien.
4. Provide Contact Information
During the registration process, you'll need to provide accurate contact information, including your name, address, email and phone number. This information will be associated with the domain and is publicly available in the WHOIS database.
5. Select Your Domain Extension
In addition to generic top-level domains (gTLDs) like ".COM" and ".NET," Singapore-specific domain extensions include ".SG," ".COM.SG," ".ORG.SG," and more. Choose the extension that suits your website's purpose.
6. Submit Registration Details
Enter the required information into the application system, including your domain name, contact details and DNS settings.
If you are registering for any domain with a .sg extension under the SGNIC, you may need to provide business documentation or certificate numbers.
7. Payment
Pay the domain registration fee, which varies depending on the domain registrar and your chosen domain extension. Registration fees can range from a one-time fee for a certain number of years to yearly renewals.
8. DNS Configuration
Configure the Domain Name System (DNS) settings for your domain. This involves setting up DNS records determining how your domain points to your website's hosting server and other services like email.
9. Verification
Depending on the registrar's policies and the domain extension, you might need to verify your contact information. This step helps ensure the accuracy of your registration details.
10. Domain Activation
Once your registration details are verified, and your payment is processed, your domain will be activated and associated with the DNS settings you provided.
11. Renewal
Domain names must be renewed periodically to keep them active. Typically, domains are registered for one to two years, and you'll need to renew them before they expire to avoid losing ownership.
12. Managing Your Domain
You can log in to your domain registrar's account to manage your domain settings renewals and any changes you might need to make in the future.
It's essential to follow the guidelines set by SGNIC and your chosen domain registrar during the registration process to ensure a smooth and successful registration.
Remember that domain registration processes and requirements may evolve over time, so it's a good idea to consult the official website of SGNIC or your chosen registrar for the most current information.
Five Top Domain Providers and Registrars in Singapore
Crazy Domains
This top-rated provider offers a wide range of domain extensions, including universal choices like .INFO, .NET, and .COM. Crazy Domains also offers registration for the Singapore extension (.SG), making them a great choice if you want to establish your presence locally.
Exabytes
Exabytes is accredited by SGNIC as an official registrar for domain names. They offer affordable domain registration packages, making them an attractive option for start-ups and small businesses that are looking to keep costs relatively low.
Vodien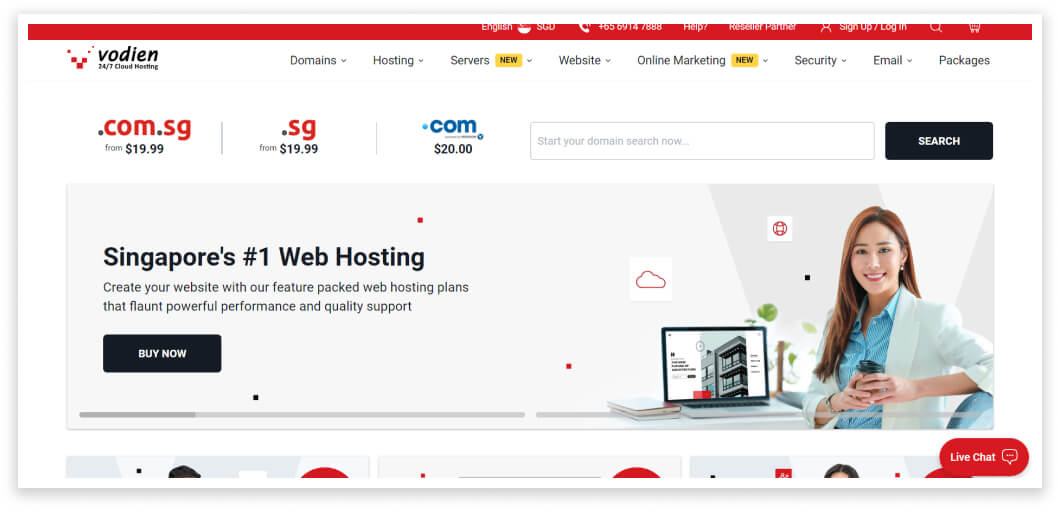 As a trusted provider of IT services in Singapore for almost two decades, Vodien Internet Solutions offers a range of services for website and email hosting, servers, colocation, and more. Vodien is accredited by the Singapore Network Information Centre to register .SG domain names.
GoDaddy
Founded in 1997, GoDaddy is the world's largest domain registrar with over 84 million registered domain names. GoDaddy offers domain registration services for both individuals and businesses, including Singapore's country code top-level domain (ccTLD) .SG.
Singapore Domain Registration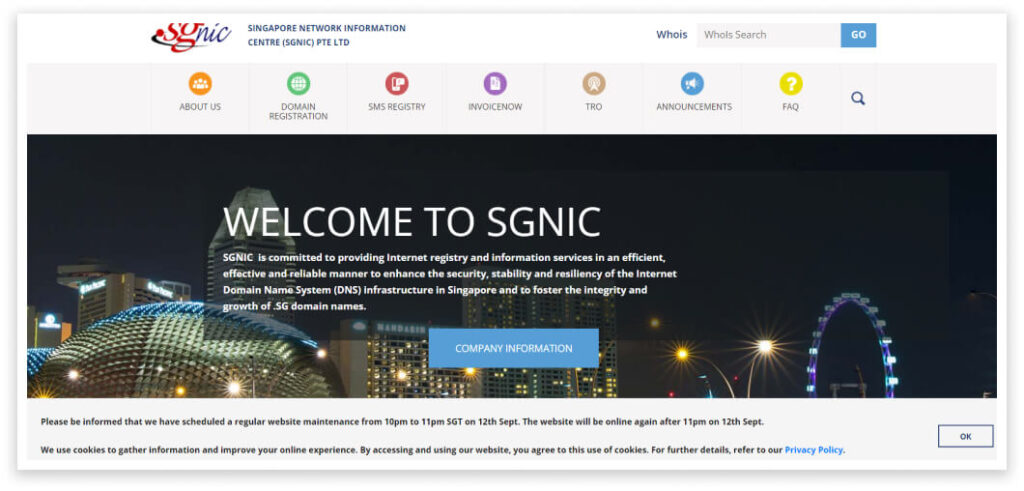 Singapore Domain Registration is one of the nation's best domain name registrars, renowned for its reputation and reliability. They offer both international domains and uniquely local domains such as .SG or .COM.SG that can help your business gain a strong digital presence online.
Let Your Brand Shine With Expert Web Design Solutions From JIN
Once you've secured your ideal domain name, why not enhance your website design and performance for even better results?
At JIN Design, we offer website design and development services to help you reach your business objectives while highlighting your brand's unique identity. Our team of experts will work closely with you to create a custom website that meets your specific requirements.
Start a website project with us today, or talk to us to discover how we can help you unleash the full potential of your brand's online presence.