Navigating the complex world of domain name registrars can be a daunting task, especially in Singapore where there are numerous options available. Did you know that SGNIC, an organization set within the country, accredits .sg domain registration? This blog will guide you through the top 10 domain registrars and providers in Singapore, including details about their pricing and services.
Don't miss out! Let's dive deep to find your ideal option for registering your business online.
Top 12 Domain Registrars and Providers in Singapore
Exabytes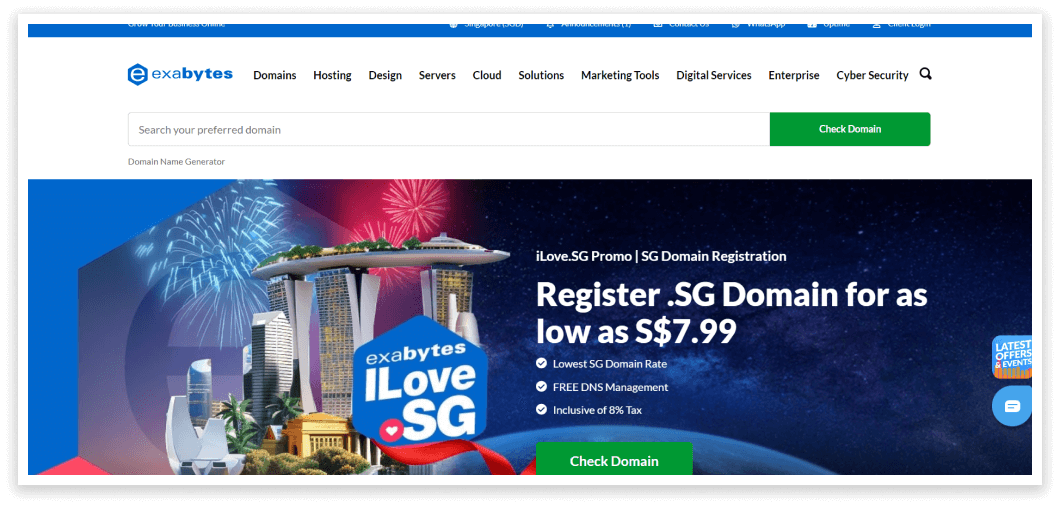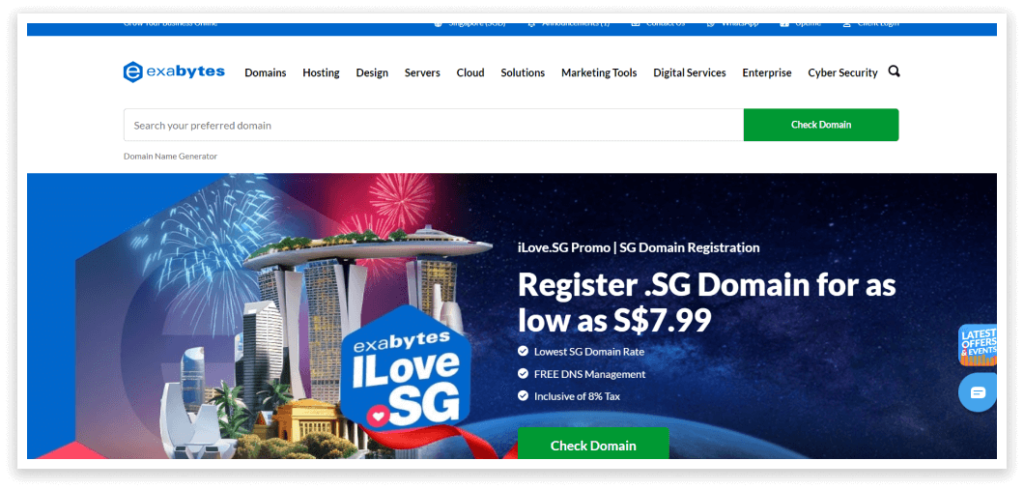 Exabytes is a renowned name in Singapore's domain registration industry, accredited by SGNIC as an official registrar. This prestigious recognition highlights their commitment to providing top-notch services for businesses looking to secure their online presence.
Exabytes offers affordable domain registration packages which make them an attractive option for start-ups and small businesses keeping a vigilant eye on overhead costs.
Singapore Domain Registration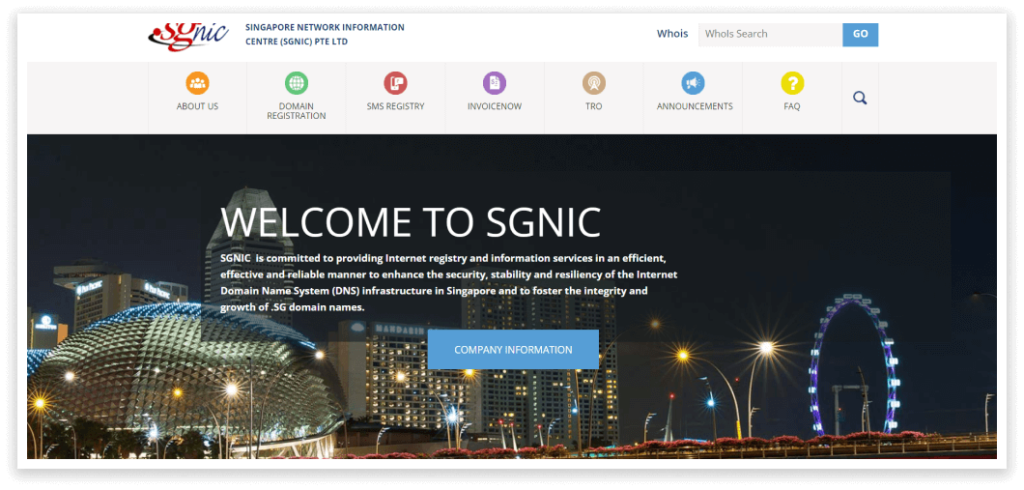 Singapore Domain Registration shines as one of the best domain name registrars in Singapore, particularly known for its reputation and reliability. They offer both international domains, like .com or .net, and uniquely local domains such as .sg or .com.sg that help businesses establish a robust digital presence in the marketplace.
Leveraging on these country code top-level domains (ccTLD) can significantly enhance your visibility among local customers.
Crazy Domains
Crazy Domains stands out among the best domain name registrars in Singapore. This top-rated provider offers a wide range of domain extensions, including universal choices like .INFO, .NET, and .COM. They hold an official accreditation for these extensions which highlights their standard of service.
For businesses seeking a local online footprint, Crazy Domains also offers registration for the specific Singapore extension (.SG). This can significantly enhance the visibility of websites in local search results thereby improving SEO performance.
Vodien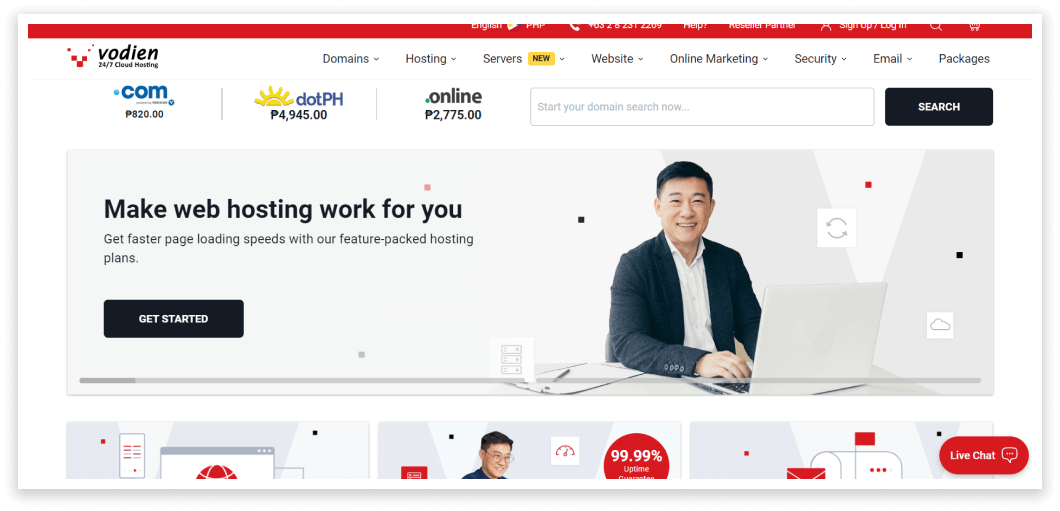 Vodien Internet Solutions has been a trusted provider of IT services in Singapore since 2002. They offer a range of reliable and high-performance hosting solutions, including website and email hosting, servers, colocation, security, and connectivity.
As one of the top 10 domain registrars and providers in Singapore, Vodien is accredited by the Singapore Network Information Centre to register .sg domain names. What sets Vodien apart is their excellent customer support and reputation in the web hosting industry.
101domain
101domain is one of the top domain registrars and providers in Singapore. They offer a wide range of domain name registration services for individuals, organizations, and businesses. With their affordable rates and excellent features, 101domain stands out as a reliable choice for securing your desired domain name in Singapore.
When it comes to pricing, 101domain offers competitive rates that won't break the bank. Whether you're looking for a .com, .sg, or any other domain extension, they have options to suit every budget.
OnlyDomains
OnlyDomains is one of the leading domain registrars and providers in Singapore. They hold direct accreditation from the Singapore Network Information Center (SGNIC), making them a reliable choice for domain registration services.
Specifically, OnlyDomains specializes in registering domains with the .sg extension, which is the official country code top-level domain (TLD) for Singapore. When you register a domain with OnlyDomains, you not only get your desired web address but also enjoy free DNS hosting and URL forwarding as part of their package.
GoDaddy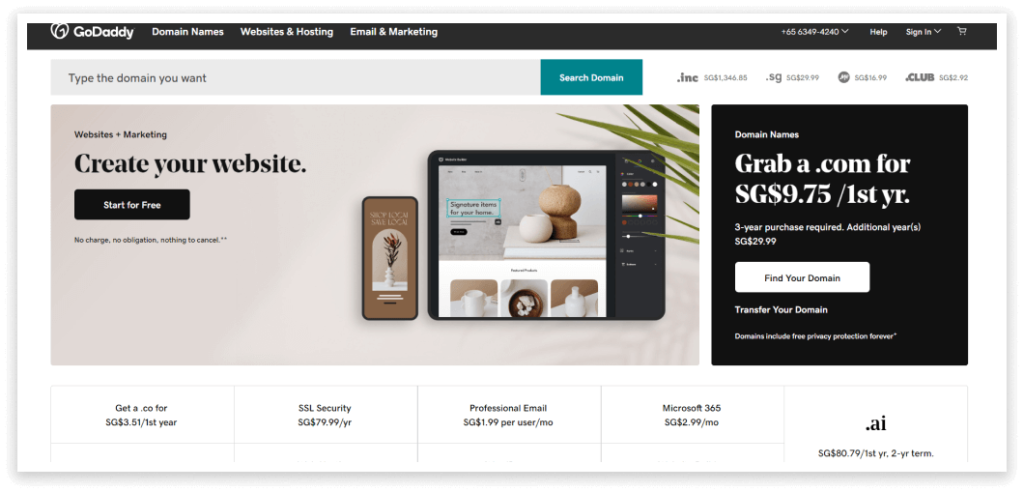 GoDaddy is one of the top domain registrars and providers in Singapore. As the largest domain registrar in the world, with over 84 million registered domain names, GoDaddy has established a strong reputation for its reliable services.
Founded in 1997 and headquartered in Tempe, Arizona, GoDaddy offers domain registration services for both individuals and businesses. They provide a wide range of domain extensions to choose from, including Singapore's country code top-level domain (ccTLD) .sg.
APC Hosting
APC Hosting is a premier web hosting provider in Singapore. With a range of services including web hosting, reseller hosting, cloud VPS servers, dedicated servers, server colocation, domain name registration, and SSL certificates, APC Hosting caters to the diverse needs of businesses and individuals looking for reliable online solutions.
As one of the popular domain registrars and providers in Singapore, APC Hosting has established itself as a trusted brand in the industry.
Namecheap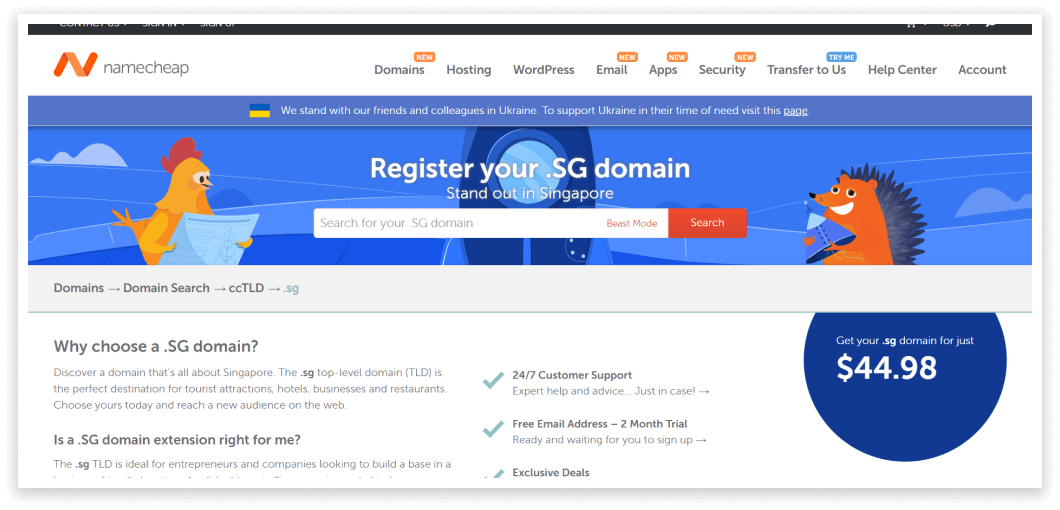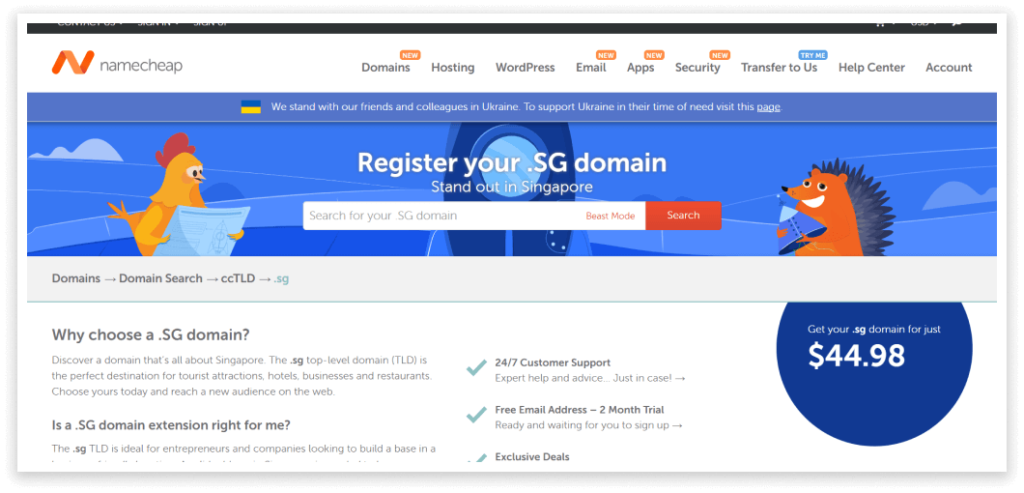 Namecheap is one of the top domain registrars and providers in Singapore. They are well-known for their affordable prices and excellent service. When it comes to registering a .com domain, Namecheap offers initial prices starting at $8.88 per year, making it an attractive option for individuals and businesses looking to establish their online presence without breaking the bank.
In addition to competitive pricing, Namecheap also provides privacy options such as WhoisGuard. This feature helps protect your personal information by replacing it with generic contact details in the public WHOIS database.
Marcaria
Marcaria.com is a top international brand protection company that specializes in registering global trademarks and domain names. Although it is not listed among the top 7 best domain registrars in Singapore for beginners, Marcaria.com does offer domain registration services for .sg domain names in Singapore.
They are associated with ASCIO TECHNOLOGIES INC. as the registrar for the bayesia.sg domain name. It's worth noting that Marcaria.com doesn't provide a specific trademark search service for Singapore.
CLDY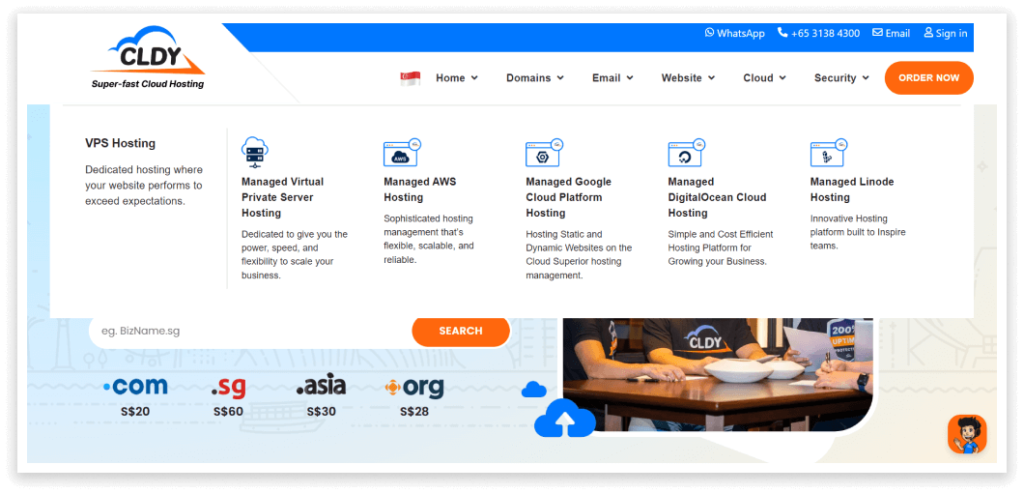 CLDY is a cutting-edge technology company that specializes in cloud solutions and digital transformation services. With a strong focus on innovation, we empower businesses to harness the full potential of the cloud to streamline operations, enhance scalability, and drive growth.
Our team of skilled professionals combines expertise in cloud architecture, cybersecurity, and data management to deliver tailored solutions that meet the unique needs of each client.
Domain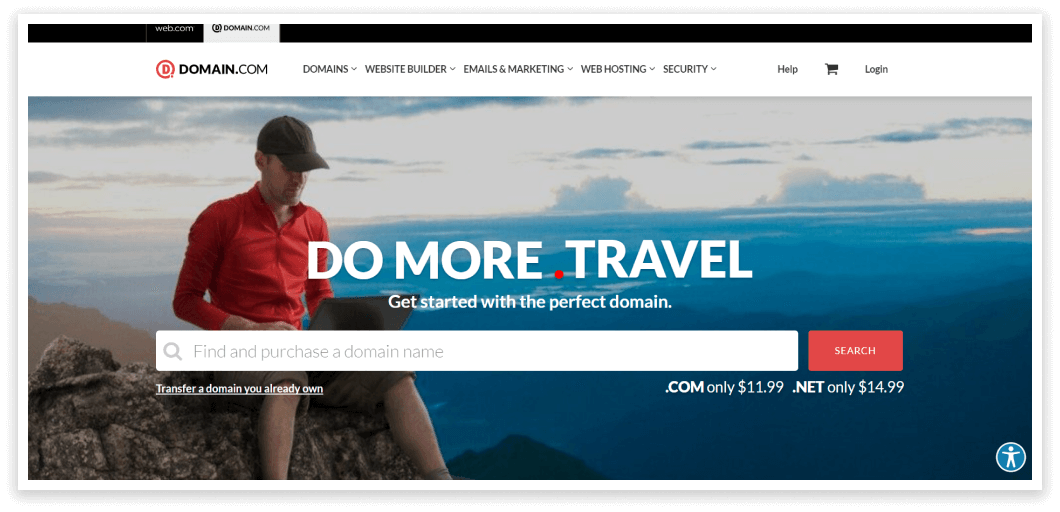 Domain is a premier online platform that empowers individuals and businesses to establish their unique digital identities. With a focus on domain registration, web hosting, and online presence services, we provide the tools and resources needed to create a strong and memorable online footprint.
Our user-friendly interface, reliable infrastructure, and exceptional customer support make it effortless for anyone to build, manage, and optimize their websites.
Factors to Consider When Choosing a Domain Registrar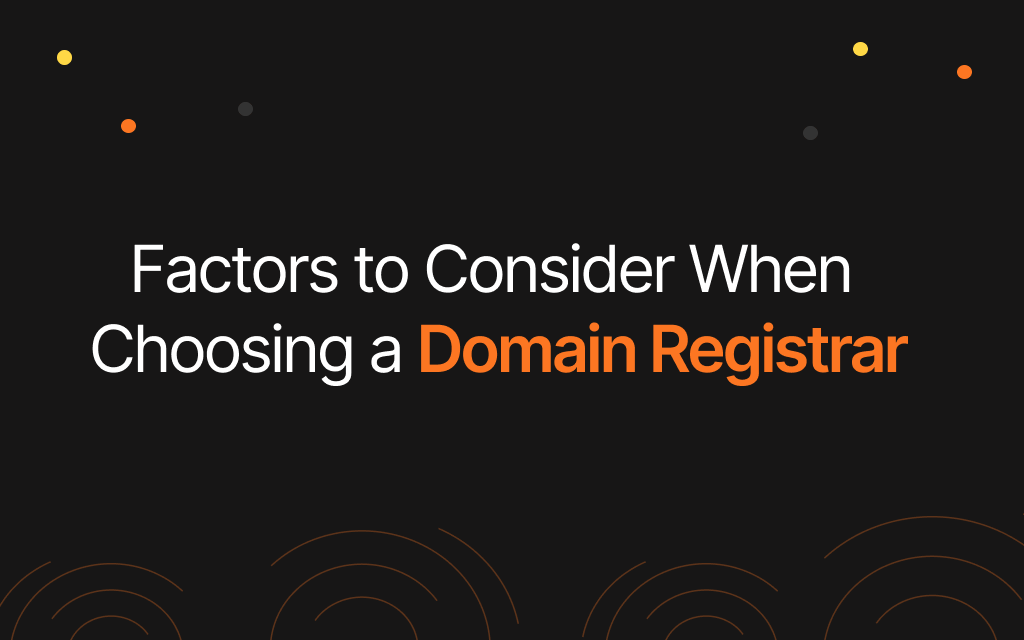 Consider the initial and renewal pricing, privacy options, domain transfer process, bundled services, customer support and reputation when choosing a domain registrar. Find out more about these factors to make an informed decision for your website.
Initial prices and renewal pricing
Domain name registration is an essential step in establishing your online presence. When choosing a domain registrar, it's important to consider the initial prices and renewal pricing.
Different registrars may offer varying rates for domain registration and subsequent renewals. The initial prices for .com domains usually start at $9.99/year with a minimum one-year commitment.
Privacy options
Domain privacy is an important consideration when choosing a domain registrar in Singapore. With personal details like names, addresses, and email associated with domain registrations, it's crucial to protect this information from being accessed by spammers and scammers.
Some domain registrars offer privacy protection as part of their services, safeguarding your personal information from being mined for malicious purposes. This can help ensure the security of your online presence and mitigate potential risks associated with sharing sensitive data.
Domain transfer process
To transfer a domain name from one host to another, follow these necessary steps for a smooth process. First, unlock the domain at your current registrar and obtain an authorization code.
Next, initiate the transfer request with the new registrar by providing them with this code. Then, verify your contact information to ensure you receive important notifications regarding the transfer.
Bundled and add-on services
Some domain registrars in Singapore go beyond just providing domain registration. They offer bundled and add-on services to make managing your online presence more convenient. These services can include website hosting, email addresses, and alternate top-level domain (TLD) options.
By choosing a registrar that offers these additional services, you can have all aspects of your online presence managed in one place.
Customer support and reputation
Choosing a domain registrar with reliable customer support and a good reputation is crucial for a smooth and hassle-free experience. When faced with any issues or questions, it's important to have a provider that can provide prompt assistance and guidance.
Additionally, the reputation of the registrar reflects their level of security and reliability in managing your domain. Reading customer reviews and testimonials can help gauge the quality of their support services, while also ensuring that they have a track record of providing excellent service to their clients.
Benefits of Choosing a Reliable Domain Registrar
A reliable domain registrar offers secure and reliable domain management, improved website performance, enhanced online presence, and access to additional services. Discover why choosing the right registrar is crucial for your online success.
Secure and reliable domain management
Choosing a reliable domain registrar is crucial for secure and reliable domain management. With a trusted provider, you can have peace of mind knowing that your website's domain is protected from unauthorized access and potential security threats.
A reputable registrar will offer robust security measures, such as SSL certificates and DNSSEC (Domain Name System Security Extensions), to safeguard your domain and protect sensitive information.
Improved website performance
Choosing a reliable domain registrar is crucial for businesses looking to improve their website performance. A reputable registrar ensures that your domain remains active, secure, and easily accessible to your target audience.
By registering your domain directly with the registrar instead of going through a web host, you have more control over the management and maintenance of your website. This can lead to faster page loading times, smoother user experiences, and reduced downtime.
Enhanced online presence
Having an enhanced online presence is crucial for businesses in Singapore. A reliable domain registrar can help you achieve this by providing the tools and services necessary to establish a strong online identity.
With a reputable domain registrar, you can register a domain name that accurately represents your brand and industry. This will not only give you credibility but also make it easier for customers to find you online.
Access to additional services
Some of the best domain registrars and providers in Singapore offer more than just domain name registration. When you choose a reliable domain registrar, you also gain access to additional services that can enhance your online presence.
These services may include web hosting, email services, and website builders. By opting for a registrar that offers these additional services, you can conveniently manage all aspects of your online presence from one platform.
Comparison and Analysis of Pricing and Features
Compare the pricing and features of the top domain name registrars in Singapore to find the best fit for your needs. Get detailed insights and make an informed decision. Read more to choose wisely.
Price comparison
Different domain registrars and providers in Singapore offer varying prices for domain names. It is important to compare the prices offered by different registrars before making a decision.
Factors such as privacy options, available domain extensions, and additional features can affect the pricing of domain registration. Be cautious of registrars that offer low initial registration prices but charge high renewal fees in subsequent years.
Feature comparison
The top 10 domain registrars and providers in Singapore offer a range of features to meet your specific needs. When comparing them, consider factors like pricing, privacy options, bundled services, customer support, and reputation.
For example, Dynadot stands out for its transparent pricing and listing of registration and renewal prices. Namecheap is another popular option known for being budget-friendly as the second-largest domain registrar in the world.
User reviews and ratings
Customers' opinions and ratings are crucial when choosing a domain registrar or provider in Singapore. By reading user reviews, you can gain valuable insights into the quality of service, customer support, and overall satisfaction with the company.
These reviews give you the opportunity to learn from others' experiences before making your decision. Checking out user ratings can also help you gauge the reliability and trustworthiness of a domain registrar or provider. Positive ratings indicate that customers have had positive experiences with their services, while negative ratings may raise concerns about issues such as downtime, poor customer support, or hidden fees.
In conclusion, when it comes to choosing the best domain name registrar and provider in Singapore, there are several options available. Exabytes, Singapore Domain Registration, Crazy Domains, Vodien, 101domain, OnlyDomains, GoDaddy, APC Hosting are some of the top choices.
Consider factors like pricing, privacy options, customer support and reputation before making your decision. With a reliable domain registrar in place, you can ensure secure domain management and enjoy improved website performance and online presence.