Welcome to our definitive guide on the best animation companies and studios in Singapore! The Lion City is no stranger to creativity, with its thriving arts scene and talent pool that has given birth to some truly impressive animation powerhouses.
In this blog post, we'll explore the top 10 establishments making their mark in both local and international markets. We'll dive into what makes each company unique, including noteworthy projects, clients they've worked with, awards received, as well as educational opportunities available for aspiring animators.
Things To Take Note Of When Hiring Animation Companies
When hiring animation companies in Singapore, there are several important factors to consider. Here are some key points to take note of:
Portfolio and Expertise
Review the animation company's portfolio to assess the quality of their work and determine if their style aligns with your project's requirements. Look for examples of animations they have done in the past and evaluate their expertise in the specific type of animation you need.
Reputation and Experience
Research the company's reputation and track record. Look for reviews, testimonials, and case studies to gauge their level of professionalism and client satisfaction. Consider their experience in the industry and their understanding of the local market.
Creative Capabilities
Assess the company's creative capabilities and their ability to bring your vision to life. Animation is an art form, so it's essential to work with a company that has a talented and innovative team of animators, storyboard artists, and designers who can add value to your project.
Technical Expertise
Animation requires technical skills, so it's important to ensure that the company has the necessary technical expertise to handle your project. Consider the software and tools they use, their animation techniques, and their ability to handle different animation styles (2D, 3D, motion graphics, etc.).
Communication and Collaboration
Effective communication and collaboration are crucial for a successful animation project. Evaluate how responsive and proactive the company is in their communication. Assess their willingness to understand your goals, provide regular project updates, and incorporate your feedback throughout the production process.
Project Management and Timelines
Inquire about the company's project management process and their ability to deliver projects on time. Discuss their approach to handling revisions and iterations, and ensure that they can meet your project's deadlines and milestones.
Budget and Pricing
Request detailed pricing information from the animation companies you are considering. Compare their rates and the value they offer in terms of quality and expertise. Keep in mind that while price is important, it should not be the sole determining factor. Consider the overall value and the potential return on investment for your project.
Intellectual Property and Confidentiality
Discuss the company's policy regarding intellectual property rights and confidentiality. Ensure that they are willing to sign a non-disclosure agreement if necessary to protect your ideas and sensitive information.
Client References
Request references from the animation company and contact their past clients to gather feedback on their experience. Ask about the company's professionalism, communication, ability to meet deadlines, and overall satisfaction with the animation project.
Contracts and Legal Considerations
Before finalizing any agreement, carefully review the contract terms and conditions. Seek legal advice if necessary to ensure that your interests are protected, and clarify ownership rights, payment terms, deliverables, and any other relevant details.
Top 10 Animation Companies And Studios In Singapore
Discover the top 10 animation companies and studios in Singapore that are leading the way in creativity, innovation and production quality.
The Visual.Team
The Visual Team is a dynamic creative agency based in Malaysia, specializing in delivering powerful visual communication solutions. They offer a comprehensive suite of services including web design, user interface design, branding, and graphic design, helping businesses create compelling narratives and impactful digital experiences.
Portfolio Highlights
The Visual Team's portfolio reflects a potent combination of creativity and technical prowess. Showcasing a broad spectrum of visual communication solutions – from dynamic web designs and interactive user interfaces to compelling branding concepts and powerful graphic design work – their portfolio exemplifies their ability to effectively convey brand narratives. Their expertise in creating visually striking and meaningful designs has successfully enhanced the digital presence of numerous businesses.
Sage Animation
Sage Animation, based in Singapore, is a leading creative studio specializing in 2D and 3D animation. They create captivating animated content, including explainer videos and corporate presentations, helping businesses connect with their audiences through engaging narratives.
Portfolio Highlights
Sage Animation is a standout studio in Singapore, known for their impressive portfolio of creatively crafted animated content. From eye-catching 2D/3D animations to compelling explainer videos, they excel at turning complex concepts into engaging narratives, helping businesses connect effectively with their audiences.
Passion Republic
Passion Republic stands out as one of the top animation companies and studios in Singapore, despite originating from Malaysia. Over the years, Passion Republic has been involved in numerous notable projects including working on popular games such as Stray and Elden Ring.
Portfolio Highlights
Their portfolio showcases an incredible array of digital art and animation projects, underlining their adeptness in creating immersive worlds and characters that resonate with audiences globally.
One Animation
One Animation is a renowned 3D animation studio based in Singapore that offers unparalleled expertise in producing high-quality productions for film and television. They stand out among the top 10 animation companies and studios in Singapore due to their creative vision, excellent execution, and exceptional storytelling abilities.
Portfolio Highlights
Specializing in children's content, One Animation's portfolio is a testament to its capacity to craft charming and engaging animated series that captivate young audiences worldwide.
Infinite Frameworks
Infinite Frameworks is an award-winning animation and post-production facility based in Singapore. With expertise in editing, visual effects, and animation, the company has worked on numerous high-profile projects for clients such as Disney, Lucasfilm, Warner Brothers, and Netflix.
Portfolio Highlights
With a focus on film and TV production, Infinite Studios' portfolio demonstrates their capability to deliver high-quality content spanning various genres, contributing to the dynamic Southeast Asian media landscape.
Robot Playground Media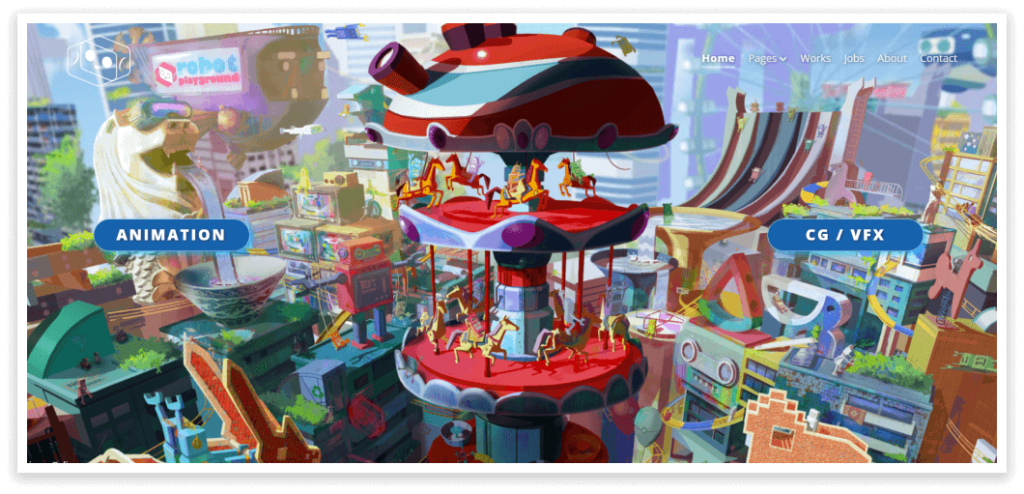 Robot Playground Media is one of the top 10 animation companies and studios in Singapore, known for its excellence in content production that spans various media platforms. One notable achievement for Robot Playground Media was its recent acquisition by UK-based production and distribution firm 108 Media, a move that marks an important milestone for the Singaporean animation industry.
Portfolio Highlights
Their portfolio exemplifies the studio's commitment to creating visually arresting animated content and unique storytelling, underlining their reputation as an innovator in the digital media space.
Monsta
Monsta is a top-rated animation studio in Singapore with over 10 years of experience. Known for their expertise in producing high-quality animation content, Monsta specializes in creating captivating stories that appeal to audiences of all ages.
Portfolio Highlights
Best known for their hit animated series, Monsta's portfolio showcases their knack for creating entertaining and educational content that resonates with children and families alike.
August Media Holdings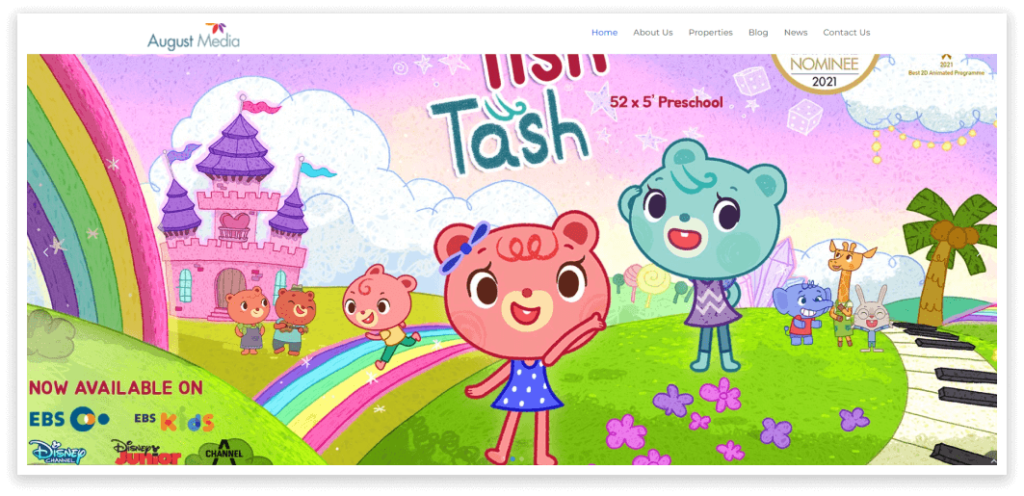 August Media Holdings is a Singapore-based animation company that has made a name for itself in the industry. It has been associated with some of the top 10 animation companies and studios in Singapore, including Sparky Animation and Monsta.
Portfolio Highlights
The portfolio highlights their prowess in creating and distributing engaging multi-platform content for children, demonstrating their commitment to nurturing young minds through edutainment.
Vividthree Productions
Vividthree Productions is a Singapore-based digital content production company that specializes in virtual reality, visual effects, and computer animation. It has established itself as one of the top 10 animation companies and studios in Singapore and is known for its high-end production quality.
Portfolio Highlights
As a virtual reality solutions provider, Vividthree's portfolio showcases cutting-edge VR experiences and immersive content, cementing their position at the forefront of the digital frontier.
Scrawl Animation
Scrawl Studios is a renowned animation company in Singapore, established in 2002. The company has garnered a reputation for producing unique and captivating media productions that have won numerous accolades.
Portfolio Highlights
Their portfolio stands as a testament to their skill in delivering top-notch 2D animation services, effectively translating clients' visions into visually compelling narratives.
Kasra Design™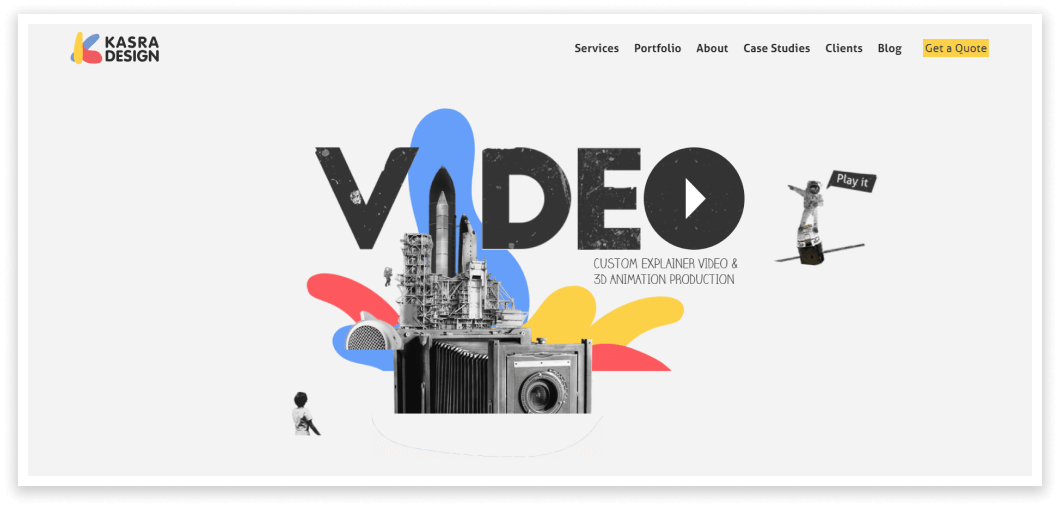 Kasra Design is an award-winning animation company based in Malaysia. They specialize in creating high-quality explainer videos, motion graphics, and TV commercials. Their dedication to conveying messages in the most engaging and straightforward manner has made them a sought-after partner for businesses worldwide.
Portfolio Highlights
Kasra Design's portfolio effectively encapsulates their skill and dedication in creating high-quality animated content. Specializing in explainer videos, motion graphics, and TV commercials, their work highlights their proficiency in transforming complex ideas into engaging visual narratives.
Superpixel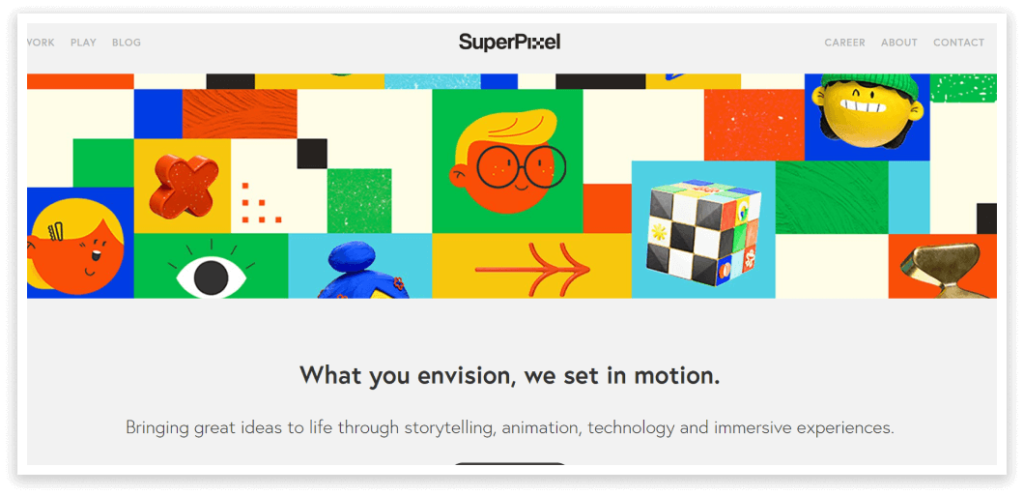 SuperPixel is a leading creative agency based in Singapore, specializing in web design, branding, and digital marketing solutions. We combine innovative design, cutting-edge technology, and strategic thinking to deliver exceptional results for our clients. Our mission is to empower businesses with pixel-perfect solutions that drive growth and create lasting impact in the digital landscape.
Portfolio Highlights
With a diverse range of clients spanning various industries, SuperPixel has consistently delivered outstanding results. Our portfolio showcases captivating websites, visually striking branding identities, and successful digital marketing campaigns that have helped our clients achieve their goals. We pride ourselves on our ability to understand each client's unique needs and translate them into compelling digital experiences that resonate with their target audience.
Artzee
Artzee is a dynamic online art marketplace based in Singapore, connecting art lovers with talented artists from around the world. We offer a diverse collection of original artwork, ranging from paintings and sculptures to digital art and photography. Our mission is to make art accessible to all, providing a platform for artists to showcase their work and art enthusiasts to discover and purchase exceptional pieces.
Portfolio Highlights
Artzee's portfolio is a testament to the incredible talent and creativity of our artists. From vibrant abstract paintings to mesmerizing photography, our collection features a wide range of styles and mediums that cater to every artistic taste. Our platform has enabled artists to reach a global audience and sell their artwork to art enthusiasts and collectors, fostering a thriving community of creativity and inspiration. Explore our portfolio and discover the perfect piece to enhance your art collection.
Offset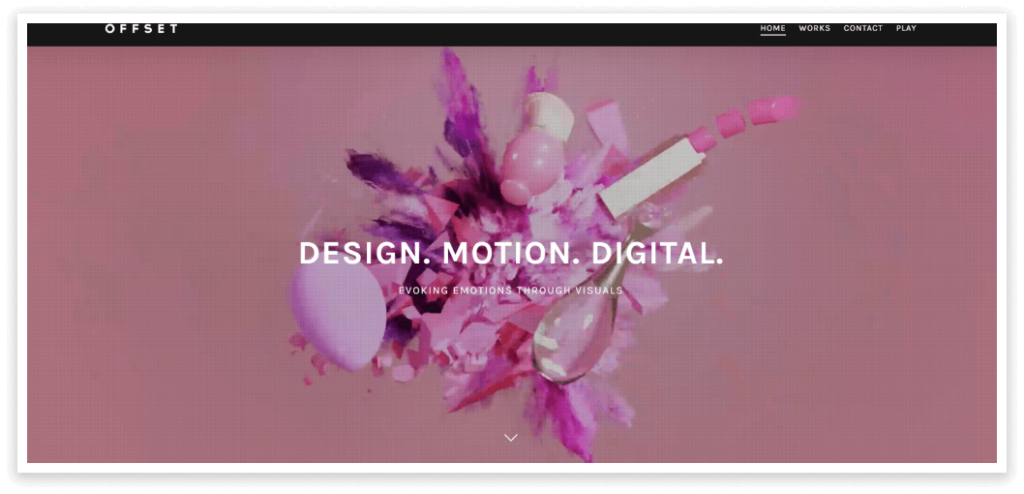 Offset is a premier printing and design studio based in Singapore, specializing in high-quality offset printing services and innovative design solutions. With state-of-the-art equipment and a team of experienced professionals, we deliver exceptional print materials that captivate and engage audiences. Our commitment to excellence and attention to detail sets us apart as a trusted partner for businesses looking to make a lasting impression.
Portfolio Highlights
Offset's portfolio showcases a diverse range of print projects that exemplify our commitment to craftsmanship and creativity. From stunning brochures and business cards to eye-catching packaging designs and promotional materials, each piece demonstrates our meticulous attention to detail and dedication to delivering exceptional print solutions.
Zeetrope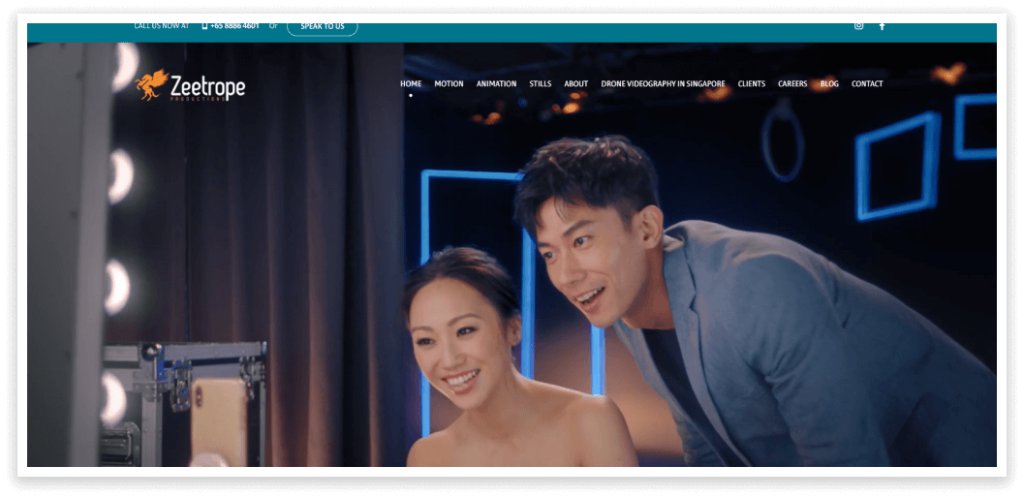 Zeetrope is a cutting-edge animation studio based in Singapore, specializing in 3D animation, visual effects, and virtual reality experiences. With a team of talented artists and state-of-the-art technology, we bring imagination to life, creating captivating animated content for films, games, and immersive experiences. Our passion for storytelling and innovation drives us to push boundaries and deliver unparalleled visual experiences.
Portfolio Highlights
Zeetrope's portfolio showcases a wide range of mesmerizing animations and immersive experiences that have captivated audiences worldwide. From breathtaking cinematic sequences to interactive virtual reality environments, our work demonstrates the power of animation and visual effects in captivating storytelling.
In conclusion, Singapore boasts a thriving animation industry with numerous companies and studios delivering innovative and world-class content. Passion Republic, One Animation, Infinite Frameworks, Robot Playground Media, Sparky Animation, MLC Media, Monsta, August Media Holdings, Vividthree Productions and Scrawl Studios are the top companies leading the charge.
With government support and technological advancements further driving growth in this sector coupled with the increased demand for animated content; it is clear that Singapore will remain at the forefront of animation production for years to come.
FAQs:
What criteria should I consider when choosing an animation company or studio in Singapore?
When selecting an animation company or studio in Singapore, it is important to consider their experience and portfolio, reputation within the industry, the quality of their work and client reviews. It is also crucial to discuss your project's requirements and budget beforehand.
How can I determine if a particular animation company or studio has the necessary skills for my project?
You can assess if a particular animation company or studio has the necessary skills for your project by looking at their past projects, awards won, professional memberships they hold and feedback from previous clients who had similar projects handled by them.
What are some of the best animation studios in Singapore that specialize in 2D animations?
Some of the best 2D animation studios in Singapore include Sparky Animation Pte Ltd, Robot Playground Media Pte Ltd and Peach Blossom Media Pte Ltd.
Can an independent animator offer better value than an established animation company for my project?
Independent animators may have lower costs but lack access to resources such as extensive equipment, specialized software knowledge or large teams with diverse skill sets; which could limit their capabilities on larger scale projects compared to established companies with greater capacity & expertise needed tackle complex elements required creating high-quality animations with effective storytelling techniques.