Here we go again!
Year after year, we set new year resolutions and goals to achieve. Next year, we'll eat healthier. Next year, we'll go to the gym more. So, what do we expect for year 2018?
Well, before we channel our high-achieving self and list down the expectations of the year, let's take a look back and reflect on what we have achieved in 2017!
We gain valuable knowledge of designing for specific audiences
Mid 2017, we were handed a project that pushed us out of the comforts of designing for the common tech-savvy group. We all know how hard it is to get our parents or elderly to get used to the internet. Not only are there complex functions, many of the mechanics are hard for them to grasp too.
Challenge was presented and accepted. We studied on the browsing habits of our target users and empathised with their fears when it comes to technology.
We have since gained valuable insights on what we should and shouldn't do when we design for them. Read more on our research and understanding
We established a great company culture
Formula: Work hard, play hard!
We did many quirky stuff. We competed in a video submission for the Addams Family Musical and won. We learned book binding and held a Christmas Retreat to bond over food, drinks and games. We dressed up in cute outfits for Halloween, and went for dinner with funny eyes looking over. (Yup, that's us – kooky personalities bonding as a family with wacky ideas!)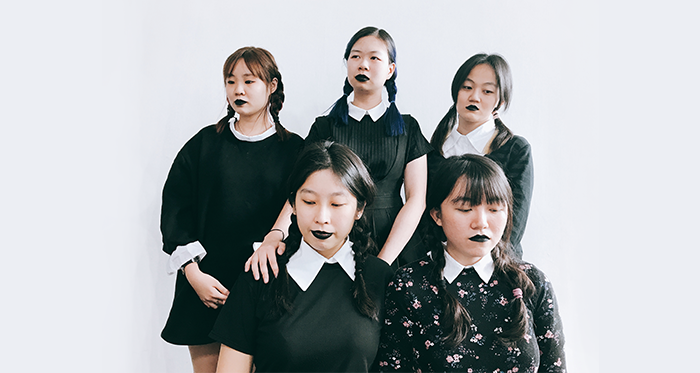 Addams family submission
Fun time: Book Binding!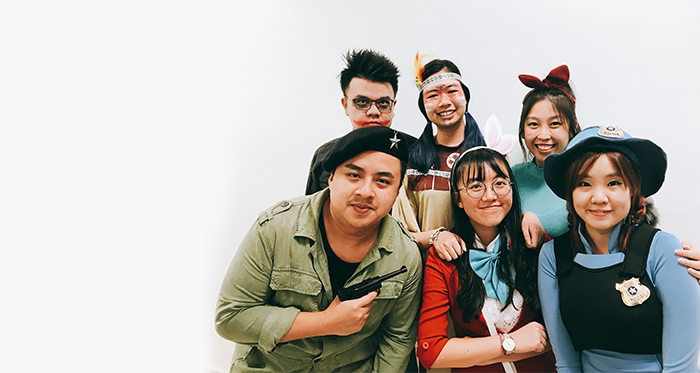 Trick or treat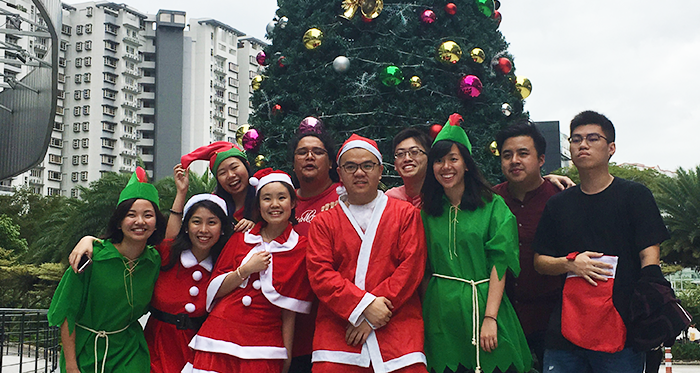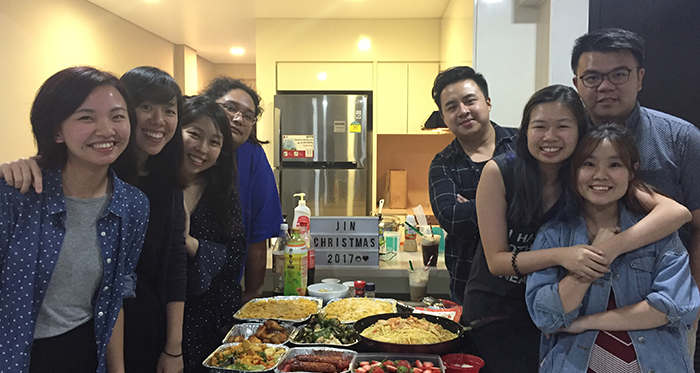 Christmas 2017!

We strike off our 2017 list!
To recap, we listed down two new year resolutions last year.
Establish our company as the industry standard
We worked with prominent companies such as AIA, ST Logistics, Singlife, Dynasty Travel, Pioneers & Leaders (Publishers) and more.
Every project is a different experience. Being exposed to such diverse industries allow us to explore different concepts to best fit the design requirement.
Expanding our company
At the beginning of 2017, the team comprised of 4 passionate individual. Today, we have grown to a force of 9 team members, including interns! Hooray!
"I am thankful to have a great team that works hard together to grow JIN Design. It was a big and fruitful year for us. – Yugene"
What do we want to achieve in 2018?
To win an award!
An award is a great recognition for design excellence.
Winning an award would mean that we have taken a huge step of improvement both as a team, and as designers, and levelled-up our skills! Look forward to it with us! Stay tuned for our award-speech blogpost! 😉
Bigger and Better
Expansion plans are in action. We anticipate more talented individuals joining us, growing the company to a 12 members team!
With expansion, clear communication is crucial. Our visual team will prepare our very own design system to ease a seamless communication between different departments. This will help improve the quality of our work as everything is presented clearly across the team.
We are also working towards a stronger visual vocabulary and design libraries to further improve our design works.
Relaunch and More Activities!
Yes! We are revamping our website again. We aim to set the trend and not just follow them blindly. Constant upgrading and improvement helps us to stay ahead of the curve.
We continuously redesign – to achieve better in terms of skills, design thinking and understanding. Expect a brand new JIN Design website coming right up!
In 2017, we conducted a number of design workshops with the public to share and exchange understandings. We firmly believe that as we conduct, we too learn something valuable from the students. Whether relating the design to the common eye or refining our thinking, there is always a lesson to be learned.
So in 2018, we will be opening up more workshops, and introducing a new internship programme for aspiring designers interested in joining our humble family!
Exciting year ahead and we can't wait to share more!