As you may have read in our previous posts, birthday celebrations are a grand affair at JIN Design. And, JIN Design just turned TWO last month! Hooray!
"Milestone moments are a good time for us to reflect on how far we've come."
2016 has been a busy year for JIN Design as we began laying the foundation and building up a solid company and design culture. From a tiny team of 3 handling multiple projects, we've expanded to a close-knit team of 6.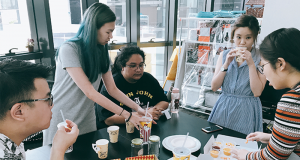 We'll keep this post short and sweet – two years is an exciting milestone for us and to celebrate this with our readers, we packed in a surprise. Can't wait to show you what we have up our sleeves!
Here's to more years of JIN Design.
"I am thankful to have a good team that works hard together to be the great design agency we aim to be and always deliver work with the best quality. We will continue to grow and to be better for our many years to come." ~ Yugene, 2017