All good things come to an end. But with endings, bring about new beginnings. Beginning of something great, something exciting.
Our visual intern – Liting, finally graduating from her internship with us after 6 fruitful months, has some notes to share!
If someone had told me,
six months ago, that during my internship I would be dressing up as the White Rabbit in the midst of a steamboat dinner, sitting in front of me, Judy Hopps, and to my left, Vanellope von Schweetz – I would have thought that person was mad.
But in the past 6 months, I've done some of the craziest things I never thought I would do, and I've learnt so much. I participated in several projects, and learnt how to bring a concept to fruition in the form of visual mockups, coped with workload and expectations, and understood how the design process really develop in a work setting.
Each project had its own share of difficulties and successes, but I was glad that I went through them all – as they say, steel, is forged in fire. I've managed to summarise the things I've picked up during my six months here into five lessons.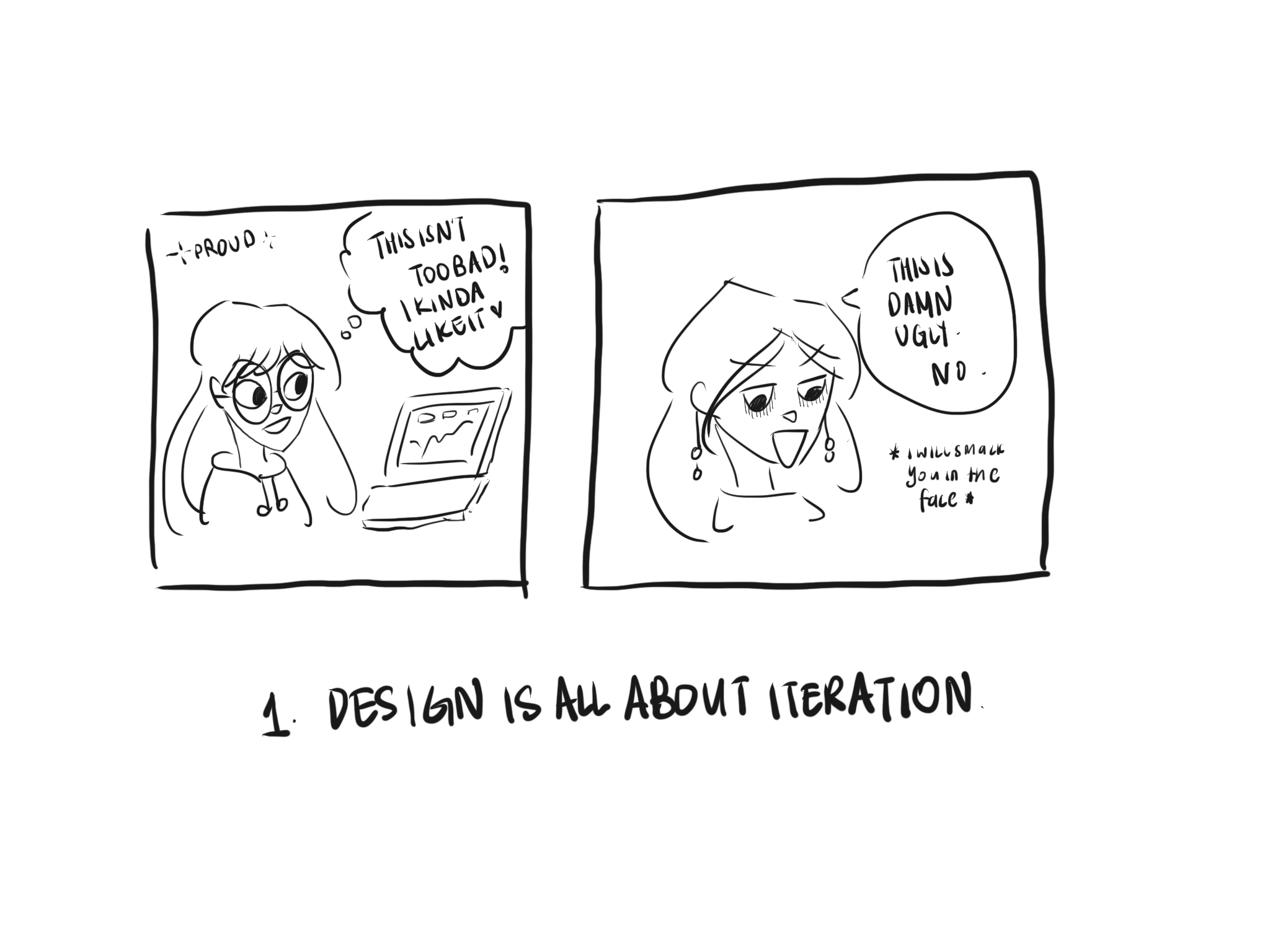 1. Visual design is all about iteration
Submitting an assignment in school was vastly different from submitting a mockup to your supervisor and your clients. In the office, your first, second, third and th draft was never going to be good enough – and this was something I learnt during the first project I worked on.
It was hard trying to understand that constructive feedback from others were not a personal attack to my skills or abilities, but rather, were simply all about improving the design we had.
Even when I was proud of something that I had created, someone would pick it apart – bared to the bones so that I would eventually realise that I could do much better. It took awhile, but I understood that this was the only way I could improve. I realised that ultimately, the product I was creating would be in its best only after rounds and rounds of iteration
2. Research is important, and find your inspiration everywhere
In order to come up with a visual concept, I needed to browse through pages and pages of websites and images. I would then create a mood-board and present to my colleagues the direction that I was proposing for a project.
Once, our clients mused that they wanted their website to be fun, sexy yet professional. These three words meant that I was scrambling to find inspiration everywhere – images, movies, websites – that I felt could incorporate all three elements in a subtle and harmonious manner.
My favourite sites to visit were Awwwards and Pinterest – but being inspired was definitely not limited to the web. As I walked on the streets, I looked around and reminded myself that inspiration was everywhere. It could be from a mural on the wall, a movie I just watched, or some food I was munching on.
3. Don't be afraid to speak your mind
It's easy to be led by your teammates – who will be giving you different opinions and perspectives all the time. At the beginning of my internship, I was always taking in the feedback that my colleagues gave me, but I rarely spoke out about any doubts or concerns I had.
While this worked for awhile, I learnt that speaking out on what I felt was appropriate or inappropriate for a design cultivated my sense of autonomy over the projects I was participating in. I also found out that some of the opinions I had could be genuinely thought-provoking, and throwing them out for discussion allowed everyone to discuss and improve on the design.
4. When stuck, take a break
Hitting a creative block happens to everyone, all the time. Obsessing too long over a project often ended with me being in a slump and wondering if I was competent enough to carry it through.
I was reminded by Belle that it helped to switch between the different tasks I had, or to browse through the internet for inspiration whenever these slumps struck. Taking mini breaks, such as stretching and walking around the office, snacking on pantry food, or even taking a short power nap was useful in kicking my brain back into gear. Stepping away from the project and taking a breather was important in ensuring that I didn't burn out quickly when doing a project.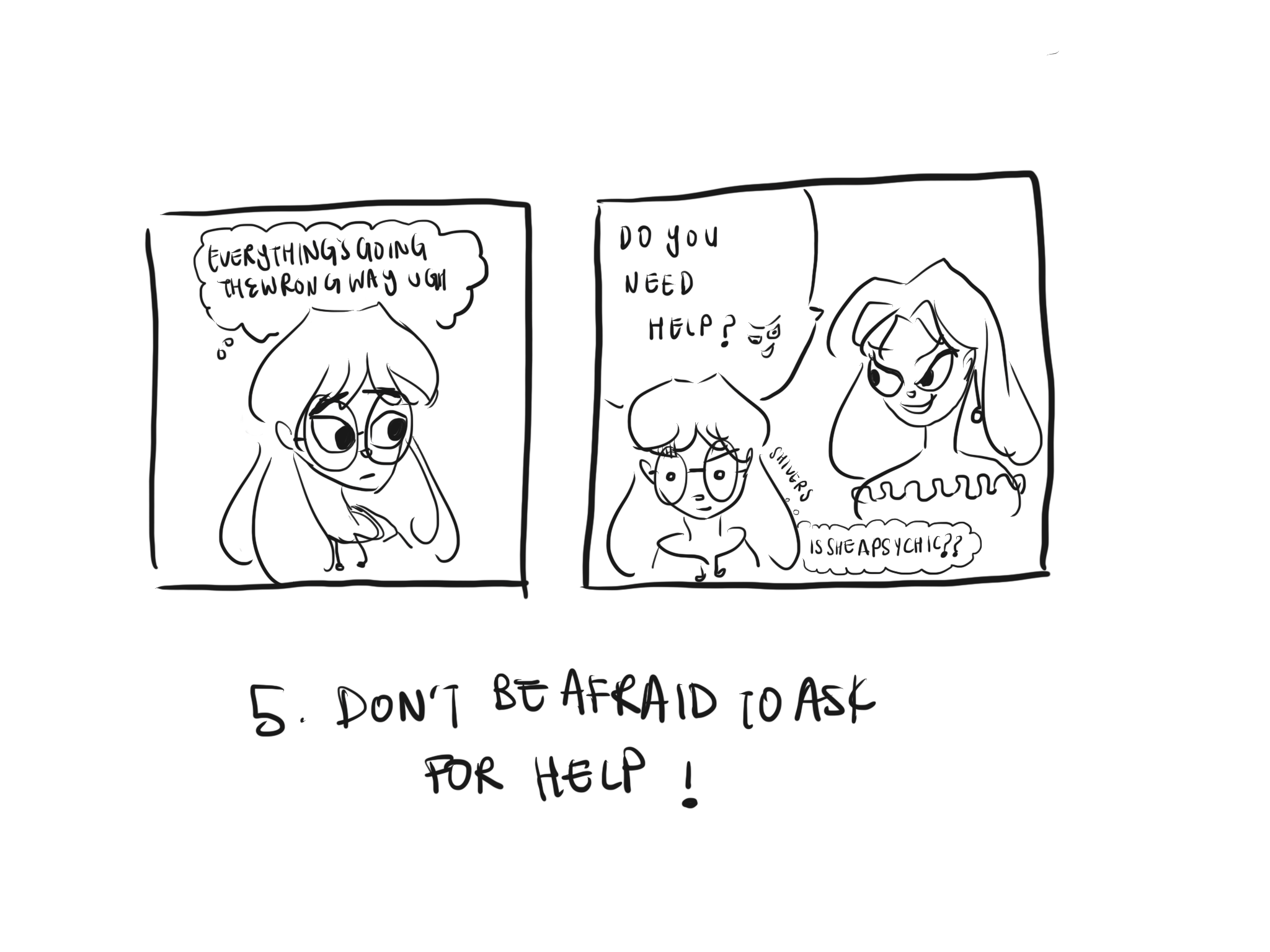 5. Don't be afraid to ask for help
When I was given my first project to work on, I struggled immensely. I had no idea where to start at times, and there was a period of time when I was just taking in suggestions and feedback from everyone passively.
There was a part of me that hesitated in asking for help, since I was the visual designer leading the project, and I felt that if I were to seek it, I would seem incompetent.
But as I slowly learned, asking for help didn't mean that I was lacking – rather, it showed that I was eager in learning from my mistakes and oversights, and that I had the ability to be open minded and receptive to taking in feedback and opinions.
Many times, the skills I picked up when using Sketch or Illustrator came directly from observing Belle when she was helping me with an aspect of a project I was stuck on. The things I learnt from asking for help ranged from visual design techniques to tips on using Sketch – such as plugins, keyboard shortcuts and more. I've learnt that it's okay to ask for help, and that making mistakes is the first step to improving your skills.
One of the strangest things about saying goodbye is that bittersweet feeling; you think of the people you've met, the impact they've made in your life, and the things that you have created together.
My internship here has been fulfilling and I'm especially grateful for mentors who created a safe space, who are patient and willing to teach.
Till we meet again! 🙂